Stephen Colbert Pokes Fun at 'The Bible' Miniseries
While The History Channel's miniseries "The Bible" continues to garner millions of viewers every week, one comedian has opted to poke fun at the program.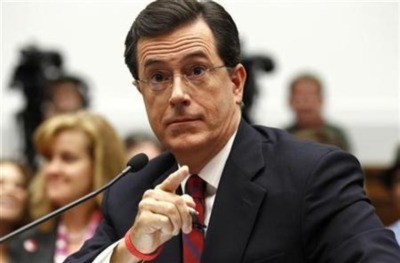 Comedy Central satirist Stephen Colbert, known for his faux conservative program "The Colbert Report," had a segment Monday evening about the miniseries and its production team.
"The Word of God, the story of all creation, doesn't really have the legs to sustain an entire series; unlike The History Channel's Big Shrimpin,'" quipped Colbert.
He also talked about Roma Downey, co-producer of the miniseries, being cast for the role of the Virgin Mary.
"Wow, I wonder who she had to sleep with to get that part? Nobody! It's called the Immaculate Audition," said Colbert, mockingly calling producers Downey and Burnett "America's preeminent theological scholars."
"This is huge. Don't take it from me folks how huge it is. Take it from the man who wrote the Bible: Mark Burnett."
Colbert also poked some fun at Diogo Morgado, who was casted to play Jesus Christ. Colbert referred to him as "a beefcake Jesus."
"Their Jesus is way too hot. It does not project holiness when you cannot look at him without saying 'God damn!'" said Colbert.
"We need a Jesus who suffers like us – with a spare tire, receding hairline and who only came back on Easter because he heard there was chocolate."
A practicing Catholic who has taught Sunday School and periodically done his "Colbert Report" program on Ash Wednesday with ashes on his forehead, Colbert has stated in the past that he feels no religious concern to his humor.
At a September 2012 panel discussion that included New York Cardinal Timothy Dolan and the Rev. James Martin, official chaplain for the "Colbert Report," Colbert explained that his humor focuses more on the misuse of religion.
"I love my church – warts and all," said Colbert before the estimated 3,000 people gather. "If Jesus doesn't have a sense of humor, I am in huge trouble."
THE BIBLE - Extended Look