Steve Bannon Slams US Catholic Church, Says It Has 'Economic Interest' in Illegal Immigration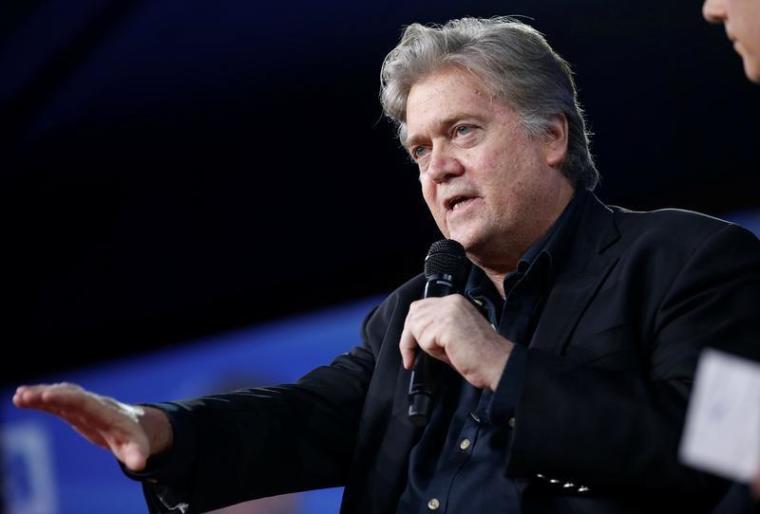 Former White House chief strategist Steve Bannon, a Roman Catholic, has strongly criticized the U.S. Catholic Church for what he described as its support for "unlimited illegal immigration" for economic reasons.
Bannon, who is also executive chairman of Breitbart News, told Charlie Rose in an interview for CBS' "60 Minutes," part of which was released on Thursday, that there is internal debate on the conservative side over whether President Donald Trump is right to end the Deferred Action for Childhood Arrivals program.
Trump said Tuesday that ending DACA will be a gradual process over the next six months to two years, giving Congress time to pass legislation on the issue that can be signed into law.
The DACA program, an executive order that was signed by former President Barack Obama in 2012, enabled immigrants brought to the United States illegally as children to receive a two-year period of deferred action from deportation and make them eligible to receive a permit to work in the country. To qualify, recipients had to be younger than 31 in June 2012.
The two-year deferred action period was subject to renewal and at least 800,000 Dreamers benefited from the program. These numbers include immigrants from El Salvador (28,000), Guatemala, Honduras, Peru, South Korea (7,300), Philippines (5,000), and India (3,000), according to the Daily Wire editor and conservative commentator Ben Shaipro.
Bannon spoke out against Catholic officials who have been heavily critical of Trump's opposition to DACA, arguing that they have an economic incentive.
"The bishops have been terrible about this. By the way, you know why? Because [they're] unable to really come to grips with the problems in the Church, they need illegal aliens, they need illegal aliens to fill the churches. That's obvious on the face of it," Bannon said.
"That's why the Catholic bishops condemn him. ... They have an economic interest. They have an economic interest in unlimited immigration, unlimited illegal immigration."
When Rose asserted that such a statement is a "tough thing" to say about one's own Church, Bannon responded:
"As much as I respect Cardinal [Timothy] Dolan and the bishops on doctrine, this is not doctrine. This is not doctrine at all. I totally respect the pope and I totally respect the Catholic bishops and cardinals on doctrine. This is not about doctrine. This is about the sovereignty of a nation. And in that regard, they're just another guy with an opinion," he added.
Los Angeles Archbishop Jose H. Gomez, chair of the U.S. Conference of Catholic Bishops' Committee on Migration, one of the many Catholic leaders to speak out in favor of DACA, said that children should not be punished for the actions of their parents.
"I do not believe this decision represents the best of our national spirit or the consensus of the American people. This decision reflects only the polarization of our political moment," Gomez said.
Chicago Cardinal Blase J. Cupich further called Trump's decision "nothing short of heartless."
"The Dreamers are now left in a six-month limbo, during which Congress is supposed to pass comprehensive immigration reform, a feat they have been unable to achieve for a decade," Cupich said.
Pope Francis has at times been linked to controversial figures, such as Hillary Clinton mega-donor George Soros, who has been accused of promoting open-border policies, OnePeterFive.com noted.
Francis released a letter back in February for the World Meeting of Popular Movements in California, where the Vatican leader praised the People Improving Communities through Organizing group, which is funded by Soros and his Open Society Foundations.
LifeSiteNews added in February that emails obtained through WikiLeaks have shown that Soros has funded several organizations with the aim of influencing Francis on certain policies and agendas.
A group of evangelical pastors meanwhile urged Trump to show "heart" for children who will be affected by the DACA decision.
The Washington Post reported that Jentezen Franklin, senior pastor of Free Chapel in Gainesville, Georgia, pleaded with Trump for several minutes during a White House meeting last week to protect DACA recipients.
"I know these kids," Franklin said he told Trump, who then asked, "They are good kids?"
Franklin replied: "Yes, sir. They are."