Steve Harvey on Drugs: 'God Doesn't Need Help to Enhance' Gifts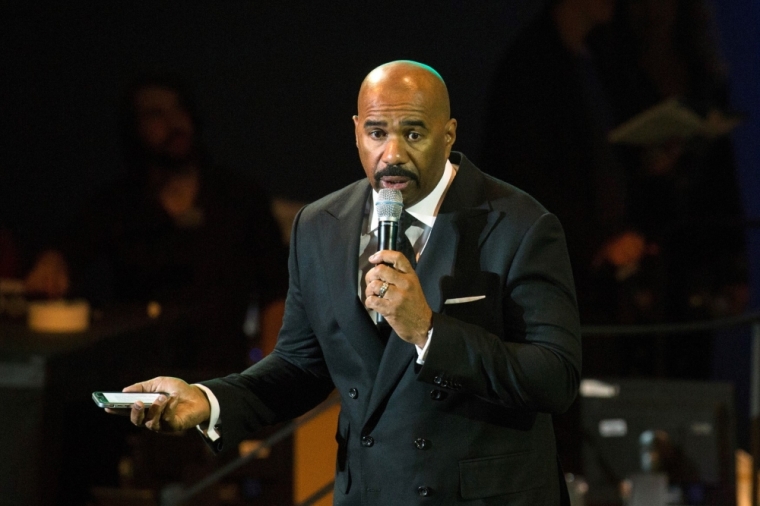 Steve Harvey does not do drugs or get drunk because he believes God's gifts are diminished when people alter their state of mind.
"The reason I don't drink and indulge in dope is because my gift is tied squarely to my mental alertness and sharpness," the comedian and talk show host said in a video that appears on his YouTube channel. "I don't care who you are, really, none of our gifts are tied to changing and altering our mental state."
Harvey, the 58-year-old host of "The Steve Harvey Morning Show" radio program, "The Steve Harvey" talk show, and "Family Feud" believes people are deceiving themselves when they think that smoking marijuana enhances creativitity.
"No, when you're smoking you told yourself you get more creative. You had that gift before you started smoking weed," Harvey said in the video titled "Why I've Never Done Drugs," before insisting that he is not condemning anyone. "You can convince yourself of anything. But name one gift that you have that is enhanced by altering your mental state."
Harvey says he has never been high and only drinks socially without getting drunk. Although he smokes cigars, the entertainer and author said God's gifts do not require a mind-altering substance.
"God gives you a gift. He don't need your help to enhance it," he said. "He needs your attention, your faith, your prayer to enhance your gift."
The comedian pointed out that there are many entertainers who have allowed drugs and alcohol to negatively impact their careers.
"Once you alter your mental state, you immediately start to diminish your gift and your rise to the top will be short," Harvey said.
As an entertainer, Harvey knows the influence of celebrity and makes it a point to use his platform responsibly. For that reason, mentoring young men is important to him.
" ... This is one of the most important works I do. I think God put me in the position to do all of those other things to do this," Harvey told The Dallas Weekly in 2013. "I have taken the fame He bestowed upon me and I use it in a way that would be beneficial to some young men who otherwise may not get opportunities to sit with some positive men who can show them what manhood is really about."
Although Harvey has glorified God for directing his successful career, the comedian insists he is far from perfect. Since he began his career as a comedian, Harvey has entertained the masses for decades and headlined his very last stand-up comedy show in 2013 with tears in his eyes while giving glory to God at the MGM Grand in Las Vegas.
"Somebody tweeted me and said, 'Your career is what [you're] paid for, your calling is what you're made for.' God has positioned me just this way to be just like I am, to say what I say, how I say it," Harvey said in his final stand-up comedy show at the MGM Grand. "I'm just a living witness that you can be an imperfect soldier and still be in the army fighting for God Almighty. Don't you think you got to be perfect, 'cause I ain't."