Steven Furtick Celebrates 10 Years in Ministry, 40,000 'Professions of Faith'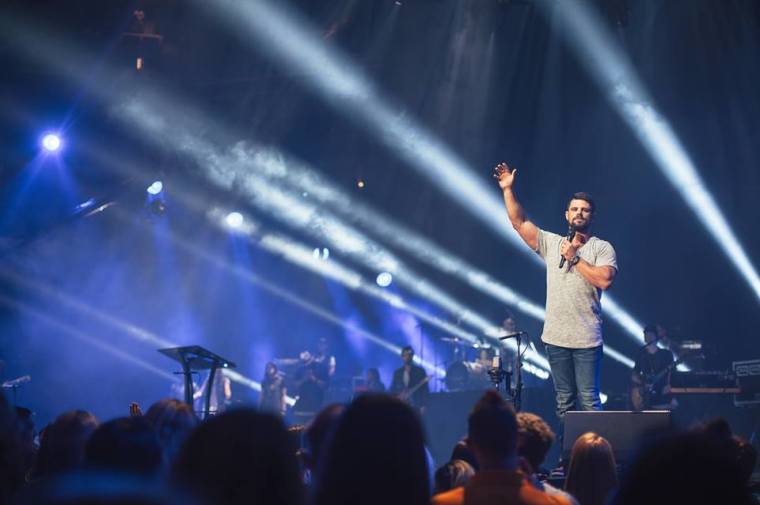 It's been a decade since North Carolina-based Elevation Church first opened its doors, and lead pastor Steven Furtick is celebrating that milestone along with 40,000 "professions of faith" thus far in his ministry.
In a Twitter post shared with his more than a quarter million followers, the megachurch pastor wrote, "Core team … still together 10yrs & 40k professions of faith later. God is Able ... " The message was accompanied by two photos of Furtick's "core team," one apparently taken 10 years ago and the other one more recently.
Christian Post had featured Furtick in a 2013 special article series called "An Inside Look at a New Generation of Pastors."  The series interviewed up-and-coming pastors under the age of 40 who preached orthodox biblical Christianity and were successful in conveying the Gospel message in a way that resonated with today's generation. At the time of the article series, Furtick was 33 and was the founding and lead pastor of Elevation Church, a multi-site church in Charlotte, North Carolina, with an average of more than 14,000 people in attendance each weekend, according to the church.
Elevation Church was founded in 2006 with a group of only eight families, but has grown rapidly in the years since.
Besides being known for its fast growth, the church is also recognized for its LOVE Week, which is an annual large-scale community service outreach. In 2014, the church sent thousands of volunteers into different cities through the United States and Canada to build homes, organize food pantries, paint walls, cook and deliver meals to the homeless and cancer patients, among other events. The initiative fed some 800,000 people, provided school supplies to 3000 children, and supplied 20,000 cans of food that year.
In the 2013 interview with CP, Furtick had said, "We have seen extraordinary things in the life of our church. I can't fully explain how or why God has done what we've seen Him do. He's too big for that. I do know, however, that there is a misconception that says Christianity is a dry religion based on rules and restrictions. That couldn't be further from the life Jesus came and died to give us.
"The fact is there are people hurting all over the world. Whether they've been in church their whole lives or never heard of Jesus at all, people are constantly searching for the full life that only Jesus can give us. The more we can break through barriers that people may put up against religion and allow them to experience Jesus in a clear, refreshing way, the more we will see people embrace Him."
In 2013, Elevation Church was no. 15 out of the top 100 fastest-growing churches in the U.S., according to Outreach Magazine, as well as the youngest of the largest churches in America in 2010.
The North Carolina-based assembly currently has a weekly attendance of 20,000 congregants across its nine locations in North Carolina. The church also has one location in Toronto, Canada, as well as one in South Carolina and Virginia.
The Christian Post reached out to the church for comments but did not receive a response by press time.