Stressed English Teacher Unloads Profanity-Laced Tirade on Student for Heckling Her During Lesson on Race, Ethnicity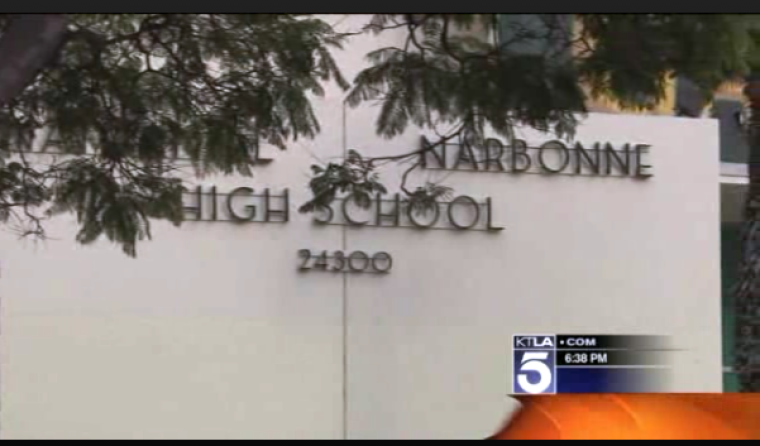 A stressed out English teacher at Narbonne High in Harbor City, Calif., has been placed on paid leave after she was recorded unloading a profanity-laced tirade at a student who heckled her during a class discussion on race and ethnicity.
The recording, which has gone viral on the high school campus, was first highlighted in a report by The Daily Breeze and occurred in front of a 12th-grade class. The teacher, who has been unidentified to protect her reputation, has since apologized for her outburst and blamed it on a moment of weakness.
"You know, I had a weak moment," she said. "Forgive me."
In the brief audio clip, the teacher is heard yelling: "I know my f***ing s**t. Don't f*** with that. I'm tired of trying to educate you, and you guys resist every step of the f***ing way. Get the f*** out of here."
The teacher later explained that she was trying to highlight the difference between race and ethnicity to the student but the student kept heckling her in front of the other students. The recording was made by the student who heckled her.
"I was trying to explain the difference between race and ethnicity, and this girl kept poking the bear," she told The Daily Breeze.
The class is located in a new school called Humanities and Art Academy for performing arts on the campus of Narbonne High. It officially separated from the comprehensive high school this fall.
A psychology professor at Cal State Dominguez Hills, Larry Rosen, noted to The Daily Breeze that the incident was a reminder to teachers and everyone that every human interaction can become public.
"Technology has led us into a conundrum," the leading scholar on technology devices and their effect on the human psyche. "On the one hand, you get to know everything, everywhere, anytime you want. But the price you pay is your privacy."
In any event he says, the technology doesn't affect how he personally delivers his own lectures.
"I still swear in class," he said laughing. "But I knew that if I didn't tame my language, somebody could have complained about me long ago. But I think (swearing) can provide a hook for some students to remember material."
Most of the students from the school who discussed the incident in a KTLA5 report were sympathetic toward the teacher and didn't think she should be fired for the outburst.
"It is wrong to be cussing, at students especially, but a lot of kids here aggravate the teachers," said student Aaron Taylor. "She's a good teacher. Everybody makes mistakes and she's only human."
Another student, Summer Washington, said all was forgiven: "Everybody forgave her," said Washington. "That's our favorite teacher."