Students at Catholic High School Rally to Support Gay Teacher Fired After Same-Sex Wedding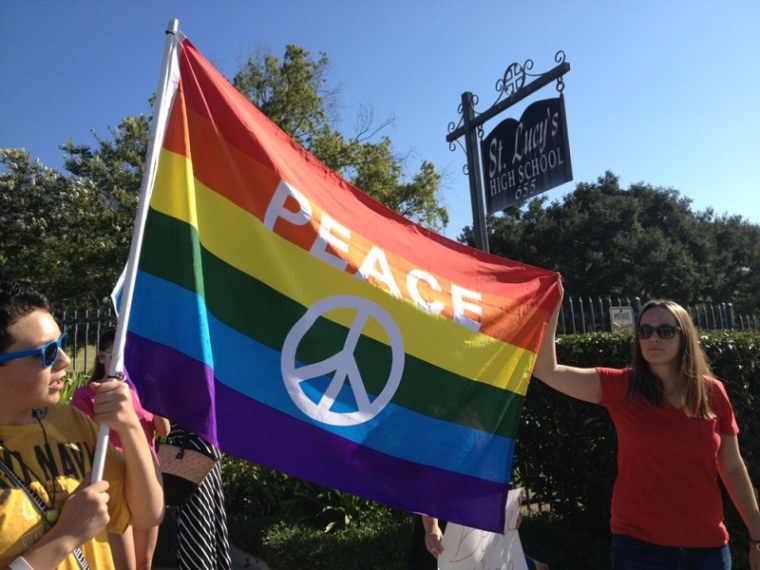 Students and some parents at an all-girls Catholic high school in Southern California rallied Thursday morning in support of a gay teacher who was fired after photos of his same-sex wedding were published in a local newspaper.
Even though school officials at St. Lucy's Priory High School in Glendora knew that Ken Bencomo, 45, was homosexual, they fired him after his wedding became public, according to his attorney. He had worked for the school for 17 years, the Los Angeles Times reported.
"He never made it part of the discussion and he never pushed his personal life on us. But we knew, the school knew, teachers knew — it was never a problem," said Brittany Littleton, a 2008 graduate who created an online petition at Change.org that has garnered more than 50,000 signatures, the Times reported.
"We were always taught to support equal rights and that's what we're doing today," Littleton told a reporter for the Glendora Patch.
St. Lucy school officials have not spoken directly about the controversy, but cited their right to adhere to the Roman Catholic Church's stance against same-sex marriages, the Patch reported.
"As a Benedictine school, St. Lucy's is a community for those who wish to express Christian values in education and develop person and academic excellence," the school responded in a statement.
"While the school does not discriminate against teachers or other school employees based on their private lifestyle choices, public displays of behavior that are directly contrary to church teachings are inconsistent with these values," school officials stated. "These values are incorporated into the contractual obligations of each of our instructors and other employees."
The Times reported that former students said Bencomo was a popular teacher, a mentor and involved with school activities. Students at the protest want to see him rehired.
A Facebook page for the group stated: "Come with powerful voices, ready to sing our Alma Mater and show the SL administration — 'We Are That Change!'"
Bencomo's supporters pointed out to local reporters that both students and faculty were aware of Bencomo's sexual orientation, but that it had never been an issue before.
"Mr. B. never brought up his personal life as most teachers don't," former student Megan Schaefer told the Patch. "He just kept us motivated and excited about learning."
Bencomo and Christopher Persky, 32, were among the first couples to be married at the San Bernardino County assessor–recorder's office after a U.S. Supreme Court ruling allowing same-sex couples to marry in California, according to the Times.
The teacher's supporters said they will attend a St. Lucy's school board meeting in order to continue their protest against his firing. The meeting is scheduled for next Wednesday.