Super Bowl Champion Quarterback Nick Foles Partners With YouVersion to Share Power of Devotionals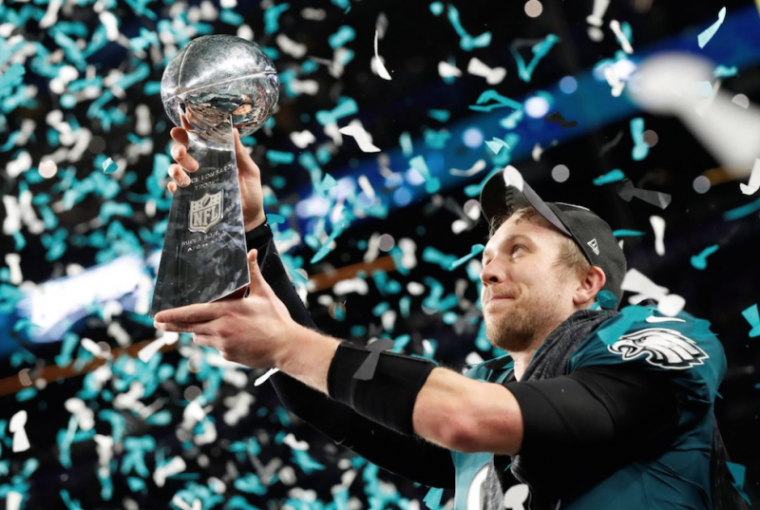 Upon the Eagles' win over the Patriots on Sunday, which was the franchise's first Super Bowl win, the popular Bible app YouVersion shared a powerful video the team's quarterback, Nick Foles, did for them explaining the power of devotion time with God.
Foles returned to the Eagles this season to play backup quarterback to the Eagle's superstar quarterback Carson Wentz because Wentz got injured with a torn ACL in December. Foles helped bring his team to victory on the field but that is not the only place he is winning in life and he's not afraid to share it.
"The YouVersion Bible app has been instrumental tool throughout my Bible study experience, my Christian growth," the devout believer celebrated in an Instagram post for YouVersion.
"I think I've done, last time I checked, close to 200 devotionals. it's always been extremely beneficial for me to get a theological perspective along with another man or woman who teaches it and shares life experiences," he added.
"I think it's always impactful for others to share their life experiences, to share their struggles and just tell people how the Gospel, how Jesus changed their life, changed their heart, changed their perspective and their outlook on everything. YouVersion has been a great tool to allow me to do that."
YouVersion is a Bible app that allows people to bring the truth of Scripture into everyday life. In 2017, the app had 300,000,000 installs and counting. It currently offers Bible text in 1,635 versions, representing 1,171 languages.
The Eagles quarterback credited his faith after the Super Bowl LII game on Sunday. Foles, who was named the game's Most Valuable Player, wept tears of joy when discussing the team's victory, holding onto his daughter, Lily.
"All glory to God. Lily really likes this mic. She has no idea," the MVP said.
At a news conference which took place a few days before the game, Foles revealed that at the end of his football career, he plans to become a pastor.
"I want to be a pastor in a high school," the 29-year-old said. "It's on my heart. I took a leap of faith last year and signed up to take classes at seminary. I wanted to continue to learn and challenge my faith. It's a challenge because you are writing papers that are biblically correct. You want to impact people's hearts."
"When I speak to [students], that's such a time of young men and young women's lives that there's a lot of things that are thrown at them. So much temptation in this world, so much going on with social media and the internet that you want to talk to them and address it, and share all the weaknesses I have because I've fallen many times," Foles added.
"It's something I want to do. I can't play football forever. I've been blessed with an amazing platform and it's just a door God has opened, but I still have a lot of school left and a long journey."