Supreme Court rejects parents seeking religious exemption from school vaccinations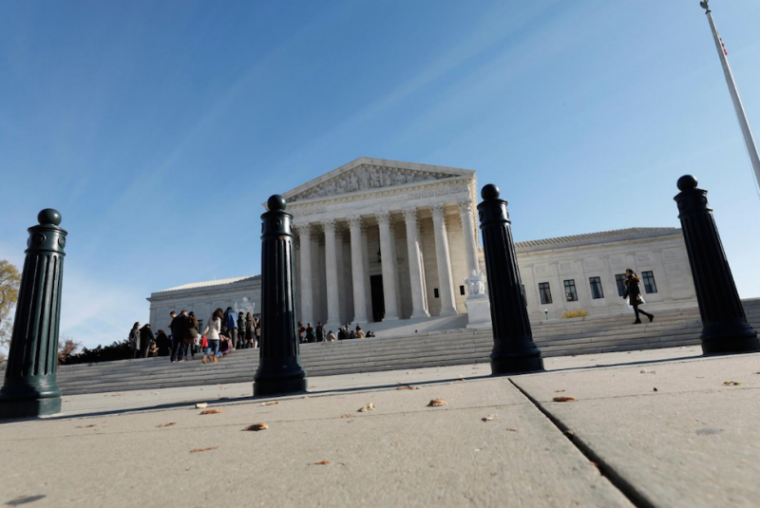 The U.S. Supreme Court has rejected an appeal from parents challenging New York's repeal of religious exemptions to school vaccine mandates.
In an order released Monday morning, the nation's high court declined to hear arguments in the case of F.F., as parent of Y.F. v. New York, which centers on a lawsuit challenging a 2019 law repealing religious exemptions for vaccines.
The denial of certiorari lets stand a lower court decision that concluded that the parents' arguments lacked merit.
In June 2019, then-New York Gov. Andrew Cuomo signed a bill removing religious exemptions for vaccines in schoolchildren. Under the law, children may not attend school or day care in New York without certification from a healthcare provider that the child has received all mandated vaccinations. 
The law was passed amid a Measles outbreak impacting dozens of states. While providing medical exemptions, the law no longer allows exemptions for students whose parents or guardians hold genuine religious beliefs that do not permit the child to receive the vaccinations. 
 "The science is crystal clear: Vaccines are safe, effective and the best way to keep our children safe," Cuomo said after signing the bill.
"While I understand and respect freedom of religion, our first job is to protect the public health. And by signing this measure into law, we will help prevent further transmissions and stop this outbreak right in its tracks."
A group of families identified by initials, who held various religious objections to vaccinations, filed the lawsuit against the state on behalf of their minor children, contending that the policy forced them to either violate their beliefs or homeschool their children. 
"In lobbying for its passage, numerous legislators publicly mocked and ridiculed those seeking religious exemptions for their children, and the legislature left intact a medical exemption," the parents' appeal to the U.S. Supreme Court reads. "And there is no dispute the repeal has put tens of thousands of students to the Hobson's choice of violating their sincerely-held religious beliefs or being denied the right to attend any manner of in-person schooling."
Acting Albany County Supreme Court Justice Denise Hartman denied the families a preliminary injunction in August 2019, concluding in part that protecting children's health "through attainment of threshold inoculation levels for community immunity from communicable diseases is unquestionably a compelling state interest."
"The courts have routinely held that the states need not wait for vaccination rates to fall below the community immunity threshold or for outbreaks to occur before mandatory inoculations are required for children to attend school," noted Hartman.
In March 2021, the Appellate Division of the Supreme Court of New York's Third Department upheld the decision, concluding that the repeal was "motivated by a prescient public health concern" rather than "active hostility towards religion."
"The repeal relieves public school officials from the challenge of distinguishing sincere expressions of religious beliefs from those that may be fabricated," wrote Appellate Justice Stanley Pritzker in the opinion. 
Pritzker contrasted his court's ruling with the U.S. Supreme Court's 2020 decision Roman Catholic Diocese of Brooklyn v. Cuomo, which struck down state-level COVID-19 gathering restrictions for houses of worship.
"As noted by Justice [Brett] Kavanaugh in a concurring opinion, the regulation created a favored class of businesses and it thus needed to justify why houses of worship were excluded from that favored class," continued Pritzker.
"By contrast, here, the religious exemption previously created a benefit to the covered class, and now the elimination of the exemption subjects those in the previously covered class to vaccine rules that are generally applicable to the public."
The case was appealed to the U.S. Supreme Court after the state's highest court, the Court of Appeals, refused to hear the case.