Survivor Bandmates Frankie Sullivan, Jim Peterik Slam Use of 'Eye of the Tiger' at Kim Davis Rally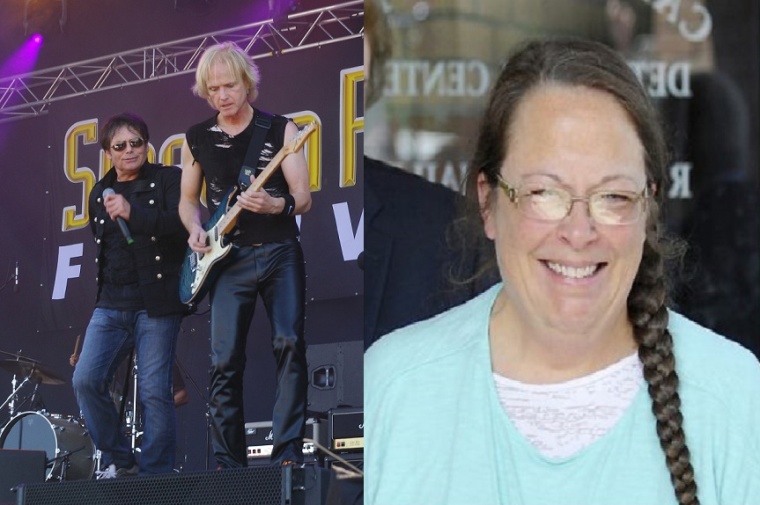 Members of the rock band Survivor, Frankie Sullivan and Jim Peterik, who co-wrote the famous "Eye of the Tiger" fight song for the 1982 movie "Rocky III," lashed out Tuesday at organizers of a rally supporting Christian Rowan County clerk Kim Davis, for playing the song as she walked free from jail Tuesday to address her supporters.
Davis was released from jail after spending six days behind bars. She was held in contempt of court for refusing to issue marriage licenses to same-sex couples, citing that it was against her Christian faith, and has become somewhat of an icon in the Evangelical Christian world for her stand.
"I just want to give God the glory. His people have rallied and you are a strong people. We serve a living God who knows where each and every one of us is at. Just keep on pressing, don't let down because He is here. He is worthy, He is worthy. I love you guys. Thank you so much," said Davis defiantly as she was supported by GOP presidential candidate Mike Huckabee, and one of her attorneys, Mat Staver, after weeping in amazement at the rally.
Jim Peterik, however, was not happy about the association of his song with the event and voiced his displeasure online.
"I have not authorized the use of 'Eye of the Tiger' for use by Kim Davis and my publisher will issue a [cease and desist]," he tweeted. "This does not reflect my views."
In a follow-up statement issued to Billboard magazine, he further explained his position.
"I was very surprised and dismayed at the misuse of the song I co-wrote with Frankie Sullivan for 'Rocky lll,'" he noted. "The song has motivated thousands through the years to reach beyond their limits. Its use for the release of Kim Davis does not support my views or my politics. I have contacted my publishers to make sure this usage is stopped immediately."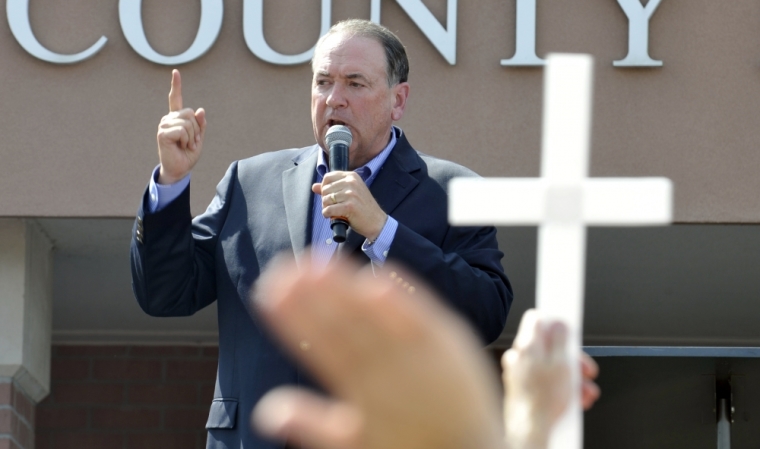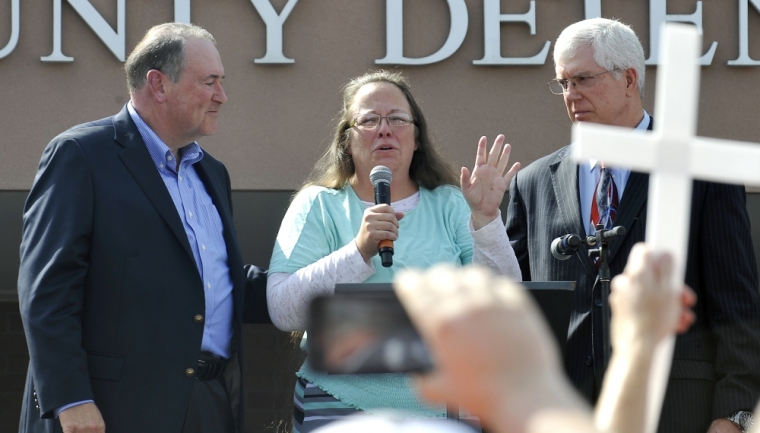 View Photos
After he was peppered with questions online about the use of the song at the Davis rally, Sullivan also responded to critics who wondered whether he had endorsed the rally.
"NO! We did not grant Kim Davis any rights to use 'My Tune, 'The Eye Of The Tiger.' I would not grant her the rights to use Charmin!" he wrote in a post on Facebook before directly addressing Huckabee.
"C'mom (sic) Mike, you are not The Donald but you can do better than that. See Ya really SoooooooonnnnnnN!!!!!!. FS," he ended.
Huckabee, in a post on his Facebook page, said he was proud to stand with Davis and would not keep silent about the "criminalization of Christianity in America."
"Today, I was proud to stand with Kim Davis as she was released from jail. Kim Davis should have never been locked-up for being a Christian and for following her conscience and the law," he wrote.
"I am appalled at our government's willingness to accommodate the religious beliefs of all religions, but Christianity. Kim Davis sitting behind bars in an orange jumpsuit for six days leaves no doubt about the criminalization of Christianity in America. I refuse to sit silently as our Constitution is torched and the courts violate our fundamental rights. We did not fight a revolution against the tyranny of one unelected monarch so we could surrender our freedoms and abandon our Constitution to the tyranny of five unaccountable, unelected lawyers," he continued.
"This shredding of the most fundamental civil rights of our citizens cannot stand. As president, I will fight for, and protect, the religious liberty of every American," he added.