Switchfoot Frontman Talks Power of Music, Classic '70s Hit Song That Can Help Unite All People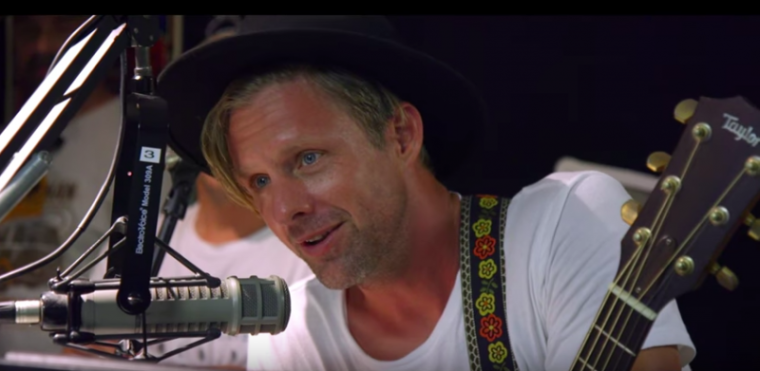 Switchfoot frontman Jon Foreman just released his new film, "25 IN 24" which captures him fulfilling his dream of performing 25 shows in just 24 hours and now the singer explains why he thinks music has the power to unite all people.
The "25 IN 24," aspiration Entertainment, in partnership with lowercase people documentary – follows Foreman and his friends as they embark on a musical journey throughout San Diego, where he plays 25 shows in 24 hours. Clips of the film show that along the way, Forman gains an entourage of people from all different walks of life that follow him on his quest to perform 25 concerts in just one day.
"I wanted to see the community of San Diego come together in a new way like I've never seen before," Foreman told The Christian Post of his decision to do the extensive concert series.
The musician opened up about the power of music to help others connect with God and each other.
"I think that music is an incredible medium. I think that heart is where the transcendence of God finds the temporal of our humanity," he explained. "Music's an incredible example because it disappears the moment you put down the instrument or you press stop on the song. It has this power while it's happening which is powerful, like time travel, you know?"
Adding, "I think in the best way a song can transform you and be transformative. If a song is good enough, you enter the song as one person and you exit as someone else and I think music has done that for me time and time again. That's where I think that my maker speaks to me and hopefully through me – in song."
When asked If he had to choose a song that he thought could unite America despite its current state of social unrest, Foreman said the song that immediately came to mind was the classic '70s hit song, "Lean On Me" by Bill Withers.
"I love that song, I love the story and I love Bill Withers and his own personal story," the California native said.
The "Meant To Live" singer recalled watching Withers share his story in a film that deeply touched him. He explained that the legendary artist suffered with a great stutter but did not allow that to keep him back.
"In the documentary, he talks about the way he learned to stop stuttering – was that he would forgive people before they interrupted him. Before they started judging him, before they did all these things to him, he would forgive them before the conversation even started," Foreman said. "That feels like this beautiful revelation [to me], that maybe forgiveness happens first and [then] you're not only able to embrace the conversation [with others] wherever it goes but that you are also able to embrace yourself and speak clearly."
"'Lean On Me' feels like a reflection of that!" he continued. "Because it's sung from the perspective of someone who's strong enough to carry a friendship even when things go wrong. I feel like that kind of grace is needed in a divided nation."
Foreman's Grammy Award-Winning band Switchfoot has gone on to sell millions of records which reach both Christians and unbelieving audiences. The music-lover said he believes he is able to reach a vast audience because of how he goes about creating his content.
"I don't see the boundaries, I look at people as souls that God loves all on their own personal journey," Foreman maintained. "My job is to love them and tell the truth. So what I do is I tell my own stories, being honest with your own stories is always acceptable everywhere. Everyone loves a good story!"
"That's the way it is with my friends," he stated. "Not everyone that I'm friends with, believes the same way that I do. I'm sure there's minute differences in what we all believe and broad differences as well but the beautiful thing about music is that it will often take our eyes off of our differences long enough for us to see that which we have in common."
"I think the pursuit of beauty, truth, excellence and a true story can cross any sort of boundary line that we humans want to put up," Foreman concluded.
Foreman began his touring for his film "25 IN 24 Tour" on March 1, where he is performing live acoustic performances and screening the movie for attendees.
The film shows Foreman performing 25 concerts in one day starting at 10 am in separate venues including a children's hospital, a wedding, and a Mexican restaurant. "25 IN 24" also features clips of everyday life, giving viewers insight into the life of a musician. Foreman's journey will reportedly serve as a discovery that the road less traveled is "always worth the risk, and sometimes the only way to hold on is to let go."
Due to strong ticket sales of Foreman's solo tour, Aspiration Entertainment is also releasing "25 IN 24," on digital platforms such as iTunes, Amazon Video, GooglePlay and other services on March 6.
For more information on Foreman and the new film, visit www.jonforeman.com.