Syrians Plead for Help as President Assad Continues Assault on Homs
Will Christians Continue to Support Assad Out of Fear of Persecution?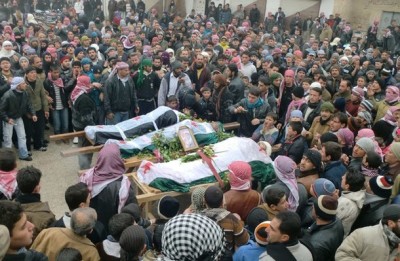 As violence rages in Syria, civilians across the country are pleading with the global community to step in and help put a stop to the Assad regime's attacks – contradicting the actions of a Christian community that continues to support the leadership in an effort to avoid persecution faced by Christians in other post-Arab Spring countries. 
The Syrian uprising began last March when civilians initiated protests against the regime of President Bashir al-Assad, hoping to end five decades of Arab Socialist Ba'athist rule in the country.
Syrian forces have been shelling and bombing the city of Homs for four consecutive days, according to Syrian activists. Videos posted on YouTube by activists show images of the bombed out city, bloodied civilians, and overcrowded medical facilities. In one video, a doctor pleads to the international community: "I beg you please stop the rockets."
Video imagery captured by bold activists from on the ground in the conflict-ridden country show civilians pleading for help and depict a harsh reality for the Syrian people with dozens of children and civilians seen bloodied, bandaged, and battered.
"We're asking for humanity to help us, we're asking for the UN to help us, we're asking for the Arab league to help us, anyone whose got any kind of humanity in their heart," Danny, a Syrian activist told CNN in video where he stands on the streets of Homs as shots are fired in the background.
In another video, a young boy carries a sign that reads, "If you don't help us, we will be killed."
Activists tell a story of torture, rape, and brutality used indiscriminately against men, women, and children by Assad's security forces. The United Nations has estimated that over 5,400 have died in the 11-month uprising and that hundreds of children have been killed and detained in torture centers.
"It's too much, for God's sake, this is too much," one Syrian resident shared with CNN on Tuesday.
In the dark months of violence, Assad and his security forces have shown no sign of relinquishing power – maintaining that they are protecting their country from "armed terrorists" backed by foreign powers.
The volatile situation has some analysts suggesting that the country is on the brink of civil war.
With the ruthless violence witnessed by the world in videos and images pouring out of Syria, the international community has been thwarted from responding as Russia and China have blocked the passage of U.N. Security Council resolutions calling for Assad to step down. An effort that Qatar's minister of foreign affairs said gave Assad "a license to kill."
With limited international response and some Syrian communities – such as the country's estimated 1.5 million Christians – continuing to support Assad out of fear for their own safety, a civil war may be the most likely outcome in the Syrian conflict.
Under the Assad regime, Syrian Christians have enjoyed an unprecedented amount of freedoms in the mostly-Muslim country, and many fear that without Assad's Ba'athist party in power they might become the targets of a brutal extremist crackdown.
Christians are already becoming targets of extremists, with churches being shelled and raided and Christians facing threats and kidnappings.
"Christians inside Syria are caught in the crossfire as they are in many other Middle Eastern countries," President and CEO of Open Doors, Carl Moeller, said in a previous statement regarding Christians in the country.
Open Doors has warned that Christians are "very worried for their country" and that many fear that they will be forced to flee Syria in an exodus similar to Christians who were forced to flee Iraq due to persecution and violence.
"Look at what has happened in Iraq and now Egypt," a Christian woman told the Global Post. "Assad in power means that it won't happen here."
Although some segments of Syrian society appear to enjoy relative security under Assad and hope to see him stay in power, the international community is getting increasingly fed up with the deadly crackdowns.
On Tuesday, U.S. Ambassador to the United Nations Susan Rice said that the United States stood with Syrians in the quest for peace and democracy and warned Assad "your days are numbered."
Rice's comment points to the likelihood that Assad's regime will collapse at some point – a reality that could put a stop to the egregious violence on behalf of Assad's security forces, yet could also leave Christians in a precarious situation.