T.D. Jakes Joins 'Oprah's Lifeclass' to Share Why Families Must Heal Their Fractured Relationships
The 'Aha! Moment' That Brought Oprah to Tears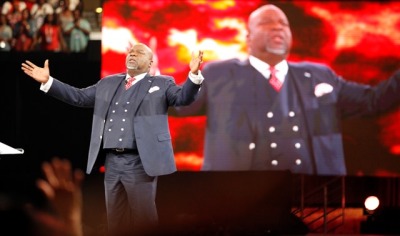 T.D. Jakes joined Oprah Winfrey for part two of "Oprah's Lifeclass" to impart his wisdom on how families can begin the process of healing fractured relationships, and cast down their negative histories and fulfill their destinies.
During "Oprah's Lifeclass" that aired on the OWN network Sunday night, Jakes uncovered the root causes of sibling rivalries and brought Oprah to tears as he explained that some parents are not capable of giving an outpouring of love to their children, because they have a "pint-sized capacity" and cannot fill those who have a "10-gallon capacity to love."
Jakes said many 10-gallon people are born into families that only have pint-sized capacities, but added they need to understand that many times the people who don't seem to be giving enough are, in fact, "sincerely giving you all that they have, but it doesn't fill you up, because you are bigger than that."
Oprah said Jakes' comments brought her to tears because she was reflecting on her relationship with her mother, and shared that his words clearly described what she has felt, as a 10-gallon person, throughout most of her life.
Jakes also homed in on sibling rivalry and the joyous moments that families miss out on when someone feels that a family member has been disloyal to them.
He emphasized that although loyalty is an important quality to him, too, siblings should never "turn small things into mountains, because when the mountain comes (illness and death), they won't have the strength to climb," because they'll be attempting to cope by themselves, absent of the support from their family.
The art of family, Jakes noted, is to "end up on the same side."
Many times people hold onto their hurt feelings and use them as an excuse to not show up for their families, to which Jakes said people must stop showing their scars and wounds as trophies, and "have the wisdom to have conflict resolution."
He continued, "It takes more strength to forgive than to be vengeful." And added that when adults stop speaking to their parents or cease caring for them, in reality what they're doing is showing, by example, the way they expect their children to treat them.
According to Jakes, parents who are raising their children must teach them forgiveness, and that starts by forgiving their parents of past hurts, wounds and mistakes. He explained that parents must have the humility to heal their relationships, because they're teaching their children a valuable life lesson.
"When you hold onto your history, you do it at the expense of your destiny," he said. "Cast down the idols of your history, so that you can be available for God."
Thousands of people filled the American Airlines Center in Dallas to be part of "Oprah's Lifeclass" at MegaFest with T.D. Jakes last month. And more than 75,000 people attended Jakes' MegaFest festival that featured four of his most popular conferences: ManPower, Woman Thou Art Loosed, MegaYouth and MegaKidz.
This was followed by numerous headliners including Joel and Victoria Osteen, who hosted an empowerment session; Oscar and Grammy winner, Jennifer Hudson, who headlined the Woman of Purpose concert and participated in the first International Faith and Family Film Festival; Steve Harvey, "Babyface" Edmonds, and Cedric "the Entertainer" and Niecy Nash who hosted the "Just Churchin'" comedy show.
Watch Jakes talk about 10-gallon people at "Oprah's Lifeclass" below: