Massive High Heel-Shaped Church Built to Attract Women to Worship in Taiwan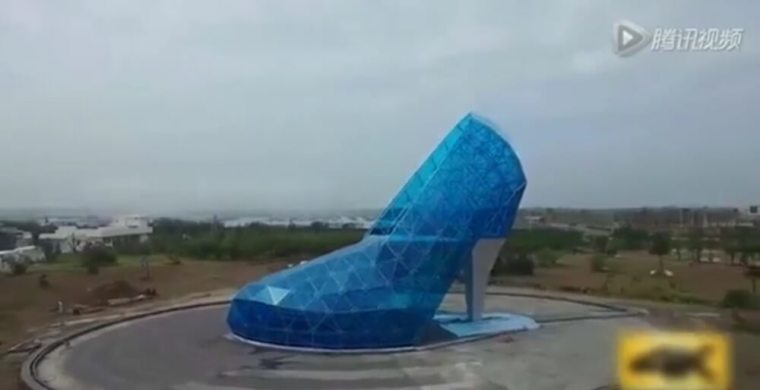 A Taiwanese church that has been designed in the shape of a massive 55-foot tall blue-glass high heel in order to attract female worshipers is expected to open next month.
Huanqiu.com, an affiliation of the People's Daily Online, said that the building is made almost entirely out of glass, and was completed earlier this week in Ocean View Park in Budai town by the Southwest Coast National Scenic Area in Jaiyi County.
The church stands at 55 feet tall, 36 feet wide, and is made out of 320 pieces of glass. It is expected to open to churchgoers before the Chinese New Year on Feb. 8.
Zheng Rongfeng, spokesman of the Southwest Coast National Scenic Area, revealed that the waterfront church's fashionable design is specifically made to attract female worshipers.
The exterior design is not the only attraction, however, as Rongfeng revealed that there will be '100 female-oriented features in the church,' including 'chairs for 'lovers,' maple leaves, biscuits and cakes.'
The MailOnline noted that reports do not make it clear what type of denomination the church belongs to, but its unique design has been attracting tourists to the area to take pictures.
According to the CIA Factbook, Christians make up only 4.5 percent of the Taiwanese population, which is a distinct minority. As many as 93 percent of others belong to Buddhist and Taoist traditions.
Another large Christian construction that made news around the world was the unveiling of the largest statue of Jesus Christ in all of Africa on New Year's Eve in the Abajah village in Imo state in Nigeria.
The 28-foot tall, 40 tons statue, dubbed "Jesus de Greatest," is carved in white marble, and depicts Jesus stretching out his arms in a welcoming pose.
The unveiling ceremony at the start of the year attracted hundreds of Catholic priests and believers at the St. Aloysius Catholic Church, with Obinna Onuoha, the local businessman behind the project, explaining that the idea is to welcome pilgrims.
Presiding Bishop Augustine Tochukwu Okwuoma also praised the statue, added that it would be a "very great symbol of faith" for Christians.
"It will remind them of the importance of Jesus Christ," Okwuoma said.
It was not made known how much the project cost, though Onuoha revealed the idea of building a giant statue of Jesus came to him in a dream nearly 20 years ago.