Taliban Captures Major Afghan City in 'Stunning' Assault After US, NATO Withdraw Troops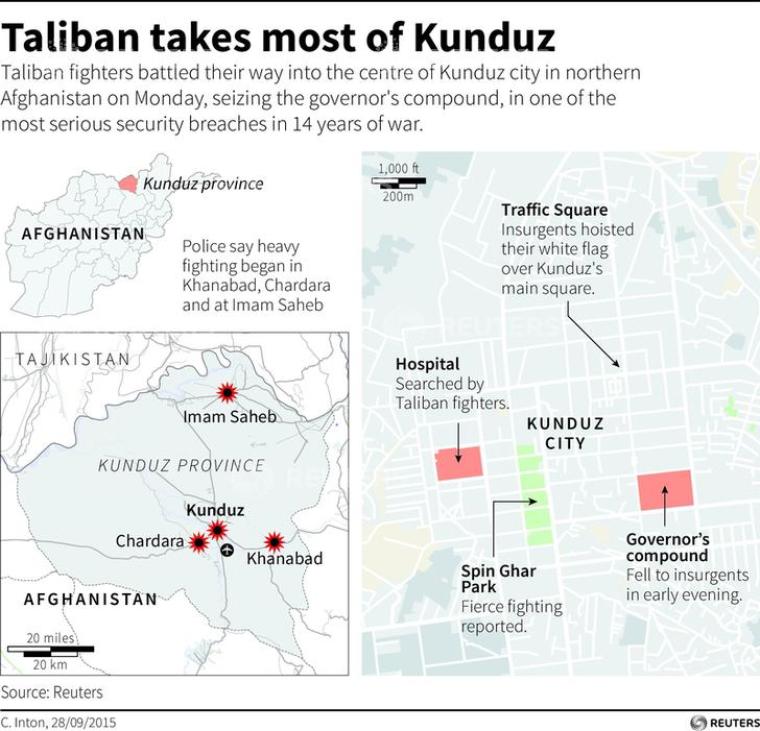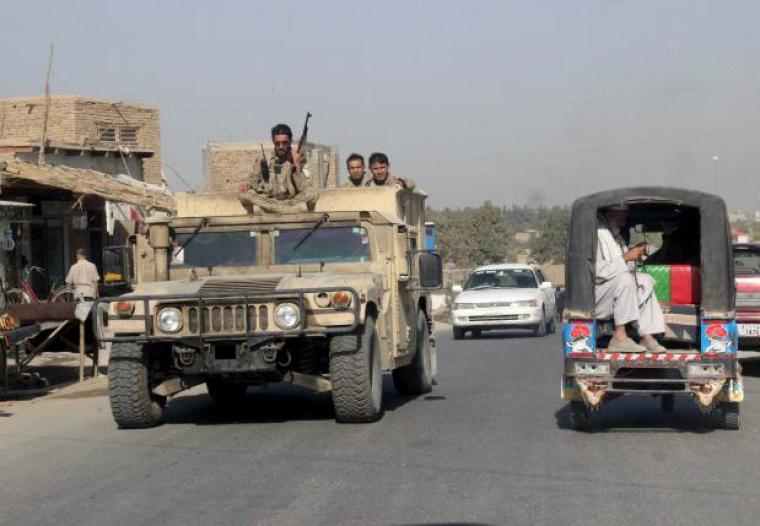 View Photos
The Taliban has reportedly captured the northern Afghanistan city of Kunduz, its first major victory against the U.S. and allied forces since 2001. Afghan forces, along with U.S. airstrikes, have immediately began a counter-operation aimed at taking back Kunduz.
"It is certainly the first major breach of a provincial capital since 2001," said Graeme Smith, senior analyst for International Crisis Group, according to Reuters. "They are choking the Afghan forces from all sides. It looks pretty grim."
The news agency noted that the 'stunning assault' comes just as President Ashraf Ghani marks his government's first year anniversary in power.
The United Nations Assistance Mission in Afghanistan reportedly evacuated its Kunduz compound as the assault began on Monday.
"They've been relocated within Afghanistan," said U.N. spokesman Dominic Medley.
BBC News added that the Taliban, which had lost significant amounts of power in the wake of the U.S.-led invasion 14 years ago, freed hundreds of prisoners in Kanduz, and forced Afghan troops and officials to flee.
The government has deployed hundreds of troops to retake the city, however, and on Tuesday said that progress is already being made.
"Serious fighting is going on," interior ministry official Matin Safraz said.
"The Afghan security forces have been retaking most of the strategic parts of the city," he added.
Afghan army's Deputy Chief of Staff, Murad Ali Murad, explained that the Afghan forces chose to flee rather than engage in all-out warfare in order to protect civilians who would have been caught in the crossfire.
"There were enough troops inside Kunduz city, but the insurgents used some route deemed not that sensitive," Murad said a news briefing late on Monday.
"Our forces arrived there on time, but we had to take extra care not to cause civilian casualties."
Mullah Akhtar Mansour, the Taliban's leader, has reportedly told the local population they won't be harmed.
Mansour said that Kunduz residents "should not be worried about their lives and property" and should "continue as normal," according to a statement.
The War in Afghanistan, which was launched following the September 11, 2001, terrorist attacks on the United States, has sought to eradicate al-Qaeda and the Taliban from the country, as well as to oversee a stable new government.
NATO withdrew most of its combat troops from the country in December, though BBC notes that it has left a 13,000-strong residual force to help with training and counter-terrorism operations.
U.S. State Department spokeswoman Katy Bondy said that Afghan security forces assumed primarily security responsibilities in 2015, and admitted that she expected fighting would intensify this year.
"The situation remains fluid, and we are continuing to follow the situation closely," Bondy said.
Abdullah Danishy, deputy governor of Kunduz, vowed that the government's troops will retake Kunduz.
"We have reinforcements coming from other areas and will beat back the Taliban," Danishy said.