Tamera Mowry-Housley Tells 'The Real' Fan to Give Christian Men a Chance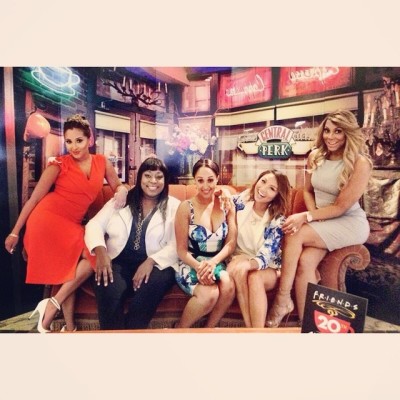 Tamera Mowry-Housley tells fans to give Christian men a chance.
"The Real" daytime talk show has officially been given a second season with co-hosts Tamera Mowry-Housley, Tamar Braxton, Loni Love, Jeannie Mai and Adrienne Bailon all returning. Recently, the show has been allowing fans to become guest co-hosts on their table talk segment that addresses a number of hard hitting issues.
When 21-year-old Danielle came on the show as a guest co-host, she admitted that she was a virgin in college who had a hard time meeting the right guy. The hosts on the show made sure to encourage her.
"There are men out there who have these same values and appreciate these values," Mai told Danielle on the show.
Mowry-Housley added that she could identify with Danielle's story, and spoke about her own personal experiences.
"This is my life, which is why I'm so passionate about it. In college, I doubted myself a lot, because I was like, 'Why don't men like me,'" she told Danielle. "But as I got older, it changes honey. Men don't want women who sleep with anything and everything. I'm sorry."
She continued by telling the young woman, "you are wife material at a very young age."
Mowry-Housley insisted that some women don't give enough Christian men chances, which might also contribute to their dating struggles.
"There are many Christian men out there who share her same views. You just have to be honest with yourself and say, 'OK, am I going to be honest with myself and deal with what I'm dealing with now, or [are you going to] give those Christian men a chance," Mowry-Housley said on the show. "A lot of times, my Christian guy friends are like, 'Man, girls don't want to give me a chance because all they want is a bad guy.'"
Love contributed to the conversation by suggesting some places where Danielle and others can meet like minded Christian men.
"Singles ministry at a church is really good, you have to find somebody that is equally yoked. ... You're not missing out on anything," Love told Danielle. "Sometimes this may be happening to you because you need to be focusing on something else. Focus on getting your life right, guys come and go."
The Warner Brothers talk show has made waves on television screens this season since its September debut, drawing in an average of 1.54 million viewers, according to Deadline.com.
While each woman expressed their excitement and gratitude for the opportunity to have another season of the show, Jeannie Mai took to her Instagram page to post an image of the women holding hands in a circle while praying last week.
"Before each and every show, we pray. And every day He giveth more than we can take," she captioned the Instagram image last week. "Thank you God for this second season that was just announced today. I pray we continue to connect, love, and celebrate life with all who watch."
Adrienne Bailon also took to Instagram to glorify God.
"We are officially going to 2nd season!!! Ahhhhhhh!!!! Tears of joy," Bailon tweeted. "... GOD is faithful."