TD Jakes Says First Amendment Guarantees NFL Players' Right to Protest and It Must Be Defended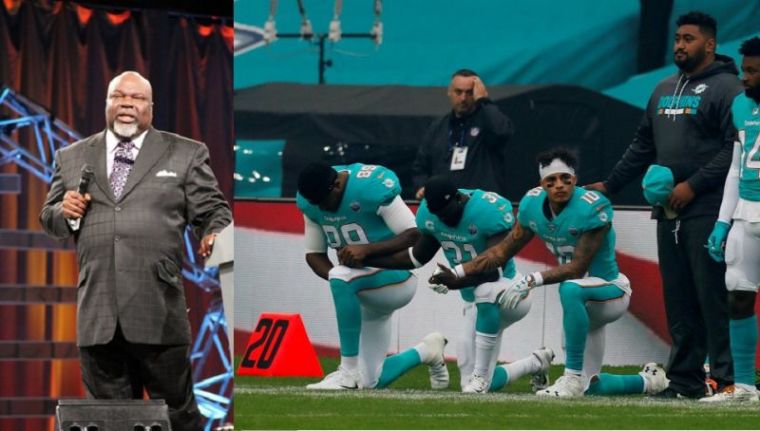 After standing with a coalition of prominent evangelicals last month to urge President Donald Trump to condemn the alt-right movement as racist and evil, popular televangelist Bishop T.D. Jakes is now defending the right of NFL players to protest against police brutality and social injustice.
In a recent appearance on CNN with host Don Lemon to promote his new book, Soar! which focuses on entrepreneurship, Jakes reminded Americans opposed to the controversial take a knee protests that the players are guaranteed freedom of expression by the United States Constitution.
"One of the things that makes America great, makes the flag have meaning is that we have the freedom of speech and the right to protest. History has proven to us that those people who have protested historically were very controversial at the time that they did," The Potter's House pastor told Lemon.
"I remember when Mohammed Ali took a very strong stance against the Vietnam War. He ended up a hero but in real time he was quite controversial and incarcerated as a result of it. We have to have the patience to let time have its perfect work. Sometimes the people we castigate today we later memorialize and honor in a great way."
He explained that it takes "great courage" to mount a protest when you have great opposition.
"It takes great courage to stand against the current. It is so easy today to say those things that are familiar and convenient and quite popular. But in the midst of the masses of people who go with the flow, there are always people who speak out against this sometimes rightly or wrongly, but we must defend their right to say what they say even when we don't agree with what they say," Jakes said.
Former San Francisco 49ers quarterback Colin Kaepernick, 29, sparked the controversial "take a knee" movement when he began kneeling during the performance of the national anthem last season to protest police brutality and the treatment of minorities.
Last month, however, President Trump threw fuel on that effort when he urged team owners to fire players who kneel in protest during the national anthem.
"Wouldn't you love to see one of these NFL owners, when somebody disrespects our flag, to say 'Get that son of a b**** off the field right now, out, he's fired. He's fired!'" Trump said during a campaign event for Sen. Luther Strange, according to AL.com.
Vice President Mike Pence also recently sparked further controversy when he left a game on Sunday because of the protest, a move some critics have dismissed as a publicity stunt.
Lemon noted to Jakes that the protest had died down with Kaepernick's still unsigned status, until President Trump injected life into the movement last month.
Jakes responded that he was worried that the focus on the protest had become a distraction from serious problems facing the country.
"My fear is that the reigniting of these issues is a distraction in many ways from the present problems that we have that are far more important to the welfare of this country and I really think that we really need at this hour our highest and best efforts to defend and protect the lives and the safety of the people in this country," Jakes said.
He said President Trump has an opportunity to "father" the nation to a place of healing and despite what he saw as some missed opportunities to heal divisions, he still believes it's not too late for the president to make a positive statement on coming together.
"My concern is we have a tremendous opportunity right now for the leadership of this nation to lead and to father this country and to bring divisions together. I'm not saying that he's God or that any other president is, but a clear definitive statement helps the rest of America know clearly where we stand as a people and I would encourage him to do that. I still encourage him to do that," Jakes said.
"I also thought Puerto Rico was a great opportunity to rise up in valor and speak and help bring conciliatory. We have real enemies outside of these borders to be concerned about and I'm concerned that the domestic turbulence, it's gonna be a distraction from the threats that we're getting from outside of the U.S."