President Trump Blames Jemele Hill for ESPN's 'Tanked' Ratings After Network Suspends Host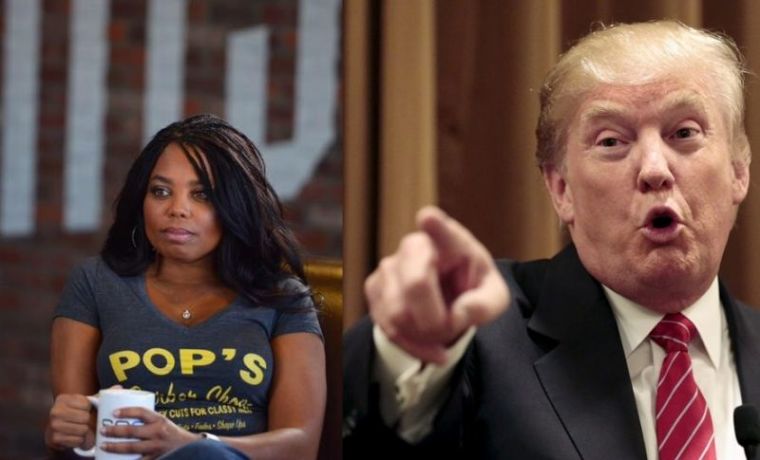 Hours after ESPN suspended Jemele Hill, co-host of "SportsCenter" on Monday, President Donald Trump blamed her for the sports network's "tanked" ratings.
"With Jemele Hill at the mike, it is no wonder ESPN ratings have 'tanked,' in fact, tanked so badly it is the talk of the industry!" Trump tweeted early Tuesday morning.
Late Monday afternoon ESPN announced that Hill had been suspended for two weeks for violating the company's "social media guidelines."
"Jemele Hill has been suspended for two weeks for a second violation of our social media guidelines. She previously acknowledged letting her colleagues and company down with an impulsive tweet. In the aftermath, all employees were reminded of how much individual tweets may reflect negatively on ESPN and that such action would have consequences. Hence this decision," ESPN said in a statement.
The suspension comes after Hill fired off a series of tweets in reaction to Dallas Cowboys owner Jerry Jones' warning to his players that they would not be allowed to play if anyone "disrespects the flag."
"I know this, we cannot ... in the NFL in any way give the implication that we tolerate disrespecting the flag," Jones said. "We know that there is a serious debate in this country about those issues, but there is no question in my mind that the National Football League and the Dallas Cowboys are going to stand up for the flag. So we're clear."
Jones' warning before the Cowboys game against the Green Bay Packers on Sunday came after a backlash against players "taking a knee" to protest police brutality and systemic racism during the national anthem.
The protests have intensified in recent weeks after Trump urged team owners to fire players who kneel in protest during the national anthem.
"Wouldn't you love to see one of these NFL owners, when somebody disrespects our flag, to say 'Get that son of a b---- off the field right now, out, he's fired. He's fired!'" Trump said during a campaign rally for Sen. Luther Strange last month, according to AL.com.
"If you strongly reject what Jerry Jones said, the key is his advertisers. Don't place the burden squarely on the players. This play always work. Change happens when advertisers are impacted. If you feel strongly about JJ's statement, boycott his advertisers," Hill told her nearly 800,000 followers on Twitter after Jones' warning.
"Or, how about not patronizing the advertisers who support the Cowboys? You can watch and do that, right? If the rationale behind JJ's stance is keeping the fanbase happy, make him see that he is [sic] underestimated how all of his fanbase feels. Cowboys have a huge national following. Lot of black and brown folks are Cowboys fans. What if they turned their backs on them?" she said.
Hill had previously branded the president a "white supremacist" in tweets last month as well.
"Donald Trump is a white supremacist who has largely surrounded himself w/other white supremacists. He is unqualified and unfit to be president. He is not a leader. And if he were not white, he never would have been elected," she argued on Twitter.
Her comments caused an uproar on social media and forced ESPN to release a statement distancing itself from the comments. White House Press Secretary Sarah Huckabee Sanders also called Hill's comments a "fireable offense."