Teacher Suspended for Giving 11-Y-O Students 'Gender Identity' Sex Packets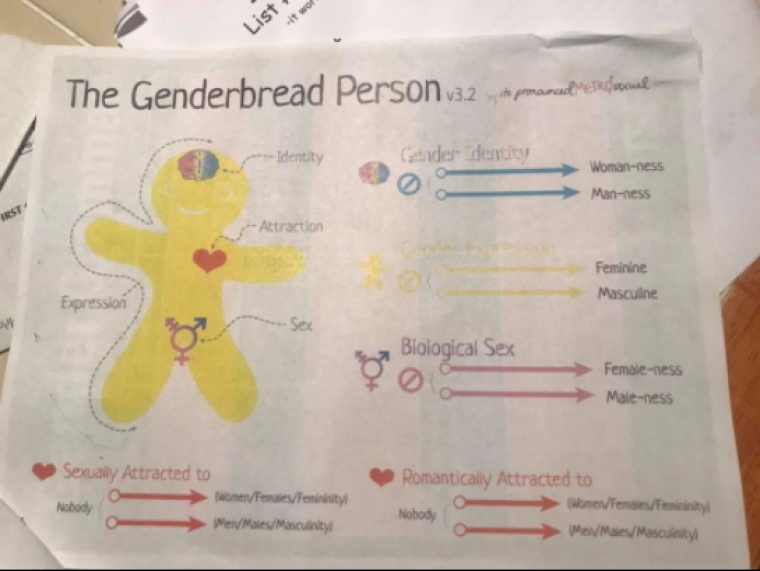 A public school health teacher in New York was placed on administrative leave for allowing an LGBT activist organization to give out "gender identity" packets to students as young as 11 years old.
A teacher at Cambridge Central School was placed on paid administrative leave after complaints were received from parents who said their children in seventh grade were given packets in health class last Monday that included information about gender identity, transgender persons and gender reassignment procedures.
The Glen Falls Post-Star reports that the packets were provided to students by a presenter from the LGBT Pride Center of the Capital Region.
The packet included subjects like "gender grammar" — what people should and shouldn't call transgender people — and provided definitions for as many as 200 common terms.
Among the terms defined in the packet are a number of sexually explicit words that parents had a problem with their kids being exposed to, such as as "catcher," "bottom," "bicurious," "bear," and "binding."
The night that students brought home the packet in question, parent Sirell Fiel, whose 11-year-old son attends the school, raised the alarm on social media.
In a Facebook Live video, Fiel lambasted the school for giving his child the handout. Fiel also posted some pictures of the handout.
"I understand that we live in a [divisive] world and everyone has got their thing and not everyone is going to be the same, but we come with our Christian values and we live by our own expectations," Fiel said in the video. "When it comes to teaching our kids certain things, that should be left up to us, not the school districts, not health class in seventh grade."
Fiel explained in his video that the packet included concepts like "The Genderbread Person" and a section on "5 Things You Should Know About Transgender People." However, the one section that upset him the most was the "common terms and definitions."
"Everybody has their thing. That's fine and I'm not going to hold you to it, but I don't need it being brought into a classroom where we pay our tax dollars for you to teach stuff to my kids years before they should even know about this stuff," Fiel said. "I can't even begin to think about all the daughters in these classes learning about this sexual stuff — crossdressers, transgenders, and what the terms are for these surgeries and injections and disorders of sexual development."
The Glen Falls Post-Star reported that the teacher in question was placed on administrative leave with pay last Tuesday, the day after Fiel posted his Facebook video.
According to The Post-Star, the teacher remaines on paid leave even after the school system conducted its investigation into the matter last week.
Although Superintendent Vince Canini could not identify the teacher who was suspended, the Post-Star notes that there is only one health teacher at the school, Jacqueline Hall.
"We have completed the investigation and are going to be consulting with our attorney," Canini was quoted as saying.
Canini said that the main purpose of his investigation was to figure out whether or not the LGBT organization's handout was reviewed by school staff before it was given to students. Canini told the Post-Star that Principle Carolina Goss knew about the presentation but had not reviewed the material in advance.
Although it was initially thought that only 10th graders would be given the 42-page packet, Canini said that the investigation shows that both seventh and 10th grade students were given the packet with over 200 LGBT definitions.
"I would like to again stress that the topic of gender identity was never of concern," Canini explained. "The graphic 'common terms and definitions' were. The two are totally separate but have been blurred into one, which is not the case."