Tear Down Your Strongholds, Pastor Eric Mason Tells Liberty U. Students; 'Your Mess Isn't the Worst Mess God Has Ever Seen'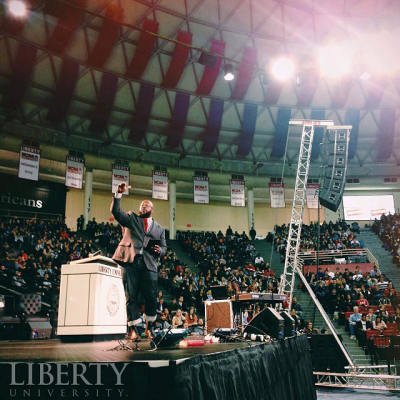 Pastor Eric Mason of Epiphany Fellowship in Philadelphia, Pa., addressed Liberty University students Monday at Convocation and shared a message he said has been "burning in me to talk to this generation about," which he described as the need to "break free from strongholds."
Mason, author of Manhood Restored: How the Gospel Makes Men Whole, defined a "stronghold" as not only "a fortified place" or "bastion," but also "anything that is in opposition to what God wants."
"God wants our lives to be about bringing down and challenging anything that exalts itself over who Jesus Christ is," said Mason. The Philadelphia pastor referenced 2 Corinthians 10:3-6, explaining that "Paul is talking about the issue of the people of God having their thinking being governed by the Scriptures."
Mason began his remarks at the Lynchburg, Va., evangelical Christian school by suggesting that there were so many things in the culture, especially in areas of entertainment, that compete not only for people's attention, but also for their minds and hearts.
"It wants to edu-tain you," he suggested. "Educate you while entertaining you." While making it clear that he was not "demonizing" culture in anyway, Mason reminded Liberty University students that they live in a fallen world with destructive systems.
"As a believer in Jesus Christ, you can never shut that grid off…" he added, referring to Christians having "the mind of Christ" or a value system that reflects God's character in the Scriptures.
In regard to strongholds, Mason suggested that these fortified areas could be present in any area of a person's life, and that no one was exempt from having areas of "unbelief."
"I'm a recovering unbeliever," said Mason, turning to the issue of sanctification. "When you become a believer you are in a treatment program…" Throughout this process there is "a ferocious devil" that tries to destroy everything God is trying to replant in a believer's life, he added.
Mason suggested that some Christians were unaware that they have been "hoarding their sin," or neglecting to address personal strongholds.
He went on to reference Judges 6:11-16, a passage that tells how Gideon is called by God to help defend Israel against their aggressor the Midianites. According to the text, the "angel of the LORD" appeared where Gideon was working in hiding to avoid the Midianites.
The passage says that the "angel of the LORD" greeted Gideon as a "mighty warrior" or "mighty man of valor," although his behavior suggested otherwise.
"When God sees us in our stronghold, He doesn't see us where we are," said Mason, suggesting that God sees His people free of their strongholds.
"You got to tear down the mindsets in your life. You got to go to the place in your life of the greatest unbelief," Mason pleaded, insisting that believers have to tear down every contrary mindset "and replace it with a mindset that comes from the mindset of the living God based on Scripture."
"I don't care how ugly or hurtful that area of your life is," he said, adding at another point: "Your mess isn't the worst mess God has ever seen."
"God is waiting to deal with every single broken issue in your life. Your greatest point of embarrassment, your greatest point of shame is a great opportunity for God Himself to meet you in that encounter and not judge you for it, but let the blood of Christ cover that thing."
Mason, founder and lead pastor of Epiphany Fellowship, is also president of Thriving, a ministry that helps to resource and equip ethnic minorities to serve in urban contexts. He also serves on the Executive Board of the church planting Acts 29 Network and on the board of Reach Life Ministries.
Mason addressed Liberty University students Monday morning at the school's Vines Center, with his remarks streamed live online. The Southern Baptist-affiliated school was founded in 1971 by the late Jerry Falwell and is currently the nation's largest private nonprofit university, with 12,500 residential students and 90,000 additional students studying online.