Tearful Pastor Greg Locke Admits He Is Now Divorced, but Insists 'I Am Not an Adulterer'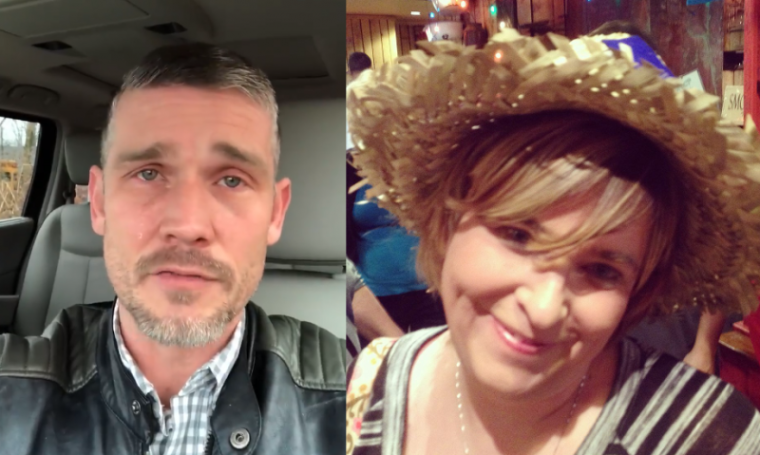 Greg Locke, the popular and outspoken internet preacher and lead pastor of Global Vision Bible Church in Tennessee, admitted Thursday that he is now divorced but said his marriage was not destroyed by adultery and implied that he wasn't the one that initiated the divorce.
"Let me just say from the get go that the past year, especially the past six months, has been a very difficult and a very broken time in my life and in our family. I am a divorced pastor at this point in my life, but I did not divorce my wife and I did not send my wife away and the papers will verify that," Locke said in an at times tearful video message to his supporters on Facebook. "Both the papers from the beginning and the papers that I have on my desk that say the case is closed. They are trying to spin this story. This all happened a month ago."
The admission from Locke, who shot to internet fame after he posted a video on Facebook on April 22, 2016, criticizing Target for its new policies on gender-neutral bathrooms, comes after a Pulpit & Pen report claimed he "literally put his wife, Melissa, on a bus and sent her away." The report also alleged that he was engaged in a relationship with a female member of staff at his church. Locke and Melissa have four children, including two who were adopted.
The popular preacher insisted that he has lived a "clean" life and said it was Melissa who left him.
"In 25 years of preaching, I've never had one moral misgiving. I've never had one financial scandal. Nothing. So you believe anything that you want to believe but God's going to vindicate me in this situation," he said.
"This has been the longest six months of my life. And at the time of this video, my wife left 73 days ago. And she lives out of state. We have four children and I have them. The four children are with me. And if that doesn't say something for my character then I don't know what does. This has been a very difficult time. The details of my marriage and the failure thereof are not for Facebook public consumption. But I did not divorce my wife and now people are saying months later that I'm an adulterer and that I've got a romantic relationship," he said.
He further noted that while some people have been asking about him reconciling with Melissa that it is not his plan for the future. There is no reconciliation, he says, because divorce is the "finality of what you've been working on."
"It's not the beginning and the cause of it. We have been working on some real mental and emotional heartbreak for a very, very long time and that's a difficult reality. But our church doesn't want me to resign and step down. There is no sin in my life. I'm not an adulterer," he said with tears streaming down his face.
Pulpit & Pen alleged in their report that Locke was in a relationship with a woman identified as "Tai."
"Tai was given a ministry position at the church shortly before this unfolded. Pulpit & Pen has seen text messages between Greg and others, acknowledging that he was indeed in a relationship with the woman, Tai. They have begun doing things together with their mutual families. We have also seen photos of the two together," the report said.
Locke said that the alleged other woman is his ex-wife's best friend and their families have been close for a long time.
"The 'lady' in question has worked for our church for a long time and been my wife's best friend for a very long time, and both of our families have been the closest of friends. We have done things together for years and that has never come into question and been a problem until all of a sudden this happened and I became single," he said.
Locke said since announcing his divorce to his church he has lost a lot of his church members but he plans to keep living for God.
"I got up before my church long before these silly stories ever broke and I told my church family, 'Look, this is the most broken time of my life.' We've had a lot of people walk away because of the divorce part of it and they're good people, I understand that. And I told them, 'We've gotta move forward with my kids and with my life.' And no, I'm not in some romantic adulterous relationship.
"My church, from day one, has known every single detail of what is taking place because I'm their pastor, I'm their shepherd. I'm accountable to them. And the original family that lives an hour away from our church that spawned all of this nonsense out of control and made up all of these lies and began to force assumptions down people's throats, they weren't even there the night that I gave the original announcement.
"My kids are hurting through this. I'm hurting through this. My ex-wife is hurting through this. Our church are hurting through this and now they're dragging a lot of people through the mud for no reason. I did not divorce my wife. And if the fact that I'm divorced now disappoints you, try being me," he said.
Controversial Pastor Steven Lee Anderson of Faithful Word Baptist Church in Tempe, Arizona, who says, "Locke likes to call me and people like me 'jerks for Jesus,' argued that he should step down from the pulpit because of his divorce.
"If your marriage fails, then you have failed as a leader in the most fundamental way. Now you can sit there and make all the excuses. Of course everyone who gets divorced always tells you how it's 100 percent the other person's fault. Even if that were true, even if it was 100 percent her fault and we don't know the details, he still must step down as pastor," Anderson argued Thursday.
"He is supposed to be the husband of one wife and ruling well his own house. And if he cannot love his wife as Christ loves the Church, present her as a righteous woman, then he is failing as a leader. He cannot be a pastor. If my wife leaves me, if my marriage fails for any reason, I will step down as pastor if I am no longer married to my wife," he promised.