Tears flow amid biblical cry for justice at Daunte Wright's funeral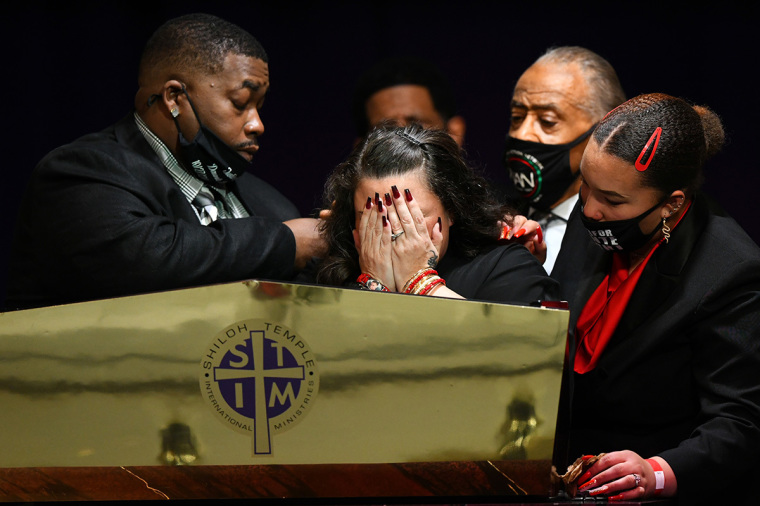 Katie and Aubrey Wright struggled through pain to find words inside the Shiloh Temple in Minneapolis, Minnesota, Thursday to remember the life of their late 20-year-old son, Daunte, who was shot dead by former Brooklyn Center police officer Kim Potter less than two weeks ago.
"I never imagined I would be standing here. The roles should completely be reversed. My son should be burying me," Katie told the crowd inside the church that included family attorney Ben Crump and civil rights leader Al Sharpton, who delivered Daunte's eulogy, along with Democratic Rep. Ilhan Omar, Sen. Amy Klobuchar and Gov. Tim Walz.
When she became too overwhelmed with emotion to speak, her husband chimed in after watching her wrestle through several moments of muted weeping.
"I don't really speak much, but words can't even explain how I feel right now. You know, that was my son," Aubrey said.
Katie later recalled how her son was a doting new dad who was looking forward to a happy life with his son who was born in 2019.
"His son was born at 28 weeks along, so he was premature. The joy that junior brought to Daunte's life was truly amazing. He was so happy and so proud, and he always said he couldn't wait to make his son proud. Junior was the joy of his life and he lived for him every single day. And now he's not gonna be able to see him," she said.
While the family struggled to find words for their grief, the families of several other black victims of police killings such as Philando Castile, who was shot dead by police during a traffic stop in a Minneapolis suburb in 2016, George Floyd and Eric Garner, who died during a 2014 encounter with officers from the New York City Police Department, were on hand to provide support and make a political statement about police reform.
In support of this justice message he called "No Justice, No Peace," Sharpton quoted from the book of Isaiah 59:8-9 in the Bible which says: "The way of peace they know not; and there is no judgment in their goings: they have made them crooked paths: whosoever goeth therein shall not know peace. Therefore is judgment far from us, neither doth justice overtake us: we wait for light, but behold obscurity; for brightness, but we walk in darkness."
He explained how the phrase "No Justice, No Peace" emerged during protests over the 1986 death of 23-year-old black man Michael Griffith following a racial attack in the then predominantly white Howard Beach community in New York City.
"It became the chant of our movement. Some of us have made it popular … but it really started in the Bible because Isaiah said that those that practice injustice cannot practice peace. The absence of justice is the absence of peace. And when we say that we're not talking about violence because there is a confusion in the country between peace and quiet," he said.
"Some of us are told to shut up and just be quiet and you call that peace. But peace is the presence of justice. You can't tell us to shut up and suffer. We must speak up when there is an injustice," Sharpton added.
He recalled that on his way to the funeral a man mentioned to him that he had not seen a funeral procession like Daunte's in Minneapolis since the passing of the musician Prince in 2016.
"I said, 'Well, we came to bury the prince of Brooklyn Center.' We come from all over the country because you hurt one of our princes. That's why we are in this temple with purple all over 'cause it represents royalty. ... He was a prince and all of Minneapolis has stopped today to honor the prince of Brooklyn Center," he said to applause.
Sharpton said they was a need to upend the narrative that black men, in particular, are dangerous to law enforcement and highlighted the need to pass the "George Floyd Justice in Policing Act" which would overhaul policing and eliminate qualified immunity for all local, state and federal law enforcement officers. Qualified immunity shields police officers performing discretionary functions from civil liability.
"You keep thinking that we're somebody we're not. They tell our young folks don't go to the streets and march when marching and protesting is a way of correcting the injustice Isaiah talked about. You can't go to church on Sunday and read this book that we call the Bible and not fight against oppression. God is not on the side of the oppressor. God is on the side of the oppressed," Sharpton said, adding that standing up against injustice helped bring about the recent guilty verdict for former Minneapolis police officer Derek Chauvin for the murder of George Floyd. "God has turned the page in the state of Minnesota and we're never going back no more."
In his call for justice, Crump argued that if Potter was able to see Daunte in the same way she looks at her own child, it's likely he would still be alive today.
"If she saw your child Katie, like she saw her child, then I do not think she would have even reached for a Taser much less a gun. Because when they see their children they see their future. They see the best and the brightest that they have to give the world for the future. They see the most talented and resourceful, most indomitable human beings when they see their children. I submit to you America, so do we when we see our children," Crump said.