Ted Cruz Asks Ben Carson for Private Meeting to 'Clear the Air' After Iowa Controversy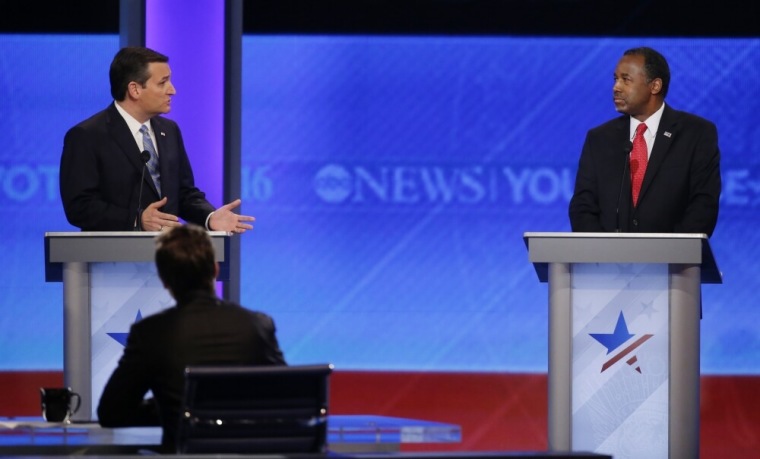 Republican presidential candidate Ben Carson says that fellow candidate Texas Sen. Ted Cruz asked to have a private meeting with him to "clear the air" after Cruz's campaign misreported at the Iowa Caucuses that Carson was going to suspended his campaign.
In an interview with The Washington Post, Carson said that Cruz approached him during an off-camera break at last Saturday's Republican presidential debate in New Hampshire to apologize for his campaign's behavior at the caucuses and also asked to have a private sit-down to discuss the matter.
"He said he's sorry that this happened and he wants to sit down and talk," Carson was quoted as saying. "He wants to discuss the whole thing and clear the air."
Carson said that he did agree to the meeting but has not yet set a date with Cruz, who won last Monday's Iowa Caucuses by a 3.3 percentage point margin over billionaire Donald Trump while Carson earned fourth place with 9.3 percent of the vote.
Cruz's apology comes after he took heat from the media, Carson and others, while Trump began questioning the legitimacy of Cruz's victory in Iowa.
Although Cruz wants to "clear the air," Carson said that the meeting does not mean that Cruz will be freed from blame. Carson stated that there are voicemails proving that Cruz supporters told others that Carson was going to end his campaign.
"The evidence is there," Carson said. "Tapes, written communications, it's all out there. People have to decide whether this kind of behavior is acceptable to them."
Carson was given an opportunity to criticize the actions of the Cruz campaign at Saturday's debate, where he said Cruz's campaign displayed a certain level of "Washington ethics." Carson's remark was a direct jab at Cruz's frequent promises to battle the "Washington cartel."
"It gives us a very good example of certain types of Washington ethics," Carson said. "Washington ethics, basically says, if it's legal, you do what you need to do in order to win."
"I will say that I was very disappointed that members of his team thought so little of me that they thought that after having hundreds, if not thousands, of volunteers and college students who sacrificed and were dedicated to the cause — one even died — to think that I would just walk away 10 minutes before the caucus and say 'forget about you guys.' I mean, who would do something like that?" Carson continued. "I don't think anyone on this stage would do something like that."
While apologizing at the debate, Cruz also provided reasons for his campaign's actions by putting the blame on the timeline of CNN's reporting, which said that Carson was going to return home to Florida following Monday night's caucuses.
"My political team saw CNN's report breaking news and they forwarded that news to our volunteers, it was being covered on live television," Cruz said.
CNN responded with a statement accusing Cruz of spreading false information.
"What Senator Cruz said tonight in the debate is categorically false," the statement reads. "CNN never corrected its reporting because CNN never had anything to correct. The Cruz campaign's actions the night of the Iowa caucuses had nothing to do with CNN's reporting. The fact that Senator Cruz continues to knowingly mislead the voters about this is astonishing."
With the New Hampshire primaries happening Tuesday, Trump is out in front with 31.6 percent of the support in the RealClearPolitics average of New Hampshire Republican primary polling. Cruz is in third place with 13.0 percent of the votes.
With former candidate Sen. Rand Paul, R-Ky., having dropped out of the race last week, Breitbart reported that Cruz picked up the endorsement of six prominent Paul supporters in the state, including Reps. Eric Eastman, Harold French, Larry Gagne, JR Hoell and Mark McLean.