Ted Cruz Campaigns in Ohio Despite Reported 'Alliance' With Kasich, Rubio to Stop Donald Trump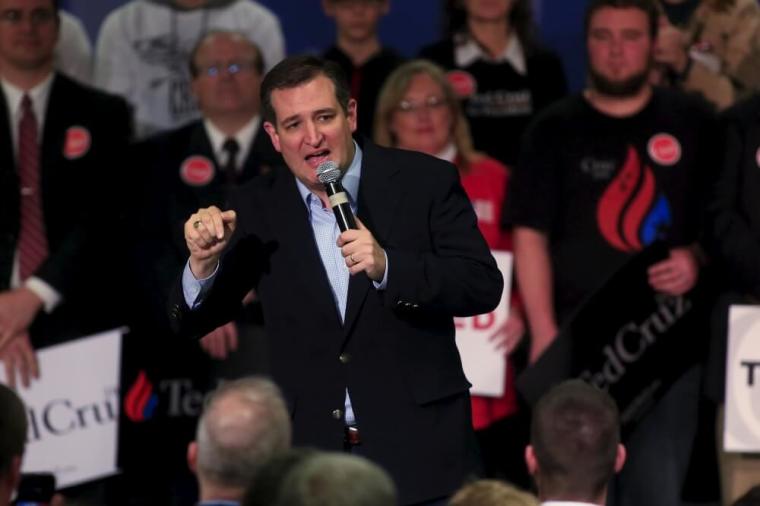 Texas Sen. Ted Cruz told voters in Ohio Sunday that he, not Ohio Gov. John Kasich, was their best hope to stop Donald Trump from winning Republican nomination, despite earlier reports suggesting that the two candidates and Florida Sen. Marco Rubio might form a divide-and-conquer "alliance" to defeat the real estate mogul in Tuesday's pivotal primaries.
With winner take-all primary elections in Florida and Ohio scheduled for Tuesday along with elections in Illinois, North Carolina and Missouri, it was previously reported that Cruz, Kasich and Rubio would potentially form an "alliance" in which only Kasich would focus on winning his home state of Ohio, Rubio would focus on his home state of Florida, and Cruz would be left to focus on Illinois, Missouri and North Carolina.
The thought process behind a potential strategy like that is if those three candidates can pick up wins and delegates in those focus areas, it would be damaging to frontrunner Trump's chances of winning enough delegates to win the Republican nomination outright without a brokered Republican National Convention in July.
Although the Rubio campaign seems on board with such a plan — with Rubio's communications director saying last week that the best chance for Rubio supporters in Ohio to beat Trump would be to vote for Kasich — Cruz appears unsold on such a strategy.
With all of Ohio's 66 delegates up for grabs to whoever wins the state, Cruz made a campaign stop in Columbus Sunday.
Although the RealClearPolitics average of Ohio Republican nomination polling shows that Kasich has about a 3 percentage point lead over Trump in Ohio, The Washington Post reports that Cruz told supporters at the Northland Performing Arts Center he was not going to let the media decide who has the best chance to win the state.
"They said, Ted Cruz, don't come to Ohio," he told the audience. "We've decided in the media we're giving it to Donald Trump or John Kasich."
Before the rally, Cruz talked with reporters and stated that neither Kasich or Rubio have a path to the nomination and he is the only viable alternative to Trump, as he has already beat Trump in nine different states.
"They have no path whatsoever to winning the Republican nomination. That takes 1,237 delegates. It is mathematically impossible for either one of them to win 1,237," Cruz said, according to Cincinnati.com. "So if you don't want to see Donald Trump as the nominee, the only way to beat him — there is only one candidate who has beaten him over and over and over again, and who will beat him."
As far as Cruz's chances of beating Kasich and Trump in Ohio, he cited a recent CBS News/YouGov poll that finds that he is just 6 percentage points shy of Trump and Kasich, who were tied with 33 percent.
As Cruz is the only candidate left besides Trump who could possibly win the required 1,237 delegates, he argued that a brokered convention would be an "absolute disaster."
Although the last campaign lifeline for Rubio comes in the form of his home state, Trump has more support in Florida than Rubio does, according to the RealClearPolitics average of Florida Republican nomination polling.
Trump has an average of about 42.3 percent of the Republican support in the Sunshine State, while Rubio has an average support of about 23.8 percent.
As far as Illinois, Missouri and North Carolina go, RealClearPolitics polling averages show Donald Trump in the lead in all three of those states.
In Illinois, Trump averages about 35 percent to Cruz's 26.3 percent.
In North Carolina, Trump averages 41.3 percent to Cruz's 28.5 percent average.
In Missouri, Trump averages 36 percent of the support to Cruz's 29 percent.