Ted Cruz Launches 'Homeschoolers for Cruz,' Earns Endorsments From Thousands of Home Educators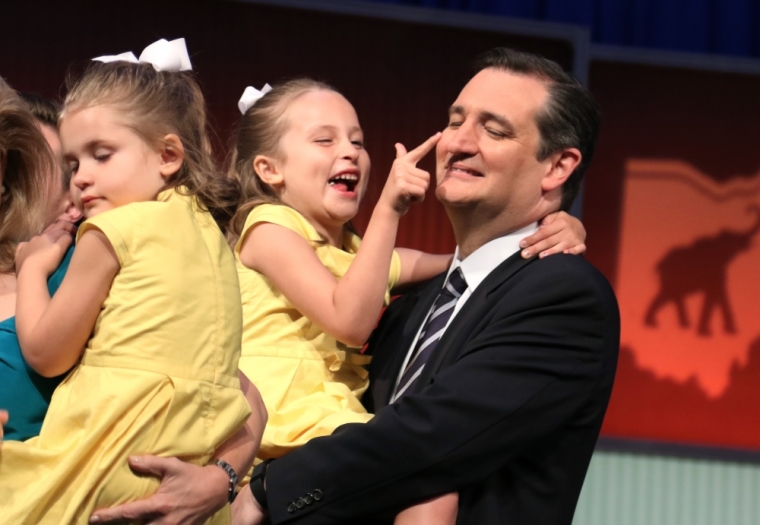 Republican presidential candidate and Texas Sen. Ted Cruz announced Monday the launch of the Homeschoolers for Cruz coalition, an alliance of over 6,000 members of America's homeschool community and prominent homeschooling lobbyists who have united to endorse him for president.
Cruz announced the roll out of the coalition at a campaign event in Winterset, Iowa and explained that the coalition is focused on returning power to parent educators. Cruz vowed that if he is elected president, he will personally abolish the Common Core set of education standards.
"If you or I disagree with what some bureaucrat in the federal Department of Education says, you can't change that, and that is not the way it should be," Cruz said in a statement. "I have great faith in the leaders of this coalition, and the passionate supporters of homeschooling who are uniting for this cause — to take back power from the Washington Cartel and to restore choice to the people who know our students best: parents."
In a video posted to his campaign website, the 45-year-old conservative explained that homeschooling embodies two of the most important aspects of American society — family and education.
"Home educators strengthen these fundamental pillars of our nation," Cruz continued. "That's why I admire each parent educator so much because you are not only parenting, you are teaching your sons and your daughters to know and love what is right and good. That is an irreplaceable gift and our country is stronger because of it."
Cruz continued by attacking Common Core by claiming that it takes the power of out of the hands of local school officials and parents and puts it in the hands of federal employees.
"Some of the left want to shut down those who don't abide by the Common Core agenda," Cruz stated. "Mark my words, that is not going to happen. If I am elected president, I will direct the U.S. Department of Education, which should be abolished, I will direct the Department of Education that Common Core ends today."
"Instead, I will restore power back to the states and to the local governments and ultimately, back to the parents — those closest to our kids and have direct responsibility for raising our children," he added.
Homeschoolers for Cruz, which the press release claims has already amassed over 6,670 members from across the United States, will be co-chaired by Home School Legal Defense Association's federal relations director William Estrada, prominent Iowa homeschool activist Vicki Crawford and Marlin Bontrager, a Iowa parent who home educated his 10 kids on his farm.
"I spend my days fighting for homeschool freedom. It's not easy because much of the education establishment is against us. So, when I was deciding whom to support for President of the United States, I evaluated each candidate by his or her willingness to consistently fight for conservative, constitutional principles — by his or her eagerness to take on the political establishment in both parties as part of those fights — and by his or her record of reducing the role of the federal government in the everyday lives of American citizens," Estrada explained in a statement. "Only one candidate truly fit the bill, and that's Ted Cruz."
During the event the Bontrager Family Singers performed for the audience.
"My family and I are so grateful that the Lord has given us a godly man like Ted Cruz to run for president," Bontrager said in the press release. "As a homeschooling father of 10 and the leader in my home, it is vitally important to me that we have a president who is concerned first and foremost about religious liberty and protecting the Constitution. Within that is included the rights that we need to have as parents to be able to choose what education we desire for our children. I believe that Ted Cruz has and will continue to fight for these rights and that is why I endorse him for president."
As Cruz embarks on his "Cruzin' to Caucus" Iowa bus tour this month, the launch of the coalition could be seen as an attempt to unify America's homeschooling community behind Cruz, especially Iowa's homeschooling community.
With the Iowa Caucus slated for Feb. 1, Cruz is currently the frontrunner in the Iowa nomination polls, according to the Real Clear Politics average of Iowa Republican nomination polling that shows Cruz leading with 31 percent while billionaire Donald Trump is second with 27.4 percent of the support.
"Senator Ted Cruz has been a beacon of hope and freedom that has inspired and encouraged so many of us in our mutual desire to restore America's promise," Crawford said in a statement. "His courage, conviction, character and consistency are the hallmarks of a true leader, who faithfully represents all the principles that founded this nation. It is a privilege to offer him my support."
Contact: <ahref="mailto:samuel.smith@christianpost.com">samuel.smith@christianpost.com,
@IamSamSmith
(Twitter)