Ted Cruz, Marco Rubio Tag Team Against Donald Trump at GOP Debate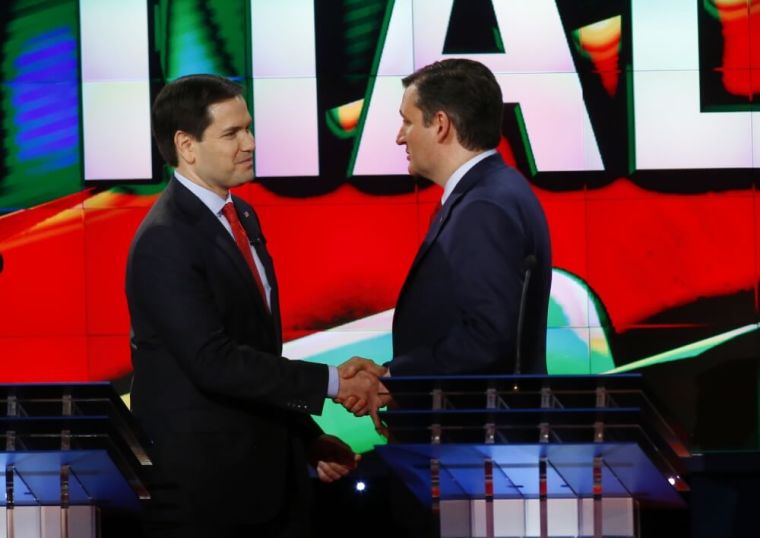 With Donald Trump starting to run away with the lead in the 2016 Republican presidential primary election, Sens. Marco Rubio, R-Fla., and Ted Cruz, R-Texas, double teamed in presenting their cases for why it would be a mistake for the GOP to nominate the billionaire frontrunner during Thursday night's presidential debate.
As Trump has now secured 82 delegates in the Republican primaries (65 more delegates than the second-place Cruz), the Cruz-Rubio tag team went into effect against the Manhattan real estate mogul when the subjects of religious liberty and Supreme Court nominations were brought up by moderator Hugh Hewitt in the CNN debate.
Cruz, who was the hometown candidate in the Houston debate and is also the only other candidate besides Trump to win in a state, attacked Trump by suggesting that Trump "will look to cut a deal" with liberals when nominating a Supreme Court nominee instead of standing by his word that he will nominate a justice who will fight for the Constitution and the Bill of Rights.
Prior to Cruz's remark, Trump was asked by Hewitt if he would appoint a justice that would protect the religious liberties of Christian colleges and institutions that want to stand against the Obamacare contraception mandate.
Following Cruz's "cut a deal" remark Hewitt, then asked Trump "Can I trust you on religious liberty?"
Trump did not help himself with conservatives like he could have if he had simply refuted Cruz's claim that he will "cut a deal" on the Supreme Court but instead attacked Cruz for being a divisive force in the Senate and then asserted that "we have to have somebody that's going to make deals."
Following Trump's rebuttal, Cruz pounced on the opportunity.
"I find it amazing that your answer to Hugh and to the American people is, on religious liberty, you can't have one of the these crazy zealots that actually believes in it. You've got to be willing to cut a deal," Cruz argued. "And you know, there is a reason why, when Harry Reid was asked, of all the people on this stage, who does he want the most, who does he like the most, Harry Reid said Donald, Donald Trump. Why? Because Donald has supported him in the past, and he knows he can cut a deal with him."
"I don't want a Supreme Court justice that you cut a deal with Harry Reid to undermine religious liberty, because that same justice will also erase the Second Amendment from the Bill of Rights," Cruz continued.
Although Rubio has refrained from attacking Trump in previous debates, Rubio finally went after the frontrunner when he attacked Trump for having liberal stances on "issue after issue" for the last 25 to 30 years.
Rubio also pointed out Trump's defense of Planned Parenthood during the last GOP debate in mid-February and wondered if he would really nominate a conservative constitutionalist to the court like he says he would.
"In fact, very recently, he was still defending Planned Parenthood. He says he's not going to take sides in the Palestinians versus Israel. These are concerning things," Rubio said. "And so, yes, I have a doubt about whether Donald Trump, if he becomes president, will replace Justice Scalia with someone just like Justice Scalia."
In response to Rubio, Trump, again, did not help himself with conservatives when he stated Planned Parenthood helps "millions" of women.
"I'm totally against abortion, having to do with Planned Parenthood, but millions and millions of women — cervical cancer, breast cancer — are helped by Planned Parenthood," Trump said. "So you can say whatever you want, but they have millions of women going through Planned Parenthood that are helped greatly. And I wouldn't fund it."
After Rubio was embarrassed by New Jersey Gov. Chris Christie in a debate earlier this month when he was accused of giving the same 25-second talking point response that Christie claims Rubio's advisers gave him, Rubio did the same thing to Trump when the issue of healthcare reform was brought up in Thursday's debate.
Trump said that his plan to create lower costs in health care would be to eliminate "lines around each state so we can have real competition."
"Here's what you didn't hear in that answer, and this is important guys, this is an important thing. What is your plan?" Rubio asked Trump. "I understand the lines around the state, whatever that means. This is not a game where you draw maps."
Trump responded saying "you know what it means," to which Rubio again responded, "what's your plan?" Trump again tried to avoid the question by claiming that Rubio doesn't "know much."
Rubio persisted to know what Trump's concrete plan is to create more affordable health care and Trump again responded by saying, "The lines around the states."
Rubio responded: "That's your only plan?"
"You get rid of the lines, it brings in competition," Trump asserted.
"So, that's the only part of the plan? Just the lines?" Rubio questioned.
Trump defended his statement saying it would allow greater competition and different plans in states.
"Now he's repeating himself," Rubio said.