After Losing Evangelical Vote, Will the Ted Cruz Campaign Stop Using 'Dirty Tricks'?
After Losing Evangelical Vote, Will the Ted Cruz Campaign Stop Using 'Dirty Tricks'?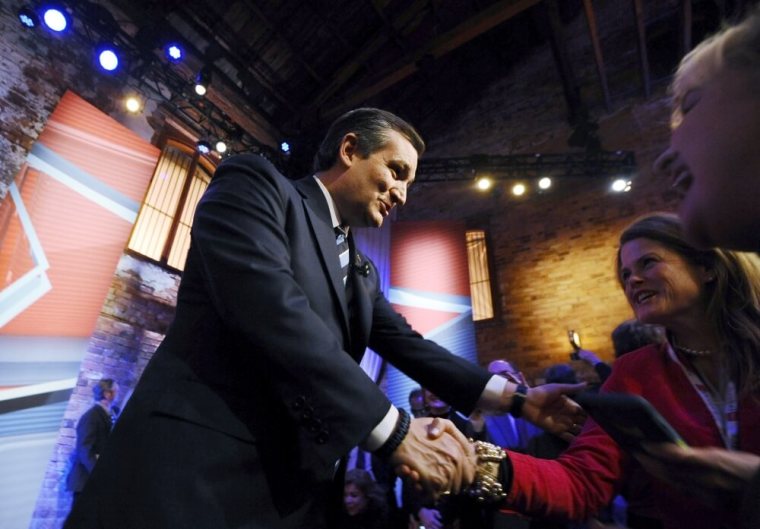 After losing the evangelical vote in South Carolina and gaining a reputation for a "dirty" campaign style, the Ted Cruz campaign is making some changes.
Republican presidential candidate Ted Cruz has asked for the resignation of his national campaign spokesman Rick Tyler after he posted an inaccurate article that misquoted fellow Republican candidate Marco Rubio as saying there are "not many answers in" the Bible.
"It turned out the news story [Tyler] sent around was false. But I will tell you, even if it was true, we are not a campaign that is going to question the faith of another candidate," the Texas senator told reporters. "Even if it was true, our campaign should not have sent it and that is why I have asked for Rick Tyler's resignation."
As the Cruz campaign has come under attack in recent weeks for spreading false information about the stances and campaign status of other Republican challengers, the firing of Tyler could be seen as an attempt by the Cruz campaign to ease the concerns of voters that Cruz is running a dishonest campaign.
Following the news that Cruz had asked for Tyler's resignation, the campaign of Marco Rubio asserted that firing of Tyler likely won't change the "dirty tricks" used by the Cruz campaign.
"Rick is a really good spokesman who had the unenviable task of working for a candidate willing to do or say anything to get elected," Rubio campaign spokesman Alex Conant in a statement. "There is a culture in the Cruz campaign, from top to bottom, that no lie is too big and no trick too dirty. Rick did the right thing by apologizing to Marco. It's high time for Ted Cruz to do the right thing and stop the lies."
As Cruz came in third place in last Saturday's Republican primary in South Carolina, a state heavily populated by Cruz's targeted evangelical voting bloc, Trump took to Twitter on Monday to claim that the Cruz campaign's dishonesty has hurt him with evangelicals.
"Ted Cruz has now apologized to Marco Rubio and Ben Carson for fraud and dirty tricks," Trump tweeted. "No wonder he has lost Evangelical support!"
Although the Cruz campaign is hopeful that Tyler's departure will help shed the campaign's dishonest image, some political analysts believe that Tyler was merely a fall guy for the larger Cruz campaign strategy, which is being orchestrated by Cruz's senior strategist and campaign manager, Jeff Roe.
"I do think Rick Tyler is maybe being scapegoated a little bit here but it was a silly attempt at an attack," Weekly Standard columnist Stephen Hayes told Fox News. "I think the problem the Cruz campaign faces in terms of turmoil this past weekend is, I don't think this puts those suggestions to rest. I don't think getting rid of Rick Tyler is going to make people who had concerns about the Cruz campaign say, 'OK, everything is fine now.' It is not as though Rick Tyler was the one responsible for earning these allegations."
Roe has a history of running negative campaigns. In 2015, Roe was a political strategist for Missouri Republican gubernatorial candidate Catherine Hanaway.
Roe was accused by many of running negative attack ads against against Hanaway's Republican primary challenger Tom Schweich, which caused Schweich and one of his aides to commit suicide.
"The campaign manager for Sen. Cruz has actually caused a candidate in Missouri to commit suicide over attack ads. So, what Mr. Trump is saying is this is the reason why good people don't run for office," Trump spokeswoman Katrina Pierson told Fox News last week. "This is ridiculous. You should be able to run for office and put out your message and go to the voters. You shouldn't have to deal with smears and just these outright lies in some of these things."
In early February, the Cruz campaign and its supporters received much criticism for telling Iowa Caucus goers earlier this month that fellow Republican candidate Ben Carson was suspending his campaign.
Fox News reports that Roe was also involved in a 2010 Missouri congressional campaign that was accused of sending a fraudulent email to media outlets claiming to be from rival candidate Scott Eckersley saying that he was dropping out of the race for personal reasons.
"You know this is dirty politics," Eckersley told KTTS at the time. "This is Jeff Roe-style management. That's who [congressional candidate] Billy [Long has] retained. That's who he writes the big checks to."