Ted Cruz Slammed as Phony Christian for Not Tithing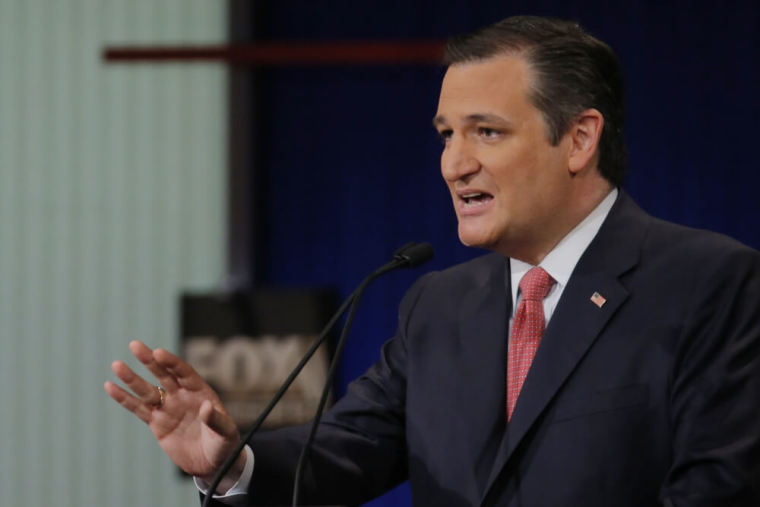 Supporters of Republican presidential candidate Mike Huckabee put out a new television ad attacking fellow candidate Ted Cruz's Christian faith, accusing him of being a "phony" Christian for giving far less than 10 percent of his income to his church.
The 30-second ad, which was paid for by the pro-Huckabee super PAC, Pursuing America's Greatness, features two Iowa women talking before what appears to be a Bible study discussing which candidate they should caucus for at the upcoming Feb. 1 Iowa Caucus.
The ad tries to paint the staunch conservative candidate as one who panders to the Evangelical vote with disingenuous views. It points out a recently leaked audio clip where Cruz says that gay marriage, which was legalized by a Supreme Court decision last June, would not be a top-three priority for him if her were elected president.
"Have you thought about the Caucus," one woman asks the other.
"A little. I heard something about Ted Cruz, that gay marriage wouldn't be a top priority for him?" her friend asks.
"He said it at a fundraiser in New York City," the woman explains. "Tells them one thing, tells Iowans another."
Despite his leaked comment, Cruz, who has argued nine cases before the Supreme Court, is still assuring voters that he does not agree with the court's decision. He told a gathering of Iowans on Tuesday that the ruling is "fundamentally illegitimate, lawless, and unconstitutional."
The new ad also accuses Cruz of not giving enough to charity or the church.
"I also heard that Cruz gives less than one percent to charity and church," one of the women in the commercial states.
"He doesn't tithe? — A millionaire that brags about his faith all the time," the other asks.
"Just what we need," the first woman ads. "Another phony."
The commercial ends with the woman who began the conversation saying, "I guess we have narrowed down our list, we can't caucus for Cruz."
The Pursuing America's Greatness commercial is a TV adaption of a 60-second radio ad that aired on news, sports and Christian talk stations in Iowa last week and was paid for by an organization the opposes Cruz, Americans United for Values, which focuses on the same conversation about Cruz's tithing.
In an interview with CBN News this week, Cruz admitted that he and his family have fallen short on tithing.
"I will readily admit that I have not been as faithful in this aspect of my walk as I should have been," Cruz said in response to recent reports that his income tax records indicate that he has only given one percent to charity from 2006 to 2010.
"That article focuses on 10 years. We don't have the ability to go back and change what occurred 10 years ago when Heidi and I were newly married and we'd just started a family. But at the end of the day, being a Christian is not about holding yourself out as righteous," Cruz asserted. "It's about beginning with the understanding that we are flawed sinners and we are saved not by deeds but by Christ's redemption. I am grateful that God is a patient and forgiving God and this area, as in many areas of my life I am working to do a better job walking in my faith."
Although the commercial was not released by Huckabee's campaign, the former Arkansas governor has used the opportunity to slam Cruz for not having God "first" in his life.
"I just think it's hard to say God is first in your life if he's last in your budget," Huckabee was quoted as telling Buzz Feed. "If I can't trust God with a dime out of each dollar that I earn, then I'm not sure how I can tell him that I trust him with my whole life … To me, it's a validation of a person's stewardship and whether they put God first in their life, not just in their political endeavors."
The commercial is not the first that Pursuing America's Greatness has released that attacks Cruz. Earlier this month the super PAC put out a 30-second ad titled "Steadfast," which accuses Cruz of shifting his views to attract Evangelical support.
Pursuing America's Greatness also released another commerical in January that questions whether Cruz and billionaire Donald Trump have the leadership qualities needed to be a great president and follow in the footsteps of presidents like Dwight Eisenhower, Ronald Reagan or Abraham Lincoln.
The ad goes on to advocate that Huckabee is the man for the job.
As the Iowa Caucuses will be held next Monday, Cruz is an average of about six percentage points behind Trump for the lead in the Iowa polls and will likely need a strong uniting of Iowa's Evangelical base to help him proclaim a victory at the caucus.