Ted Cruz, Republican Leaders Urge Roy Moore to 'Step Aside' as Accusations Mount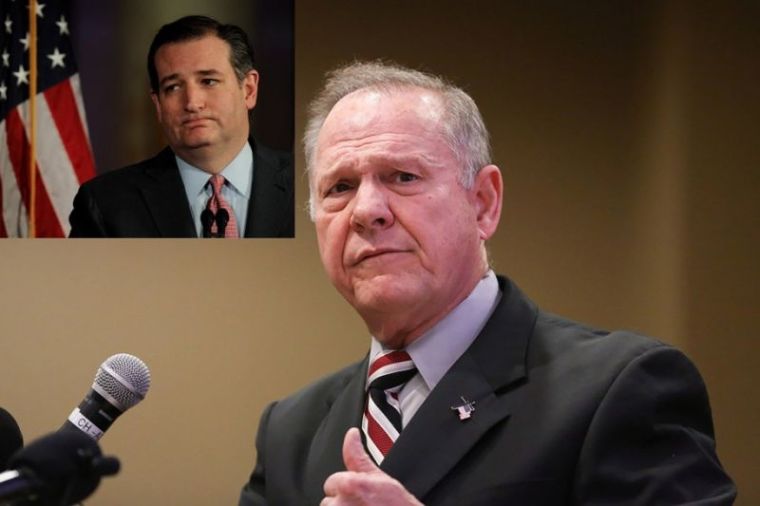 Prominent Republican leaders, including House Speaker Paul Ryan and Texas Sen. Ted Cruz, urged embattled GOP Senate nominee Judge Roy Moore to step aside from the race as allegations from multiple women that he sexually pursued them as teenagers mounted this week.
"One of two things should happen: If these allegations are true, Judge Moore should drop out now. Today," Cruz told reporters Monday, according to the Texas Tribune. "The people of Alabama deserve to have the option of voting for a strong conservative who has not committed criminal conduct. Or two, if these allegations are not true, then Judge Moore needs to come forward with a strong, persuasive rebuttal demonstrating that they are untrue."
Cruz, who had previously endorsed Moore's candidacy, further noted he was unable to continue supporting Moore as the cloud of allegations hanging over his campaign remain unresolved.
"I am not able to urge the people of Alabama to support his candidacy so long as these allegations remain unrefuted," Cruz said.
"Both last week and this week, there are serious charges of criminal conduct that if true, not only make him unfit to serve in the Senate but merit criminal prosecution," the Texas senator added. "Judge Moore, like any American, is entitled to present a defense. He's entitled to put forth the facts demonstrating that the charges are not true, but as it stands, I can't urge the people of Alabama to support a campaign in the face of these charges without serious, persuasive demonstration that the charges are not true."
On Monday, Judge Moore's latest accuser, Alabama resident Beverly Young Nelson, said at a press conference in New York City with celebrity attorney Gloria Allred, that during an encounter with the Republican nominee when she was just 16, she thought he was "going to rape me."
"I was determined that I was not going to allow him to force me to have sex with him. I was terrified. He was also trying to pull my shirt off. I thought that he was going to rape me. I was twisting and struggling and begging him to stop. I had tears running down my face," Nelson said.
A report in The Washington Post last week featured narratives from four women who alleged that Moore pursued them sexually when they were teenagers. The youngest of that batch of accusers said she was just 14 when a 32-year-old Moore initiated sexual contact with her in 1979.
During testimony before the House Judiciary Committee Tuesday morning, Attorney General Jeff Sessions said he had "no reason to doubt" the women.
Ryan, R-Wisconsin, and Senate Majority Leader Mitch McConnell, R-Kentucky, also called on Moore to withdraw from the race.
"I believe the women," McConnell told reporters Monday in Kentucky, according to the Los Angeles Times. "I think he should step aside."
"He should step aside," Ryan echoed. "Number one, these allegations are credible. Number two, if he cares about the values and people he claims to care about, then he should step aside."
Sen. Cory Gardner, R-Colorado, who is the head of the Republican campaign committee, said the Senate should vote to expel Moore if he is elected by Alabama voters in a Dec. 12 special election to fill the Senate post once held by Sessions.