Ted Cruz Walks Out on Castro, Hopes Cuban 'Dictator' Learns Lessons of Mandela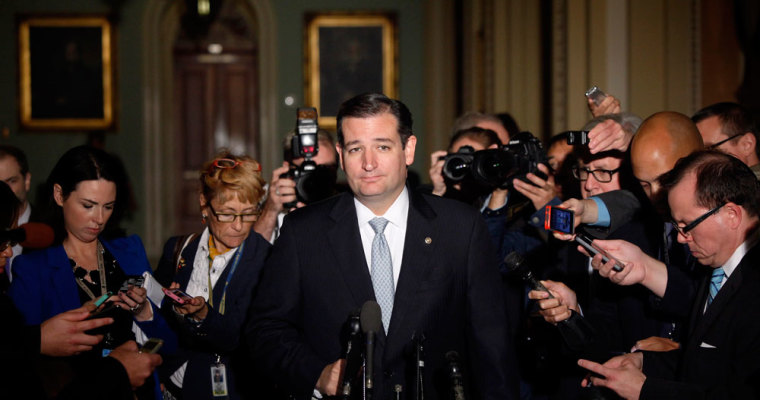 Texas Senator Ted Cruz (R) reportedly walked out of Nelson Mandela's memorial service when Cuban President Raul Castro started speaking. Cruz, one of only two Republicans at the memorial, praised Mandela and spoke to Democratic politicians on the way.
"Sen. Cruz very much hopes that Castro learns the lessons of Nelson Mandela," Catherine Frazier, Cruz's D.C. press secretary, wrote The Christian Post in an email statement on Wednesday. "For decades, Castro has wrongly imprisoned and tortured countless innocents," Frazier explained.
Cruz's father, Rafael, fought on Fidel Castro's side during the Cuban Revolution, but later fled the dictatorial regime after Castro took power. Raul Castro is Fidel Castro's brother and successor.
Frazier suggested a way Castro could honor the spirit of South Africa's Anti-Apartheid leader. "Just as Mandela was released after 27 years in prison, Castro should finally release his political prisoners, hold free elections, and once and for all set the Cuban people free," she wrote.
On his way to the service, Cruz praised Mandela. "He was an historic figure who led his nation to move beyond unjust segregation and toward a more humane future," Cruz said. The senator also praised Mandela's steadfast endurance, persisting through decades of imprisonment.
"And, when justice prevailed in his battle against apartheid, and Mandela was elected president, he nobly chose reconciliation instead of retribution – a legacy for which he will be remembered forever," Cruz concluded.
Perhaps attempting to follow this reconciliation, President Obama shook hands with Castro at the event, but neither Cruz nor fellow Senator Marco Rubio (R-Fla.) supported Obama's gesture.
"If the President was going to shake his hand, he should have asked him about those basic freedoms Mandela was associated with that are denied in Cuba," Rubio declared. Also hailing from Cuban ancestry, the Florida senator denounced the handshake as ironic and an insult to Mandela's memory.
"The irony of it is that they are here commemorating the life of a person dedicated to bringing democracy and equality of opportunity to South Africa, and yet he was shaking the hands of a dictator and a tyrant, someone who systematically denies these rights to the Cuban people," Rubio proclaimed on the Sean Hannity show Tuesday.
Rep. Elijah Cummings (D-Md.) spoke about giving Ted Cruz "an earful from many of us," the 20 Democratic members of the Congressional Black Caucus who flew to South Africa for the memorial. Besides Rep. Aaron Schock (R-Ili.), Cruz was the only Republican in the group.
"I just reminded him that I'm concerned about the many people in my state and his state who have no health insurance," Cummings told The Baltimore Sun on Tuesday. Cruz gained fame for his nearly 21-hour semi-filibuster on the Senate floor, attempting to defund Obamacare before the government shut down in early October.
"I know he got an earful for 20 hours out and he's going to get another earful for 20 hours on the way back," Cummings said, promising to speak to Cruz further on the flight back, which arrives late Wednesday evening. "It's clear to me he's running for president – I don't have any doubt about it," Cummings said of Cruz's 2016 ambitions.