Father of Slain Singer Selena Leans on Scripture After 6 Family Members Die in Hurricane Harvey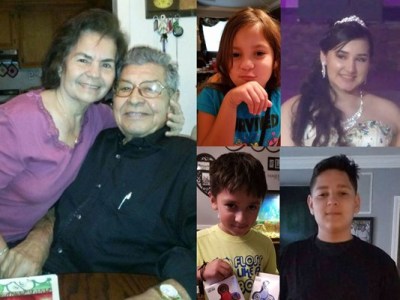 The father of famous Mexican-American singer Selena Quintanilla-Perez, who was murdered in 1995, is now mourning the loss of six family members who tragically drowned in Houston's floodwaters in the wake of Hurricane Harvey.
Hurricane Harvey ravaged the Texas Gulf Coast region and Louisiana, damaging over 100,000 homes and killing as many as 70 people. Relatives of the late singer were among those who died.
USA Today reported on Tuesday that Selena was a distant cousin of four children and their great-grandparents who died as they attempted to flee the flooding in Houston.
The Christian Post reported on Aug. 30 that Texas police found the bodies of the six family members who drowned after their van plunged into a bayou as they desperately tried to escape flooding caused by Harvey.
Police said Samuel "Sammy" Saldivar told them he was driving eastbound on Green River Road near John Ralston Road on Aug. 27 when rising water in Greens Bayou overcame the van. He was traveling with his elderly parents, Manuel Saldivar, 84, and Belia, 81. Also in the van were the great-grandchildren of his parents: Daisy Saldivar, 6, Xavier Saldivar, 8, Dominic Saldivar, 14, and Devy Saldivar, 16.
Selena's father, Abraham Quintanilla, shared a Bible scripture on his Facebook page where he reflected on the tragedy and explained that "his father was a first cousin to Manuel Saldivar's mother, Carolina, making them all distant cousins," USA Today reports.
"My condolences to their family // 2nd Corinthians Chapter 1 verse 3 says praise be the God and father of our Lord Jesus Christ the father of Tender Mercies and the God of all comfort," Quintanilla wrote.
Sammy Saldivar told police and family members that he was trying to find higher ground before he lost control the van in floodwaters. He escaped by crawling through the driver's side window and grabbing onto a branch as he watched helplessly as the van sank in the bayou with his family.
Harris County Sheriff Ed Gonzalez said Sammy's survival was nothing short of a miracle.
"It was a miracle the driver was rescued, they needed a rope and everything, unfortunately they just couldn't get to the rest," Gonzalez told local news station KHOU-TV.
A family friend is raising money for a Saldivar family memorial, citing 2 Corinthians 1:4 and calling for prayer on GoFundMe. The fundraiser has already surpassed its $20,000 goal.
"The Saldivars are seeking prayers and assistance in this awful time. The time and date of memorials are unknown at this time," the GoFundMe page reads in part. "Please cover this family in prayers, and, if able, monetary donations."