Televangelist Creflo Dollar Denies God Told Him to Endorse Donald Trump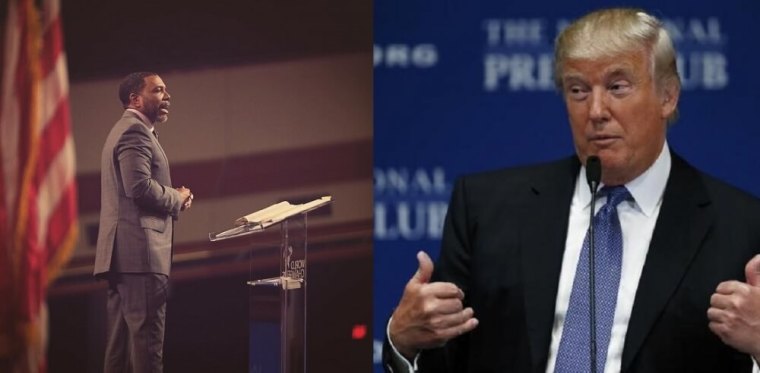 God did not tell popular televangelist Creflo Dollar to endorse Republican presidential candidate Donald Trump, the preacher says, and he has no plans to do so.
Dollar, a prominent black preacher based in Georgia who is the founder of World Changers Church International shot down a viral report that began circulating on social media in May that he was throwing his clout behind the brash New York City billionaire.
"Any reports stating that I have endorsed Donald Trump for President are false. At World Changers Church International, I nor the ministry endorse any political party or candidate; nor do we advise our members who to vote for. Any claims or statements claiming otherwise are false. This rumor originated on a satirical website and is 100% untrue," Dollar said in a statement on his Facebook page Thursday.
Dollar's statement comes in a week when Trump has been heavily criticized for his recent efforts at courting minority voters.
"What do you have to lose?" Trump asked again and again of black and Hispanic voters during an appeal at a rally in Ohio Monday while speaking to a predominantly white audience.
Trump first made the pitch to African American voters during a rally in North Carolina last Thursday. He repeated the appeal at a rally in Michigan on Friday evening and Virginia on Saturday night, according to The Washington Post. In Ohio on Monday, the billionaire expanded his pitch to include Hispanics.
"Our government has totally failed our African American friends, our Hispanic friends and the people of our country. Period," Trump said Monday.
"The Democrats have failed completely in the inner cities. For those hurting the most who have been failed and failed by their politician — year after year, failure after failure, worse numbers after worse numbers. Poverty. Rejection. Horrible education. No housing, no homes, no ownership. Crime at levels that nobody has seen. You can go to war zones in countries that we are fighting and it's safer than living in some of our inner cities that are run by the Democrats. And I ask you this, I ask you this — crime, all of the problems — to the African Americans, who I employ so many, so many people, to the Hispanics, tremendous people: What the hell do you have to lose? Give me a chance. I'll straighten it out. I'll straighten it out. What do you have to lose?" he asked.
In a recent Pew Research poll, Trump had just 2 percent support among black voters and 26 percent among Hispanics. A Monmouth poll this month also found that the real estate mogul only picked up 10 percent support among non-white voters.
Armstrong Williams, business manager for retired neurosurgeon Ben Carson who serves as a surrogate for Trump, said Carson, a high-profile African-American, is currently working to help Trump with minority outreach.
Trump and Carson said Williams, are planning a trip to visit disadvantaged neighborhoods in Detroit and will also be visiting black churches.
"They will be visiting black churches, and it's important to visit black churches because black churches have always been a pinnacle of the community," Williams told CNN.
"He fully recognizes that he's probably not going to win the majority, anywhere near the majority of African-American votes, because of tradition. However, after you enact the right policies," Carson said in a CNN interview Wednesday, "I think people are going to be more interested in things that work ... and I think it's going to be an exciting time in America when that happens."