Televangelist Joyce Meyer gets tattoo at 79, says she did it to 'honor God'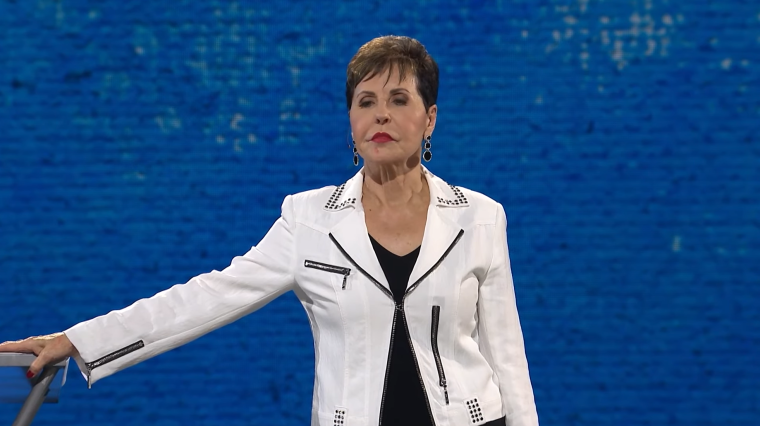 Televangelist Joyce Meyer announced that she got two tattoos for the first time at 79, to "honor God" and is convinced that the Bible supports her decision despite the belief among some Christians that tattoos are sinful.
The president of Joyce Meyer Ministries in Fenton, Missouri, said in a video clip posted on her YouTube page in October that she was convinced by Isaiah 49:16 that it's perfectly OK for her, as a Christian, to sport a tattoo.
"Some of you think it's fine and some of you think, man, you get a tattoo, you're on your way to Hell. And you're free to think what you want to. But you're not free to judge people who do what you don't think they should do," Meyer told the mostly-female audience gathered at one of her events last fall as she read from Isaiah 49:16: "Behold, I have indelibly imprinted or tattooed a picture of you on the palm of each of my hands." 
"… Ever since I read that scripture that said people had tattooed on their hands, 'I belong to the Lord.' I thought, I'm gonna get a tattoo that says 'I belong to Jesus,'" the televangelist said to cheers and applause.
She explained that she was at a meeting in Australia about five years ago when she made that declaration. She was not aware that a tortured tattoo artist had heard her comments.
"It's really a neat story. I don't know if I can get the whole thing out right. But he (tattoo artist) had gone through the most hellish thing. First of all, he had bipolar disorder. And so, his mind was already kind of messed up. And then a bunch of religious Christians got him convinced that because he was a tattoo artist that he was going to Hell," Meyer said. "When he heard me say that I wanted to get a tattoo that said, 'I belong to the Lord,' or 'I belong to Jesus.' He said, he decided to go back into business."
The tattoo artist also decided in that moment that he wanted to create the tattoo Meyer desired. Last fall, Meyer found out that both her and the tattoo artist had a mutual friend in Dallas, Texas, who revealed to her that the tattoo artist's dream was to give her a tattoo.
Meyer said she didn't believe the connection was coincidental so both her and her husband, Dave, got tattoos from the tattoo artist.
"I have a nice little cross back there (on her back). And it says 'I belong to Jesus.' And just for good measure, I put love on my foot to remind me to walk in love," she said. "Dave's 82 and got a tattoo. I'm 79 and I'm doing fine. The guy said that we were the oldest people he had ever tattooed."
Meyer further urged her critics not to send her letters complaining about her decision to get tattooed because she already prayed about her decision and her conscience is at ease.
"The whole thing is it's between me and God. And it's a matter of my heart. And when I stand before God on Judgment Day before He makes any decision about me, He's not going to call any one of you and say, 'Is there anything you'd like to add about Joyce?'" she said.
"Each of us is gonna stand before God and give an account of our life. And He's not gonna ask somebody else what they think about what we did. You honestly think that I'm so stupid that I didn't pray and pray and believe with all my heart. I did it as an honor to God. Let's stop the judging, the criticizing and really just don't bother writing me letters telling me [what] you think," she added.
"I'm really OK with everybody having their opinion. But I have a right to mine too. ... I wanted the devil to know I belong to Jesus. He bought me and paid for me with His blood. I am not my own. I am seriously committed and dedicated to God. And I am not going to let some snooty religious attitude keep somebody else out of Heaven."
While Meyer cites Isaiah to support her decision to get a tattoo, other Christians have pointed to Leviticus 19:28  which says, "'Do not cut your bodies for the dead or put tattoo marks on yourselves. I am the Lord."
"Don't know of any Christ-honoring Christians who have had tattoos placed on their body.  I do know some Christians who have tattoos on their body from their sinful past, and they have told me that Satan had control of their life before they were saved; but I don't know of ANY Bible-believing Christians who've been tattooed while close to the Lord," the Pentecostals of Dadeville in Alabama argue in an article in which brands tattoos as "marks of Satan."
"Say what you will–tattoos have always been obtained from WORLDLY establishments … not one Christian in the entire Bible ever received a tattoo. Not one!" the church argued. "Jesus never wore a tattoo! None of the Apostles wore tattoos. How ridiculous and absurd to claim that God approves of tattoos, when Leviticus 19:18 clearly prohibits such demonic practices."
Christian apologetic website Got Questions, states, however, that while tattoos were prohibited in the Old Testament of the Bible perhaps due to a connection to paganism, the New Testament is silent on it.
"The New Testament does not say anything about whether or not a believer in Jesus Christ should get a tattoo. Therefore, we cannot say that getting a tattoo is a sin. Because of Scripture's silence, getting inked falls under the category of a 'gray area,' and believers should follow their convictions in the matter, respecting those who may have different convictions," the ministry noted.
"While New Testament believers are not under the Mosaic Law, we can take from this command the principle that, if a Christian chooses to get a tattoo, it should never be for superstitious reasons or to promote worldly philosophy. The bottom line is that getting a tattoo is not a sin, per se. It is a matter of Christian freedom and should be guided by biblical principles and rooted in love."