Tennessee Church Gives $1,400 Tip to Single Mother Delivery Driver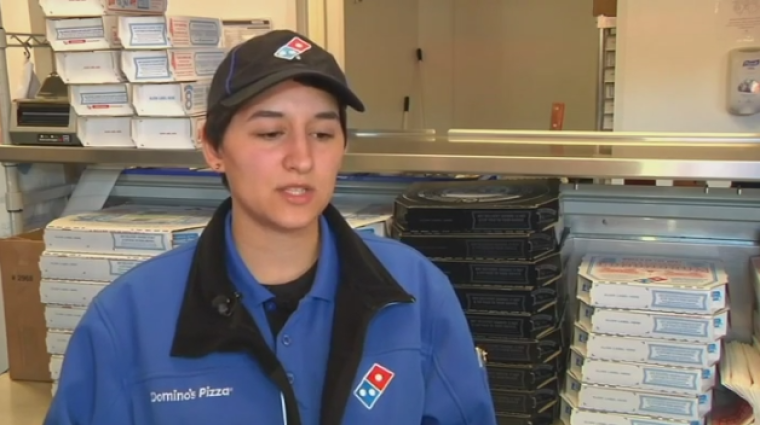 A Tennessee congregation blessed a working mother of three on Sunday when they presented her with a $1,400 as tip for delivering 10 pizzas to their children's Bible study.
Audrey Martin, a single mother of three children younger than 5, recently lost her apartment and has been working for Domino's pizza in Rocky Top for about four months. Although Martin was not scheduled to work on Sunday, she went into work just to help out and wound up encountering a "miracle moment."
Martin was assigned to deliver an order of 10 pizzas to the Covenant Life Church for their children's Bible study. Upon entering the church, Martin was asked by the church's pastor, Rev. Tony McAfee, to come up onto the sanctuary stage during the adult service.
"I know what most people do when you knock on the door. [They'll say,] '59.90? Well, there's $60. Keep the change,'" McAfee told Martin, according to a cell phone recording of the exchange. "Here's what we're going to do. I wanted to pay you for the pizza. We have been doing this thing about being thankful and how good God is. We believe in being generous here and so I want to make sure that we give you a good tip."
McAfee asked Martin if she had any family. When Martin said that she had three kids, McAfee responded by saying, "Today is your blessing day."
McAfee asked the congregation if anyone would help him give Martin a good tip. Countless adult congregants walked up to the stage and handed the pastor their money. As the congregants handed over the bills, Martin was wiping tears from her eyes and receiving hugs from congregants.
"We just want to bless her because this makes up for times other people didn't bless her," McAfee explained.
After volunteers tallied the money, McAffey asked Martin if she had to share tips. When she said that she didn't, McAfee announced that the total was $1,400.
"Don't you feel like you are the one that has been delivered today?" McAfee asked.
As Martin has gone through struggles in supporting her three children, she detailed in an interview with a local ABC News affiliate how she plans to use the money.
"I could finally get a place for me and my kids because I recently lost my apartment," Martin explained. "I was thinking how I could give the kids a good Christmas."
"It's definitely hard doing it all on my own," she added. "I am staying strong and I just have to just thank the Lord."
McAfee told ABC News that the tip was a way for the congregation to act out its faith by providing for the less fortunate.
"I'm telling you, there was a miracle moment Sunday, no doubt about it," McAfee asserted. "To illustrate our faith is by action. Faith without works is dead."
Church member Melissa O'Mary, posted her cellphone video recording of the exchange to Facebook and explained that "God is good all the time."
"Be a blessing to others. I love covenant life church. There is nothing more powerful than giving to someone in need," O'Mary wrote in her Facebook post. "In this video you will see Pastor Tony paying for the pizza the church ordered for the kids. Then he went to give her a tip. Watch what happens. Remind you now that the pizza girl is single and has [three] kids. She knew none of this was going to happen."