Texas Church Member Who Threatened to Shoot 13 at Christian Young Adult Event in 'Columbine' Style Attack Is Now Facing Terrorist Charges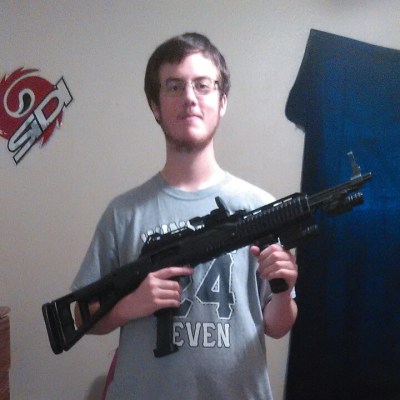 A Texas teen who allegedly threatened a "Columbine" style attack on a young adult ministry event at a Fort Worth church that he attended for over a year is now being charged with making terroristic threats.
Nicholas Amrine, 19, was apprehended in early June by Fort Worth police after an associate pastor at Convergence Church, where this young adult event was scheduled to take place, notified authorities about a string of troubling Facebook messages where the teen warned specific individuals not to attend, according to the arrest warrant.
Amrine was being held in a state hospital until last week, when he was formally arrested and charged.
The warrant also included a text message Amrine allegedly sent to a woman from the church on June 3 in which he described his plan to carry out a mass shooting event of "13 people like Columbine" on June 22.
Posts from June 3 on Amrine's Facebook page show him holding a black-tactical style rifle with the caption "run up on me" and a threatening message.
"All the kids that forgot about me are going to get what they deserve. I may have been hesitant in the past but next time u see me I will not hesitate about anything. It will be over in a flash, it will be over in a bang, u will see my face, and then nothing else ever again," wrote Amrine over a month ago.
He also posted a picture of Eric Harris and Dylan Klebold, the Columbine High School shooters who carried out the vicious attack in 1999 that killed 12 students and one teacher in Colorado, and said they were "heroes."
Other Facebook posts from Amrine include scripture verses and links to violent rap music. He's also addressed the charges against him and has apologized for the threats made on June 3.
"I apologize to everyone for what I said back on June 3," wrote Amrine on July 2. "That is not who I am and I would never do such a thing. The things I posted on Facebook were wrong and I should never have done that. I love people and I would never hurt myself. I would never hurt other people or animals."
His last few posts include an interaction with his girlfriend and excerpts from Hebrews, Colossians and Malachi.
Amrine has been a member of Convergence Church for more than a year. Leaders asked him to stop attending youth ministry sessions because of his age and "recent erratic behavior." The last meeting he attended was on May 31, according to the arrest affidavit.
Amrine admitted to using his Facebook account to post the threats after being arrested in June.
The Christian Post reached out to Convergence Church for comment, but they did not respond by press time.