Texas Gov. Greg Abbott: We Know that God's Law Can't Be Undone by Man's Law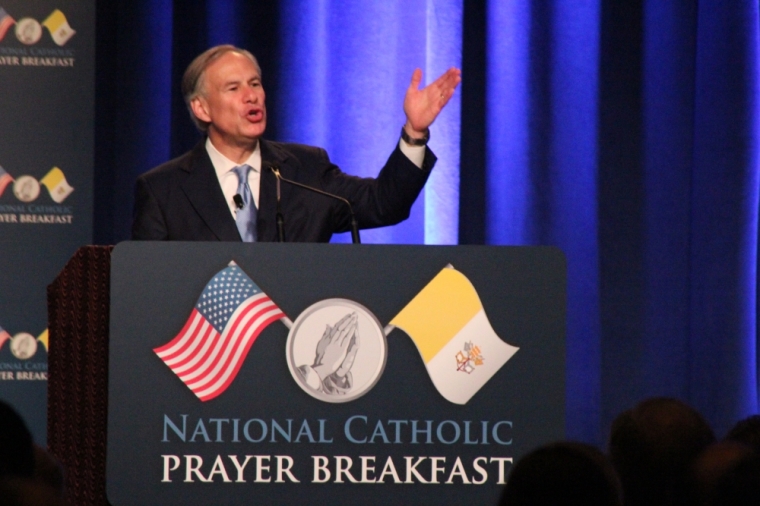 WASHINGTON — While giving a keynote address at the 11th annual National Catholic Prayer Breakfast Thursday morning, Texas Governor Greg Abbott asserted that "now, more than ever," is the time for Americans to start praying for the protection of religious liberties in the United States.
As religious liberties have come under fire from secularists and LGBT advocates trying to use the judicial system to promote their political agenda and infringe on First Amendment rights, the 57-year-old Abbott, a conservative Roman Catholic who became a paraplegic after a tree fell on his back in 1984, stated that he is one of many proofs that God really does answer prayers.
"Let me just start by making a very simple point. My very being here today is proof that prayers do work," Abbott told those in attendance at the Marriott Marquis hotel.
"Looking back, I can tell that if you have seen all that I have seen, if you have gone through all that I have gone through, you would never again question the Lord," Abbott continued. "You would never fear the valley of the shadow of death because you knew that you could palpably feel God's presence with you and you would pray with gratefulness with the connection established with God that comes through prayer."
Abbott explained that prayer is the act of opening the door for God to "do something" regarding the tough situations that face his worshippers. In quoting Pope Francis, Abbott added that by not praying, the door remains closed and God may not help.
"Have you all ever noticed how prayers increase in times of great need?" Abbott asked. "In America today, we are in a time of great need and there is an urgent need to pray now, more than ever, especially the need to pray for our religious liberties. I have heard it said that 'America did not create religious liberty but religious liberty created America.' That religious liberty is being tested by some who want to silence the faithful and purge God from the public square."
Abbott mentioned how religious rights lawyers have been successful in defending the First Amendment from legal activists trying to limit it.
He explained how in 2005, the state of Texas was victorious in a Supreme Court battle with atheists who were trying to get the state to remove a Ten Commandment monument from its capitol grounds. He also mentioned that atheists have been unsuccessful in court cases attempting to get the words "One nation under God" removed from the Pledge of Allegiance.
But as legal abortion has claimed the lives of over 55 million American babies and as the Supreme Court is set to reach a decision in June as to whether states are obligated to issue same-sex marriage licenses, Abbott argued that Americans need to open the door for God so that His rule will prevail, not man-made laws.
"We see these assaults on faith continue to expand across the entire country," Abbott said. "We see this in the never-ending battle to defend the unborn and we see this with the legal assault on marriage defined by God, but we know that God's law cannot be undone by man's law."
Abbott added that God has already provided guidelines on how to ensure that His will is enforced and religious liberties are protected.
"The good news is that God has already given us the roadmap to answer our prayers to ensure that we are able to protect and defend these religious liberties," Abbott stated. "In Proverbs 29:2, it says 'When the righteous are in authority, the people rejoice. But when the wicked rule, the people suffer.'"
"So, God told us long ago that what we need in this world are righteous leaders," Abbott continued. "So as we pray today and everyday, we should pray that God's guidance in Proverbs be fulfilled and that we be blessed with righteous leaders."