Texas Governor Promises Teen With Cancer He'll Fight to Ban All Abortions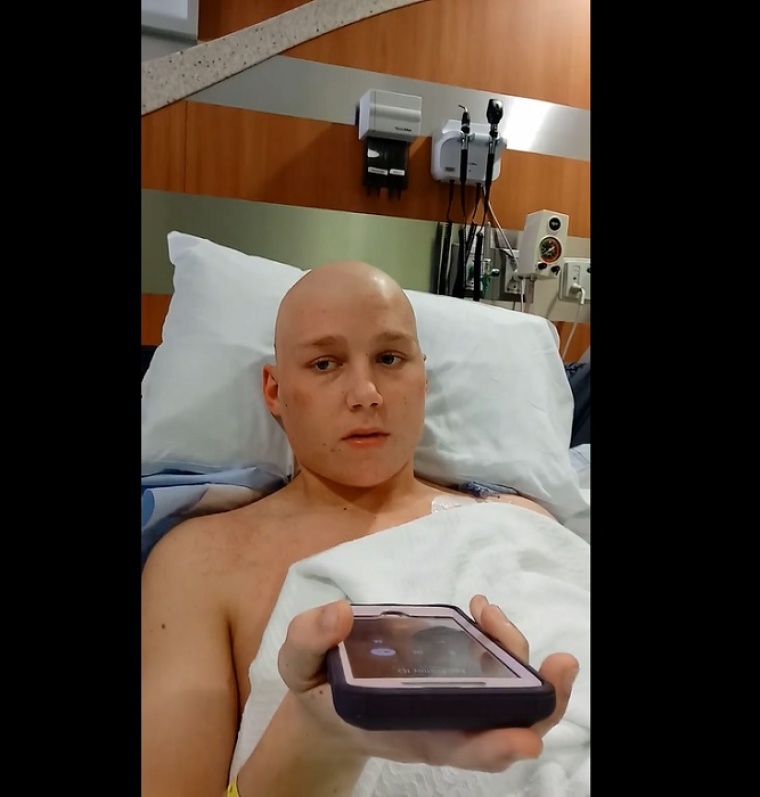 Texas Governor Greg Abbott has promised 16-year-old Jeremiah Thomas, who has bone cancer, that he will fight to ban all abortions in the state.
Abbott is heard making the promise over the phone in a video showing Thomas, the son of Operation Save America National Director Rusty Thomas, in a hospital bed.
Thomas shared the Facebook video of his son on the phone with the governor. The teen is heard saying:
"Before I was diagnosed and got sick, I used to go out and minister at my local abortion clinic. I used to go with my siblings and my mom. My mom used to video us, and I would preach and my sister would worship," he explained, adding that "my other sister would talk to the women going into the abortion clinic and give them counsel."
The teen explained that his whole family would get involved in the protests, holding signs and speaking to women, urging them not to choose abortion.
He revealed that he told Make-A-Wish, the foundation that grants seriously ill children unique wishes, that he wanted a legacy wish, namely to speak to a political figure about a cause he is passionate about.
"For my wish, I wanted to talk to you and discuss a bill of abolition (of abortion). A recent poll showed that 60 percent of Texans want abortion abolished. You would be representing the demand of Texans if you pass the bill. In conclusion, we want you to treat abortion as an act of murder and have it punished by law," the young Thomas requested.
He said seeing abortion end in Texas would "make my wish complete before I pass."
Abbott responds on the phone, saying that the wish "is on the Republican Party platform positions" and that a bill to "outlaw abortions altogether" is indeed being pursued. 
"So your wish is granted," the governor said.
The elder Thomas noted on Facebook that the governor "was gracious with his time. He listened to Jeremiah's testimony and encouraged him in his faith. Jeremiah said that the Governor was 'compassionate and receptive.'"
The Operation Save America director added, "Prior to the call, the Governors wife, Cecilia, reached out to Jeremiah through Facebook. She sent prayers and hugs. They both demonstrated genuine Christian love and concern for the plight of our son."
As a GoFundMe page explains, Jeremiah Thomas has Osteoblastic Osteosarcoma, a bone cancer resistant to radiation.
"He has a tumor in his chest and two spots on his lungs. Jeremiah is in severe pain, without proper medication. His pain radiates down his back and around his side, so he cannot lie on his back or turn to the side.
"With the tumor in his chest, he cannot lie on his stomach. Often the only relief he finds is standing, but with the tumors in his back causing paralysis that is no longer possible."
The page further describes the teen as a "brave young man," who has no "anger, self-pity or a woes is me attitude."
"He is more concerned about how others are feeling. When he sees his mother's concern, he forces a smile or winks. When he sees a worried friend, he stops what he's doing to pray for them. He posts daily Scripture verse to encourage those who are praying for him and who are following his story on social media."
During his time as governor, Abbott has signed a few different bills supported by the pro-life movement. In June 2017, he signed into law Senate Bill 8 that bans the procedure of dismemberment abortion, which involves ripping apart a human fetus before removing the pieces one at a time.
Later that year, he also signed House Bill 214, which limits insurance coverage for abortion procedures.
Watch the Facebook video of Jeremiah Thomas speaking with Abbott below: