New Orleans Residents Circulate Petition Against Anti-Abortion Group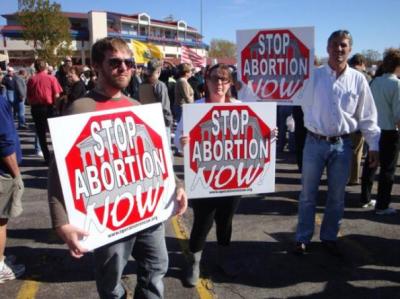 Local residents of New Orleans, Louisiana are circulating a petition to have the town's mayor formally rescind a proclamation he awarded to Operation Rescue America, a conservative anti-abortion group that has staged multiple protests around town.
In a July 20 certificate, New Orleans Mayor Mitch Landrieu's office issued a proclamation to Flip Benham, director of Operation Rescue America. Since receiving the proclamation, the group has held multiple controversial protests throughout the southern city, including interrupting a service at the First Unitarian Universalist Church and holding a protest in a residential neighborhood.
The certificate, posted to the Operation Save America's Facebook page, thanked the pro-life group for its "outstanding service to the city of New Orleans." Such ceremonial certificates are usually distributed by the city to groups or conventions. According to Best of New Orleans, such certificates may also be distributed to groups with "organizational honors; church anniversaries and pastoral anniversaries; retirements; heroic deeds; a 100th birthday; or outstanding community service by an individual, group, or organization."
Since the proclamation was issued, residents of New Orleans have created a Change.org petition, requesting Landrieu formally rescind the congratulatory proclamation. Tyler A. Gamble, a spokesperson for Landrieu, issued a statement this week clarifying that the certificate had been "issued in error."
"It is customary for the City to provide standard proclamations to visiting groups that request them through the City's web site. To be clear, the City does not endorse extreme or violent tactics, and this proclamation was issued in error. Any group can exercise their constitutional rights, but all of us have a responsibility to do so in a respectful manner. During these events, the NOPD is executing a robust security plan to keep the peace," the statement read.
Although the city has admitted to fault, some residents are still requesting a formal rescinding of the certificate from Operation Save America. "While we respect that errors can and do happen, it is incumbent on the mayor and his office to formally request the return of said certificates. If they were issued in error, they have no validity, and can be used by Operation Rescue/Operation Save America to claim a legitimacy that they do not deserve," Change.org wrote in an updated response to Gamble's statement.
According to Uptown Messenger, residents have become increasingly upset with Operation Save America due to recent controversial protests it has held in the city. This past Sunday, the anti-abortion group reportedly interrupted a service at the First Unitarian Universalist Church and verbally began protesting the universalist faith.
"Into that sacred silence, a voice began to speak, and it began to speak about 'abominations,'" The Rev. Deanna Vandiver recalled to the Uptown Messenger. "Literally in our most tender and vulnerable space, religious terrorism began."
The pro-life group praised its protest on Facebook, writing that it had successfully "witnessed" to the "synagogue of Satan."
Residents have also complained about the group protesting an abortion provider near a residential neighborhood, and refusing to leave when asked by local residents.