Texas Pastor Receives Praise for Helping Over 200 Stranded Motorists During Ice Storm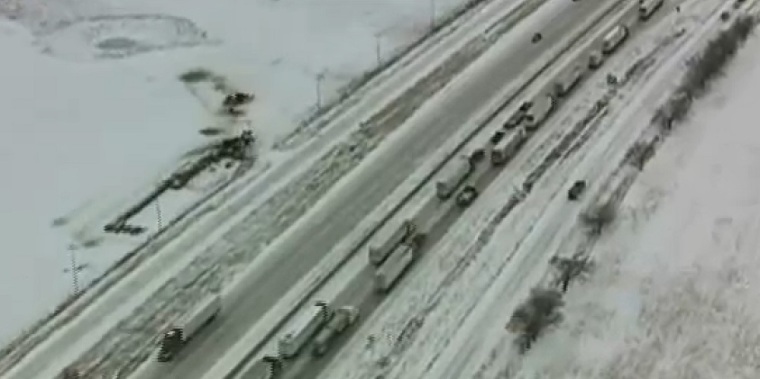 A Texas pastor mobilized his congregation to come to the rescue of the dozens of truck drivers and motorists stranded by an ice storm last Friday.
The Rev. Gary Sweatman of the five-year-old Freedom Life Church in Sanger, was at home when he saw the news of the ice storm.
"I saw that traffic and I told my wife, 'Maybe I should go to the church,'" Sweatman told The Dallas Morning News.
But his initial enthusiasm wore off and the pastor fell asleep. When he awoke an hour later, he realized that the situation had only become grimmer.
"When they flashed that on TV, I saw my church," said Sweatman. "And it was like the Lord saying, 'Get up, boy!'"
He and his wife decided to tag-team their relief efforts. Sweatman raced to the church while his wife began organizing would-be volunteers on social media.
"I told my wife, 'I'm going to the church; something's got to be done. If I have to go walking through that traffic and get people hot dogs or whatever, I can't just sit here,'" Sweatman said.
Although the church is only six miles away, it took the pastor 45 minutes to get there. There he was met by the first volunteers, a local deputy fire marshal and his wife.
"[They showed] up with a pot of beans, and we started feeding people," said Sweatman, who promptly began calling and texting others that he knew to come out and help.
While the church did not have "cots or anything," around 200 people spent part or all of Friday night in the church and roughly 30 people on Saturday. Seven dogs and one bird also joined in.
On its Facebook page, the Freedom Life Church thanked its congregation and community volunteers, as well as a Walmart Distribution Center, Steve's Bake Shop, Denton County Emergency Services, American Red Cross, McDonalds and Chicken Express for their donations and work.
Due to the scope of the storm, Sweatman even canceled Sunday's sermon so that the church could devote all of its resources to ensuring people returned to the road safely.
Cin Patino, who was stranded in last week's ice storm, stayed at the church and expressed her thanks on Facebook.
"Pastor Gary, I would like to say 'Thank You' for coming to the rescue of hundreds of stranded motorists on I-35. Many of them endured freezing temps. Friday night with no blankets, no heaters, not enough gas to run the heater, children were hungry, no place to use the restroom & no place to go. I know because I spent the night in my car stranded & I saw it for myself. It took me 12 hrs. to go 20 miles," she wrote. "You are a true blessing Pastor Gary, words cannot express how heartfelt your kindness has been."
Sweatman was excited at the scope of solidarity that he witnessed over the weekend.
"What I take from it is it doesn't matter your race or creed or denomination, we're all in this thing together. What I saw were people of all denominations coming together," he said.
"We had people that were Muslims; we saw people that were nonbelievers. And they all saw the love of Jesus through our little church," Sweatman added.