Thanksgiving Doesn't Have to Look Like a Martha Stewart Book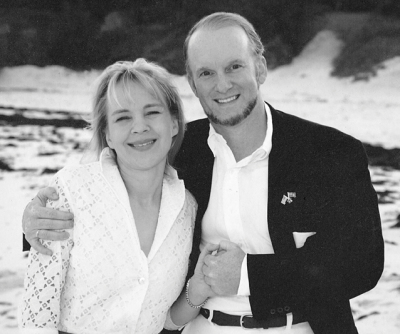 "Mom Says/Dad Says," an exclusive Christian parental advice column by Gregory Slayton, former U.S. Ambassador to Bermuda and author of the best-selling book Be a Better Dad Today: Ten Tools Every Father Needs, and his wife, Marina Slayton, author of the new book Be The Best Mom You Can Be. The Slaytons have been featured on Fox and Friends, Focus on the Family Radio and numerous other media outlets. They donate 100% of their royalties from parenting books to fatherhood and family nonprofits.
Senators John McCain and Joe Lieberman, Governors Jeb Bush and Sam Brownback and Pastors Tim Keller and Luis Palau, among others, have endorsed the Slaytons. In their exclusive series for The Christian Post, both Marina and Gregory will answer thoughtful Christian parents seeking to raise their children up in the goodness of the Gospel and the Glory of God. If you would like to have Marina and Gregory answer your questions, please contact them via momsaysdadsays@christianpost.com.
Parents' Question: My husband and I didn't grow up with many holiday traditions. I was lucky to get a cold turkey sandwich on Thanksgiving and his family didn't celebrate Christmas at all. But we just had our first child, and we want him (and his hoped for siblings) to have wonderful Thanksgiving and Christmas memories. How should we start building those traditions? Thank you so much by the way … I really love your column.
Dad Says: Creating great holiday traditions is a one of the great privileges we have as parents. And since you have just had your first child (Congrats!!) you are starting at the right time.
Here are five Thanksgiving activities your family might really enjoy — and which will create beautiful family memories for years to come:
1. Gather together as soon as everyone is up in the morning to give thanks to God and to worship Him in song. This is the right way to start Thanksgiving … and it is fun and memorable. Plus, our Father loves it when we thank Him and worship Him (John 4). At its core: that's what Thanksgiving is all about.
2. Make the Thanksgiving meal together. Don't let Mom have all the fun. Shopping, preparing the turkey, the sides, the pies, etc. — it's too much for Mom alone. But all together it can be a great time. Over time you can help each child develop a special dish. Our middle son makes a fabulous pumpkin pie!!
3. Make "Why I am Thankful for You" cards for each other. They can be handmade … it doesn't matter. What is important is that they are from the heart. Then you can save them up and read them at Thanksgiving dinner 5 years (or 50 years). Be sure to take some pictures too. All great fun … and great future memories.
4. Go on a family walk either before or after the big meal. There's something special about getting out of the house, away from the TV (and no cell phones please). Just walking together, holding hands, enjoying God's beauty. If you do this every year … it will be one of your best Thanksgiving memories
5. Play a sport together. It can be as simple as tossing a baseball around. For example everything Thanksgiving my kids and I play football. No matter that they are bigger and/or stronger than me now. We still have fun together … and it brings back good memories of Thanksgiving football games gone by.
Don't like these? No problem!! Make up your own. Fun, simple, together ... that is the key. Just be consistent about them every year. And don't sweat the details. If you need to buy some pre-cooked turkey or pies or stuffing … that's fine. The key is thanking the Lord and having fun … together.
Might it be a blessed and beautiful Thanksgiving for you all!!
Gregory
Mom Says: Recently I was looking at a Christian photo website with real families celebrating the holidays and was struck with how they don't reflect the glossy, air brushed look of food magazines and Martha Stewart books. Families were gathered around in casual clothes and kitchen tables with everyday dishes but were grinning from ear to ear. When families celebrate the holidays it's important to put the focus on giving thanks, on creating good memories and warmer relationships … not on the externals (how it all looks or how much we spent or whatever).
On the first Thanksgiving, the Puritans in Plymouth gathered with their Native American neighbors to give thanks to God for being in their midst and guiding them through an extraordinarily tough year. How spiritually powerful is that!
Many of us grew up in families where the spiritual aspect of the holidays were buried under the images of turkeys and Santas and presents. And some of us, like yourselves, didn't even have much of that. But our materialism obsessed culture wants to engulf us in 'you must buy this' ethos. But that is wrong. So when we begin to create for our new families the tradition of Thanksgiving and Christmas it's important not to feel stressed by society's (or in-laws) expectations.
As people of faith, we know that there is a spiritual ministry of hospitality, entertaining and celebrating. So let's begin with the spiritual. Be sure that you and your family join together to give thanks to God. King David tells us throughout the Psalms how important it is to thank and praise our Heavenly Father. As a family we love to gather together Thanksgiving morning to praise the Lord and thank Him for all His goodness. It is the right thing to do — and it sets the right tone for the day. We also like to go around the table at Thanksgiving Dinner so that each family member can give thanks for at least three things.
Since hospitality and celebration are Godly ministries, I do believe that if you begin with the joy of the spiritual you will be liberated to then focus on the logistics. Giving thanks to God is powerful. That is why satan is so focused on getting us to whine and complain. Today take the time to give thanks to God and encourage your family members to do the same. In this way I believe you will be getting your holidays off to the best start possible. And with some initiative and teamwork, I know that you and your husband will create wonderful Thanksgiving and Christmas memories for many years to come.
We'll be praying for you …
Marina