The 2016 Senate Republicans Homework to Avoid Democrat Mistakes of 2012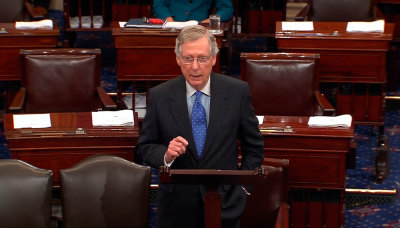 After playing offense in 2014 and netting nine Senate seats to set up a 54-46 majority in the 114th Congress, Republicans will mostly be playing defense in 2016. That probably means the GOP will end up losing seats, but recent history suggests that we should not be certain about that.
Heading into the 2016 Senate cycle, Republicans find themselves in a position similar to the Democrats going into 2012, with a Senate map dotted with vulnerabilities created by victories won six and 12 years prior.
In 2012, many observers, including us, thought the Republicans were primed to net at least a few Senate seats in large part because the Democrats were defending 23 Senate seats to just 10 for the Republicans. That Democratic exposure was created by the party's solid wins in 2006, when they netted six Senate seats, and 2000, when they netted four seats. Two straight big elections on the same Senate map suggested the Democrats were in line for losses.
Republicans find themselves in almost the same position Democrats did four years ago, when the 2012 election cycle was taking shape. The GOP is defending 24 seats, while the Democrats only need to protect 10. The 2016 map is also the product of not just one previous big Republican victory, but two. In 2010, the last time this Senate class was contested, Republicans netted six seats. And six years before that, in 2004, Republicans netted four seats.
Map 1, the current occupants of the 34 Senate seats that make up 2016's Senate Class Three, shows the obvious Republican challenge.
All 10 current Democratic seats are in states that President Obama won in 2012 by at least five points, and only two of those states — Colorado and Nevada — are swing states in a competitive presidential election.
Meanwhile, of the 24 states the Republicans are defending, Obama won seven in 2012: Florida, Illinois, Iowa, New Hampshire, Ohio, Pennsylvania, and Wisconsin. Additionally, Republicans are defending North Carolina, which Obama won in 2008 and only lost by two points in 2012.
This somewhat mirrors 2012, too. Going into that election, Democrats were defending five seats in states that Mitt Romney would eventually win, convincingly, in that year's presidential election: Missouri, Montana, Nebraska, North Dakota, and West Virginia, and they also had to protect incumbents in swing states like Florida, Ohio, and Pennsylvania, as well as what became open seats in New Mexico, Virginia, and Wisconsin.
Republicans, meanwhile, were defending just three seats in Obama states, Maine, Massachusetts, and Nevada.
That election ended up working out for the Democrats. Despite their overextended defenses, Democrats eventually ended up netting two seats to win 25 of the 33 seats on the map in 2012. A combination of Obama's reelection victory, strong Democratic performances, weak challengers, bad primary results, retirements, and other factors conspired to sink Republicans that year.
Might something similar happen in 2016, to the Democrats' detriment? Sure. But at this early point in the campaign, there's not much evidence to suggest it will — which of course is the same thing we would have said at the start of the 2012 cycle.
Democratic defense
Let's start with the Democratic seats, because there's far less to say about them. None of these seats start as Toss-ups, although there's a big caveat in one.
The most vulnerable Democratic senator going into 2016 is the party's leader in the Senate, Sen. Harry Reid of Nevada. The unpopular Reid had a very difficult campaign in 2010, but he survived thanks to his hapless, foot-in-mouth opponent, Sharron Angle (R), and a tremendous ground operation. Assuming Reid runs again — indications are that he will but he could change his mind — we're going to give him the benefit of the doubt and start the race as Leans Democratic. However, that will shift if Gov. Brian Sandoval (R-NV) decides to run. Sandoval is so formidable and popular that his entry into the race would make Reid an underdog. We would move the rating to Leans Republican.
As it stands now, Sandoval seems somewhat unlikely to run, according to Nevada political expert Jon Ralston. The state's two current GOP House members, Reps. Joe Heck and Mark Amodei, have said they are not running. Nevada now has a newly stocked Republican bench thanks to a statewide sweep this November, but there's not an obviously great alternative behind Sandoval.
The other vulnerable Democrat is Sen. Michael Bennet of Colorado, and his race starts as Leans Democratic. Sen.-elect Cory Gardner (R) just won an impressive victory in the state's other Senate seat versus outgoing Sen. Mark Udall (D), but despite running what was probably the best Senate campaign in the country, Gardner got less than 50% and won by just two points. There's not a candidate as widely regarded as Gardner waiting in the wings to challenge Bennet. A GOP presidential win in the Centennial State is probably a prerequisite for a Senate win, and even then that might not be enough.
That could be it as far as plausible Republican Senate targets. There are eight other Democratic Senate seats on this map: California, Connecticut, Hawaii, Maryland, New York, Oregon, Vermont, and Washington. Obama won all these states by at least 12 points in 2012, and so long as the next presidential race is close, they should all remain Democratic strongholds. With the right candidates, or retirements, maybe Oregon, Washington, or one of these other states becomes competitive. But for now all eight of these seats are Safe Democratic.
Republican defense
The most obvious Democratic Senate targets are three first-term Republicans elected from states that have all voted Democratic in at least the past six presidential elections: Sens. Mark Kirk of Illinois, Pat Toomey of Pennsylvania, and Ron Johnson of Wisconsin. These races start as Toss-ups.
Johnson might start as the most vulnerable, especially if former Sen. Russ Feingold (D), whom Johnson beat in 2010, decides on a rematch. The incumbent has done little to moderate his image in the Badger State, which despite Gov. Scott Walker's (R-WI) three victories in the past four years (two generals and one recall) is still at least a slightly Democratic-leaning state in presidential years. Johnson also has not raised much money, but he is wealthy and has the ability to self-fund.
Kirk's profile is a better fit for Illinois, but the state is still clearly the most Democratic-leaning in the Midwest. In an age of polarized, straight ticket voting, Kirk might be this cycle's Mark Begich, the recently ousted Alaska Democrat who ran a strong race focused on local issues but was unable to overcome his state's inherent partisanship. There is a long line of potential Democratic contenders for Kirk's seat, including Attorney General Lisa Madigan and some members of the state's congressional delegation.
Toomey, a former president of the conservative Club for Growth and a one-time primary challenger to the late moderate Republican-turned-Democratic Sen. Arlen Specter, is an odd fit for the Democratic-leaning Keystone State. However, Toomey has tried to stick to the center on some issues, such as gun control, realizing that he would be a one-termer if he is perceived as a very conservative senator. Like Wisconsin, Pennsylvania could also feature another rematch, as former Rep. Joe Sestak (D) appears intent on running. The state's Democratic establishment, perhaps still smarting from Sestak's successful primary challenge against the party-switching Specter in 2010, appears to prefer a candidate named "someone else," but it's not clear that they have a better alternative.
None of these three Republicans is a certain loser, but all are highly vulnerable to start.
The next best Democratic targets are four Republicans who reside in states that are likely to be key pieces of the Electoral College map in 2016: Sens. Marco Rubio of Florida, Kelly Ayotte of New Hampshire, Richard Burr of North Carolina, and Rob Portman of Ohio.
Rubio is a possible presidential candidate, so perhaps he will not run for reelection. It's also not impossible to imagine him passing on both a presidential run and a reelection bid. If Rubio runs again for the Senate, he might merit a better rating than just Leans Republican, and if the seat is open, Republicans have a very deep statewide bench. Democrats, on the other hand, don't have a long list of potential challengers, although Rep. Patrick Murphy (D, FL-18) has won rave reviews for his performance on the campaign trail, though he's just 31 and will only be starting his second term.
Kyle Kondik is the Director of Communications at the University of Virginia's Center for Politics. A sought after political analyst, he previously served as the Director of Policy and Research for former Ohio Attorney General Richard Cordray.