'The Best of Enemies' actors share how Christian faith of civil rights activist changed KKK leader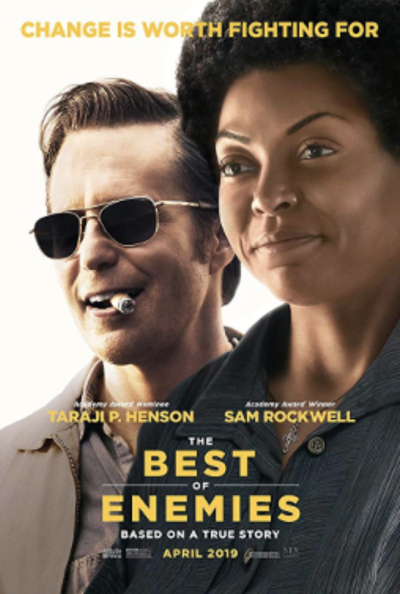 NEW YORK — Hollywood filmmaker Russell Bissell and the lead actors of the new movie "The Best of Enemies" said it was Ann Atwater's Christian display of love that broke through the hatred of KKK leader C.P. Ellis in the '70s.
"The Best of Enemies" tells the true story of an unlikely relationship between Ann Atwater (Taraji P. Henson), an outspoken civil rights activist, and C.P. Ellis, the president of the Durham chapter of United Klans of America (played by Oscar winner Sam Rockwell). The pair unwittingly co-chaired a community summit in Durham, North Carolina, in the summer of 1971, just months after the U.S. Supreme Court upheld the use of busing to desegregate schools. What followed would change Durham and the lives of Atwater and Ellis forever, as the two formed a friendship that lasted a lifetime up until Ellis' death in 2005.
Director Robin Bissel, who also produced "Hunger Games," told The Christian Post, "I think that Ann's idea of her faith and her being a Christian was all about love. It was all about love will see its way through and that's what she took."
Bissel was really touched by how Atwater's life helped transform Ellis.
"That's what's important in the story to me because she was so religious, she had such strong faith, and it carried her forward," he added. "She worked until she passed away for good."
The love Atwater showed Ellis despite his innate hatred of black people as a KKK leader eventually broke through his contempt, and popular actress Taraji P. Henson describes that as a reflection of God's heart.
"When we talk about love, we talk about God's love. It's unconditional and love is the search for understanding," Henson told CP. "So even the person you hate, if you want change, you can't match it with hate or else nothing's going to change. Someone has to rise above and tap into love. And that's when she (Atwater) was able to get change."
"It changed C.P.," Henson's co-star, Sam Rockwell, added.
Bill Riddick was responsible for hosting a 10-day charette in 1971 that helped bring the KKK leader and civil rights activists to a place where they could have an honest conversation. It helped bring unity and change the school system in their town. The Christian Post spoke with the real-life Riddick who said he didn't realize Atwater was a Christian until she requested to end each charette with a gospel set. 
"[Atwater] had a [faith] that I had not seen in her conversations [before] and C.P. had faith in the clan. So it made sense to let them bring those two ideas to fruition. They both participated in a sense," Riddick explained of his decision to allow Atwater to host her gospel sets and Ellis to display KKK propaganda at the charettes.
In the film, a scene showing a group of young boys confronting the offensive KKK display was featured and Riddick says that actually happened in real life. Atwater, however, stepped in and instructed the boys to be tolerant to the offensive display which showed her enemy the best of her heart.
"I can remember Ann, literary telling the guys you can't do this and gave them a lecture. When I looked out the corner of my eye I saw C.P. peeping out the little office door [at that same moment]," the charette leader recalled.
"The Best of Enemies" STXfilms hits theaters everywhere April 5. For more information, visit the movie's website.