'The Biblical Highway': Mike Pompeo, David Friedman explore Israel's Route 60 in new film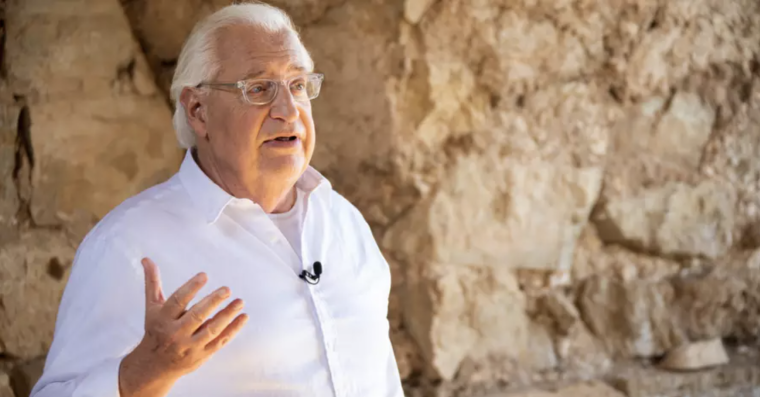 The ancient biblical road, Route 60, spans a mere 146 miles, yet it has seen countless biblical events and was even walked by Jesus Christ Himself.
Known as the "Road of the Patriarchs," the path is significant for both Jews and Christians — and will be shown like never before in an upcoming documentary featuring former U.S. Ambassador to Israel David Friedman and former Secretary of State Mike Pompeo.
The upcoming film "Route 60: The Biblical Highway" follows Friedman and Pompeo as they travel from Nazareth — Israel's largest Arab city — to Beersheba, one of Israel's hi-tech centers. Friedman, who is Jewish, and Pompeo, a Christian, guide viewers along the ancient highway that connects major biblical cities and was walked by biblical heroes like Abraham, Jacob, Joseph and David.
The film, from Trinity Broadcasting Network and Fathom Events, will be in theaters Sept. 18-19.
In an interview with The Christian Post, Friedman, who served as the U.S. ambassador to Israel under former President Donald Trump, said he hopes the upcoming documentary will elevate discussions on peace and reconciliation in the Middle East while underscoring the significance of the land for Jews and Christians.
"When I look at the world today, we have, to a certain extent, lost our way," Friedman said. "We lose our way because we become untethered from the principles that we as a country were founded upon. … Our Bible still sells, and it's still relevant, but it's become far less relevant to many people, people of power, people of influence, than it has been in the past. It's a shame because the great values that we hold are values that came from the Bible."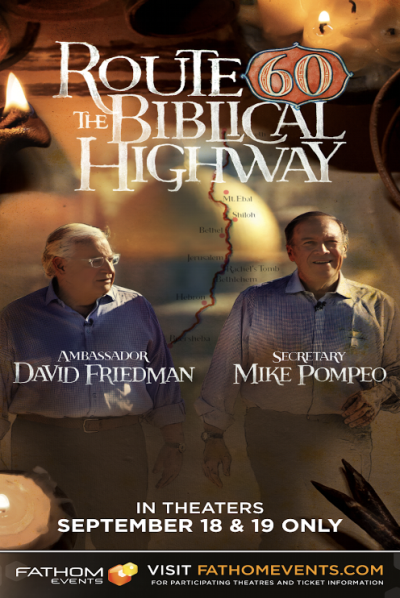 Friedman said that when he became ambassador in 2017, he noticed the State Department prohibited U.S. government employees from visiting biblical sites even though he had visited them in the past. 
"I thought that was just terrible," he said. 
This policy changed under Pompeo. While in office, Friedman led an initiative to encourage more Americans to experience those sites, recognizing the profound connection and inspiration these sites offer to Judeo-Christian values.
"It really generates in me so much inspiration and really recharges your batteries and gets you feeling much closer to our Judeo-Christian value," he said. "I approached my friends who were in this business already making films, and I sold them on this idea of making a film about Route 60 because it's the road that on which all these great biblical stories occurred."
Friedman and Pompeo spent five days filming across Route 60, discussing both the biblical and modern-day significance of each site. Friedman recounted surreal moments while on Route 60. They visited Bethel, Shiloh and the altar of Joshua, which have deep roots in the Old Testament.
A standout moment, he said, was discovering the pilgrimage road in Jerusalem.
This fully intact pathway connects the ritual bath to the temple, and it was where pilgrims cleansed themselves before visiting the temple. Notably, these steps were constructed in the year 30 by Pontius Pilate, and it's believed with certainty that Jesus walked this path. 
"You can literally imagine Jesus preaching at this point," he said. "You're putting yourself back in time, not just by looking at a piece of parchment or a shard of glass or a shard of pottery [in a museum]. You're literally immersing yourself in the land that was walked by your favorite or most inspiring biblical hero."
Friedman pointed out that for many, the West Bank is synonymous with the ongoing conflict between Israelis and Palestinians. Though the majority of Route 60 crosses through the disputed territories of Judea and Samaria, it ends within Israeli territory. 
With mainstream narratives often presenting it as an "illegally occupied territory," Friedman contends that such labels ignore the region's historical and religious significance for the Jewish and Christian faiths, which both trace their origins back to these ancient lands. 
"It's antithetical to the Jewish faith, and it's antithetical to the Christian faith because at the very core of the Bible is the grant of this land to the Jewish people," he said. "It's also antithetical to the interest of making peace. … I am convinced that the Palestinian people themselves would be ill-served if Israel were to walk away from this holy region. Israel is the only force within the region that presents an opportunity and a potential for Palestinian people to live with dignity and with prosperity."
Route 60 is also a hotspot for unrest and violence. Friedman said that he experienced a peaceful week while filming, but subsequent weeks saw multiple terrorist attacks along the route. 
"There have been Jews murdered on that path, and every month or so, there's something that's going on there," he said 
Still, he expressed optimism for the future peace of the region, emphasizing the need to recognize Israeli sovereignty over the area while ensuring all inhabitants, regardless of their faith, are treated with the dignity they deserve. 
He highlighted Israel's commitment to protecting Christian holy sites and ensuring pilgrims can safely share their faith. 
"Under Israeli control, all faiths are welcomed," he stated, noting the immense tourist influx drawn to sacred places like Jerusalem, Gethsemane and Galilee.
"I think people who watch this film will primarily be of the Christian faith, even though I'm not, but I want them to see what care Israel takes to make people with the Christian faith comfortable with their holy sites," he said. 
Places like Route 60, Friedman said, aren't just historical or religious landmarks but serve as living testimonies of the shared heritage of Jews and Christians. He emphasized that as the world evolves, the values embedded in ancient texts become even more critical to guiding society toward a future of peace and mutual respect.
"If we can go to these places, and we can preserve them and make them accessible and available, either in person or through this film, we reconnect, we recharge and revitalize our faith in our connection to these values, which I think are more than ever essential to our being able to live with each other on this earth," Friedman said. 
"This film is not going to bring it all back, but it will get people thinking, hopefully, about why this land is important."
Watch the trailer for "Route 60: The Biblical Highway" below.