'The Chosen' Jesus actor Jonathan Roumie calls abortion satanic: Satan is 'doubling down'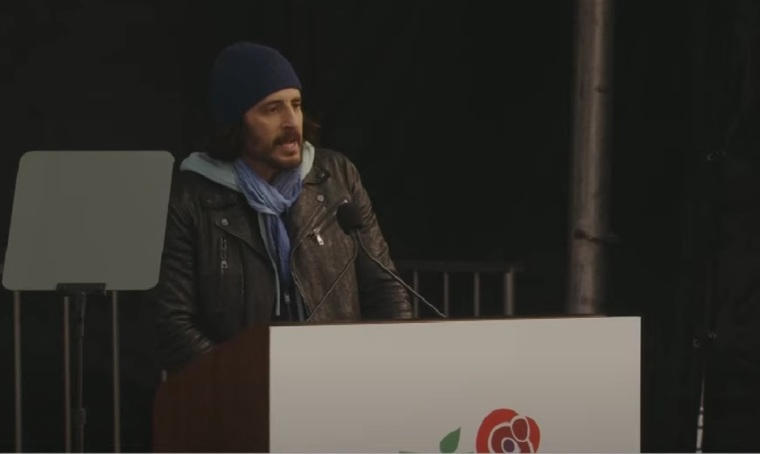 Jonathan Roumie, who plays Jesus Christ in "The Chosen" series, encouraged pro-life activists at the March for Life Friday to continue the fight against abortion, implying that the procedure is satanic in nature.
Speaking before the thousands gathered at National Mall in Washington, D.C., Roumie warned that "just as God is real, Satan is also real."
"I'm not talking about the simplistic cartoon of some dude with horns and a tail. I'm talking about the father of lies, the great deceiver, the diabolical slanderer who pushes you to doubt when you know in your heart the right thing to do," he said.
"And he is not about to give up this fight, either. In fact, he's doubling down because, guess what? His time is limited. So, he's throwing everything he has at the world and all of us in it. And countless are being deceived as a result."
Roumie noted that Satan "wants your and my destruction" and "wants us to believe that abortion does not harm us individually and as a society."
"So, please, I beg of you, pray for those who do not have the faith, the strength, the clarity of purpose that you here do," Roumie told the crowd. 
The actor said when asked how he tries to be more like Jesus, he replies with "loving my enemies, praying for those who persecute me, and those who may protest me."
"But, remember, my dear friends, we know how the story ends," he added. "God won."
The March for Life is an annual demonstration held in the nation's capital since 1974, being launched in response to the 1973 Supreme Court decision Roe v. Wade, which made abortion a national right. 
Last June, the U.S. Supreme Court overturned Roe, concluding that abortion is not a constitutional right and states can ban the practice.
Since the decision, several states have banned abortions in nearly all circumstances, prompting many abortion clinics in those states to close their doors.
Roumie referred to the overturning of Roe as a "glimmer of hope" and the removal of a "grim cloud of darkness" in which he prayed that "with this recent step in protecting life," God will "see the hearts of those of us here in support of life today and say to us in this hour, 'it is good.'"
"It is good, but it is far from finished," he added.
The first March for Life to happen since Roe was overturned, the theme for the mass gathering was "Next Steps: Marching into a Post-Roe America."
Other featured speakers included author and hall-of-fame football coach Tony Dungy and his wife, Lauren, Republican Congressmen Chris Smith of New Jersey and Steve Scalise of Louisiana and Liberty University Students for Life President Summer Smith, among others.
Lauren Dungy, who alongside her husband has adopted eight children and fostered around 100, said she took exception to much focus in the abortion debate being centered on choice.
"This is not about 'pro-choice' or being politically correct in saying 'bodily autonomy' and 'reproductive rights,' we are talking about lives," she stated.