'The Exorcist' Author Calls Abortion 'Demonic;' Former Satanists Disagree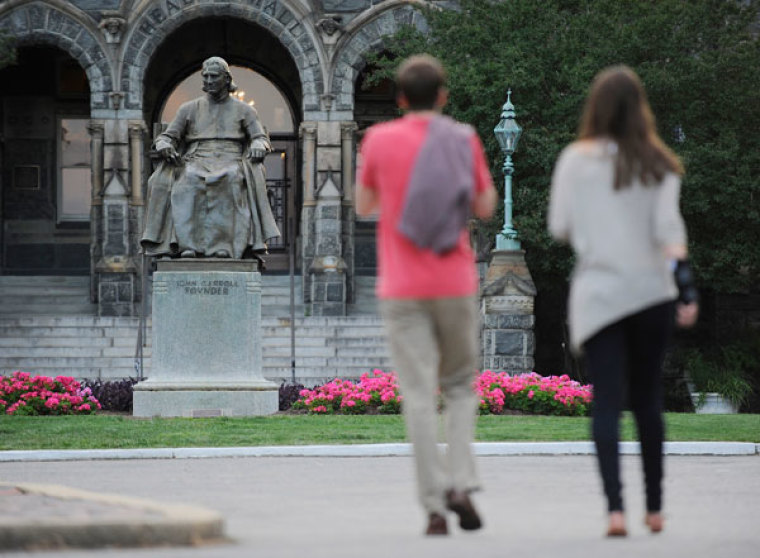 A prominent horror author has called abortion "demonic" in an interview with The Washington Post that touches on abortion activist and Health and Human Services Secretary Kathleen Sebelius' commencement speech at Georgetown in May 2012.
While describing a graphic account of an abortion procedure, William Peter Blatty, famed author of The Exorcist and Georgetown University alumus, remarked, "That's demonic."
He also said he reached his breaking point with what he perceives as the university's distancing itself from its Catholic and Jesuit identity when it invited Sebelius to give the commencement speech, because as the former governor of Kansas and now as the secretary of HHS, Sebelius has been widely known as a staunch ally of the abortion lobby.
Blatty has filed a petition with thousands of signatures for Georgetown University to return to its Catholic and Jesuit heritage by complying with the rules in "Ex Corde Ecclesiae," Pope John Paul II's constitution for affiliated colleges.
"If you truly love someone that you think needs to be in rehab, you'll do everything you possibly can to get them into rehab," Blatty told the Post, describing his attempt to rescue the university he loves.
The university countered by telling The Washington Post that the "Catholic and Jesuit identity on campus has never been stronger."
Joseph Craig, a former Satanist who has since accepted Jesus Christ, told The Christian Post on Friday that he can definitely understand Blatty's comments from a moral perspective, but said he "thinks the word 'demonic' is a bit overzealous."
Craig and his wife, Joy Suzanne Johnson, led a Satanic cult for five years in Durham, N.C., but later embraced the forgiveness and love of Jesus Christ. Craig told CP that in his past expereince, he didn't witness a connection between Satanism and abortion.
"I have never seen a relationship between Satanism and abortion," said Craig, recalling that the majority of his efforts as a Satanist focused on preventing people from accepting the Christian faith.
"As a Satanist I would, against Christ, use the books of the law and judgment, along with examples of bad Christians," to argue against the faith, he explained.
The former Satanist outlined two different branches of the cult: a "more atheist branch" aimed at being your own god and regarding self, and a "more theistic approach" worshipping Satan as a deity. He and his wife took the theistic approach, but knew many Satanists of the atheistic persuasion. In his experience, he contends that he never witnessed rituals involving abortion.
On the politically-charged issue of abortion, Craig suggested Christians "reach out and love" women in tough situations, rather than condemn one of their options as "demonic."
Speaking about Blatty's work in The Exorcist, Craig commented, "The facts about the possession and things of that nature did have some merit and truth. As a part of our rites, we'd invite demons to dwell within us." He added that watching the film version of Blatty's book, he and his fellow Satanists would often say, "you got that right."
Karl I. Payne, pastor of leadership development and discipleship training at Antioch Bible Church in Redmond, Wash., and author of Spiritual Warfare: Christians, Demonization and Deliverance, told CP on Friday that while he shares Blatty's pro-life stance against abortion and also opposed Sebelius' speech, he disagrees that it was "demonic."
According to Payne, connecting the comment that abortion is demonic to Sebelius' graduation speech is "more of a pretext than context."
"I believe the idea of murdering babies in or outside the womb must ultimately be laid at the doorstep of Satan, the god of this world, according to Ephesians 2:2," Payne added, noting that in this way, abortion might be considered demonic.
Payne also attacked Sebelius' graduation speech for twisting President John F. Kennedy's words to weaken religious liberty and the Church's right to speak out against abortion.
"For Sebelius to attempt to connect comments in this context as a pretext that Kennedy would have advocated for the censoring or silencing of the Roman Catholic Church on this subject [abortion] is absurd," Payne argued.
Georgetown University did not return requests for comment by press time.