'The Finest Hours' Movie Highlights Hope, Faith, and Fate of Epic Sea Rescue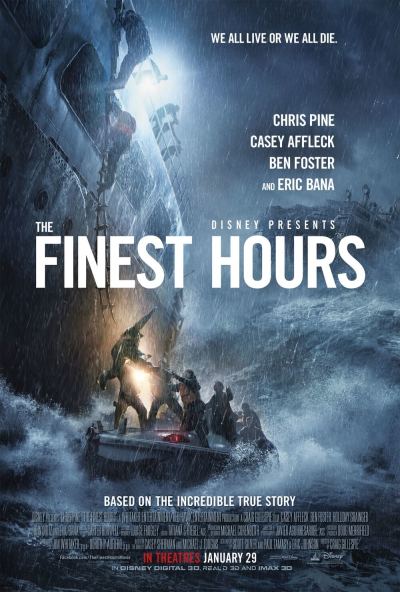 "The Finest Hours," released nationwide Friday, is a Walt Disney Pictures film with a plot taken right from the history books. In the true story of the U.S. Coast Guard's famous rescue, the Hollywood film showcases the hope and faith of the brave men out at sea.
In 1952, a massive winter storm split an oil tanker in two, off the coast of Cape Cod, trapping more than 30 sailors on board. The Coast Guard heard about the ship in distress and set out on a daring rescue attempt in which mostly every man on board was rescued. The heroic event is now a movie based on a book by the same name.
"The Finest Hours" stars Chris Pine, Casey Affleck, Ben Foster, Holliday Grainger, John Ortiz and Eric Bana.
The following is an edited transcript of an interview with the film's producer, Jim Whittaker, in which he discusses the deep faith of the men who risked their lives on the historical Coast Guard rescue mission.
The Christian Post: "The Finest Hours" was a lovely film. The themes throughout the entire movie were inspiring and faith was noticeably a big factor. Can you tell us about how faith played a role in the lives of these men?
Whittaker: The hero of the film, Bernie Webber, was the son of a Baptist minister and struggled with his commitment to faith. All of that changed on February 18th, 1952, when he was sent out to rescue what turned out to be 33 men on the back half of an oil tanker that had split in half. It was in the middle of this rescue, which Bernie described as Divine Providence, that played the strongest hand in him continuing forward to rescue any survivors and ultimately succeeding. He felt that God had provided a guiding hand for him on his journey that night and it made him realize that his real calling was to be a Coast Guard rescue man rather than travel in the footsteps of his father, a Baptist minister. In dire times of survival it's not uncommon for people to turn to their faith and that was also true for the men on the oil tanker Pendleton, which was cut in half by 60-foot waves during the hurricane.
CP: Bernie Webber was a man of integrity and urged the men on the boat to keep hope when there seemed to be none. Do you know why he held so closely to his values?
Whittaker: By all accounts Bernie was an incredible man of great integrity. He was humble, sincere and always did the right thing no matter what the circumstances. When he was called upon as the leader of the C-Team, the only ones left in the station to go out to perform a rescue under suicidal circumstances, he answered the call. He held out hope at every turn but it was in the midst of his most challenging circumstances, that he felt the guiding hand of God urging him to continue.  And he never lost faith or hope in his quest.  These are some of the many qualities he held and we felt privileged to be able to show that in the film.
CP: Throughout the entire film Ray Sybert kept saying that he did not believe in luck. Why was that such an important point to make in this movie?
Whittaker: The film is ultimately about hope, faith and fate. Bernie had great faith and came to believe that it was his fate to rescue the men. By showing Sybert as a person who didn't believe in luck, it served to highlight the role that fate played in these two men's lives. In a certain sense Sybert came to realize that maybe his life was made up of more than just luck but fate as well.
CP: The romantic aspect of the film was classic and traditional, what are you hoping people take away from that?
Whittaker: What I loved about the romance is that Miriam was a telephone operator who fell in love with Bernie when she overheard him turning down another woman for a blind date because he had to go out and perform a rescue at sea. She knew Bernie was the man for her, not because he was a Coast Guardsman, but because of the kind and gentle way in which he turned this other woman down. A modern woman in the 1950's, she was determined to marry Bernie and in fact she was the one who proposed to him. I love the idealism rooted in integrity of character that turned out to be the right thing for both of them. They were married for 58 years until Bernie's death at the age of 81.
CP: What else can you add concerning the faith or family aspect of the film?
Whittaker: I recently took my 10-year-old son and 13-year-old daughter to see the film and they loved it. In part because they admired the characters and they loved the adventure. Notwithstanding my role as their father, they kept saying "Dad I really like it, I really liked it" and I knew they did because they kept repeating it the next day when they woke up. I think it's a great film for families and in particular families of faith.
Find out more information visit  fandango.com/thefinesthours
Jeannie.law@christianpost.com