The Isaacs Talk Overcoming Spiritual Attacks to Create Supernatural Album 'Nature's Symphony in 432' (Interview)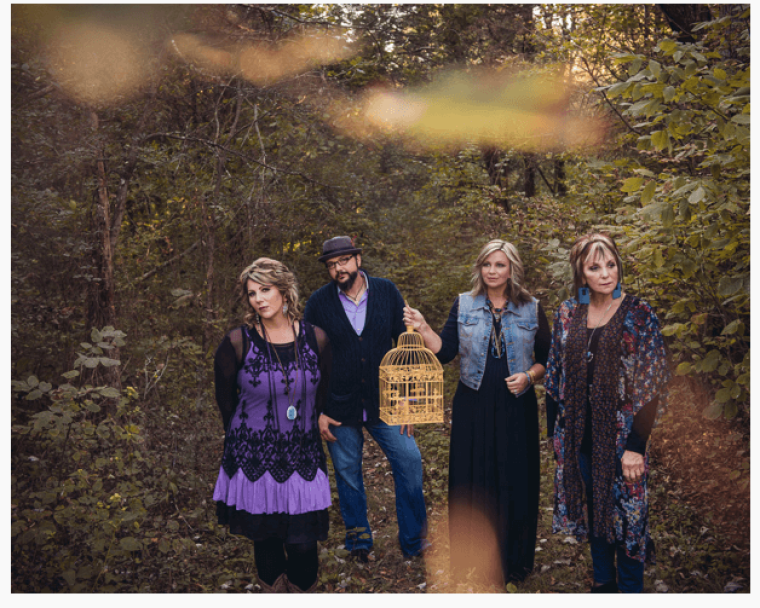 Death, addiction and disease plagued The Isaacs during the creation of their latest album Nature's Symphony in 432: A Journey From Pain to Praise, but the Grammy-nominated acoustic band was on a mission to complete the project to showcase the supernatural healing power of God.
The full title of the album, Nature's Symphony in 432: A Journey From Pain to Praise is a literal testimony for the multi-genre band consisting of mother Lily Isaacs and her children, Ben Isaacs, Sonya Isaacs Yeary and Rebecca Isaacs Bowman as vocalists. Each of the four singers were hit hard with spiritual attacks between the writing and recording of the record that debuted last month.
Spiritual attacks
Lily, the divorced family matriarch who has lived on her own for some time, struggled with loneliness and grief after her mother died during the writing of the record in 2014.
"My grandma would call mom at 8 every night from California. She had to hear my mom's voice to go to sleep at night," Sonya told The Christian Post. "When grandma passed away she would still look at the clock at 8 o'clock. So that was a difficult time for her."
Two weeks later, Sonya found herself in an emergency room losing her second child, a daughter who she had been praying for, for over 20 years.
"We were pregnant with my little girl. I was hemorrhaging, I was six months pregnant," the singer-songwriter for the Grammy-nominated group recalled. "We went into the emergency room and when the ultrasound results came back the doctors informed us that our baby no longer had a heartbeat. We were devastated. The only thing I could say in that moment was 'Why God?"
If that wasn't enough to put the family's faith to the test, Ben was dealing with addiction in his immediate family during the writing of the record.
"Someone that he loves very much started a severe battle with addiction. During the time when I lost my baby and grandma died, this person was entering a rehab facility and going through hell," she revealed to CP. "We wrote him a song called 'If That's What It Takes' about him being willing to do whatever it takes. He sings that and it's very touching."
Rebecca was not exempt from the devastation that the family was facing during the writing of the album that Sonya calls "a work of heart." She was battling with a rare disease that could have taken her sight.
"My sister Becky has been battling a rare case of Crohn's disease for years where she also had what was the shingles virus attacking the nerve endings inside of her body. She was having severe pain and her eyes would hurt," Sonya told CP. "The doctor told her she would go blind. She began a detox program in Nashville and the Lord started healing her through this program."
While Rebecca is better than ever and Sonya is currently pregnant, she recognizes that the family was able to overcome grief when they chose to praise God in the midst of their pain.
"If you learn to praise your way through the pain ... when you lift God up, He lifts you up," she said. "The four of us have been through so many personal struggles in the writing and recording of this album, but God has been faithful to us through every problem we've endured."
If the album's subtitle isn't powerful enough, the concept of Nature's Symphony in 432 has its own unique meaning. The album that blends bluegrass, country, gospel, and rhythm and blues influences is tuned to 432 Hertz.
Nature's Healing Frequency
This means the "A" note is tuned to 432 Hertz and the other surrounding notes are tuned to that frequency. Even though the international standard concert tuning of 440 Hertz has been set in place since World War II, many believe that 432 Hertz is the closest measurement of nature's frequency.
Throughout the world, 432 Hertz is believed to be a frequency that fosters healing, something that The Isaacs could not ignore.
"If God spoke everything into existence, then He created everything through vibration or spoken word. Nature is very healing," Sonya said. "He just created this world and we're so busy working and taking care of kids and living that we don't even enjoy it anymore. We were just like, 'OK, people are going to think we're crazy but we didn't care, we just felt like we had to do it.'"
The Isaacs believe God showed them firsthand just how in tune they were with nature's frequency with the help of musician Gordon Mote. Mote, a musician who plays piano on the album, has an acute sense of hearing after being born blind.
The musician told The Isaacs about a unique tone that he often hears, one that he believes most will never experience hearing.
He described the tone as having a sound flatter than the 440 Hertz that had become the concert standard. After finishing up their album, Rebecca prayed more about the frequency and agreed to capture the sound of birds singing in her backyard to add some finishing touches to their natural themed album.
Although she didn't initially hear it, The Isaacs were amazed to discover that she recorded the unique tone that Mote described when replaying the recording of the birds.
"He thought it was a miracle she recorded the tone. We got the tuner and sure enough it was the perfect 432 tuning which was the tune of "C" that we recorded Nature's Symphony in months before," Sonya exclaimed. "It just sounds like part of the symphony but it's the most awesome tangible thing God did for us to prove we were doing what He wants us to do."
Teaming up With an NFL legend
If that weren't enough confirmation that the album was meant to be, The Isaacs took a leap of faith by releasing the project on their own House Of Isaacs Music record label so that the integrity of their music would not be compromised. A chance meeting with Hall of Fame NFL player-turned-analyst Terry Bradshaw led to a friendship forming between him and the group.
Little did they know that Bradshaw had actually been a fan of theirs after watching The Isaacs perform with Bill Gaither. What began with the group allowing Bradshaw to hear some of their music resulted in his unexpected offer to executive produce their album.
"We didn't know until we finished the project that Terry wanted to be the executive producer, which means he funded the project. Because of that we said, 'Terry, will you please sing on the record?' and he said 'I would love to,'" Sonya said of Bradshaw's appearance on the only song they didn't write, the famed hymn "Great Is Thy Faithfulness."
"It was such a God thing and Terry is a very strong Christian, loves the Lord and really does love gospel music."
While the new album, released in partnership with New Day/Sony Red for distribution, had the best opening sales debut of any of their other projects, Sonya insists that the Tennessee-based group cares most about the impact their music has on people.
"What really matters to us is the people hearing the record who have been through these experiences and need to be reminded that somebody's been through it and that God is faithful," she said.
The Isaacs are currently touring the country and will perform "Rocks" on the morning news show "Fox & Friends" on Tuesday, Oct. 4. The group is also nominated for an award at the upcoming GMA Dove Awards taking place Oct. 11 in Nashville, Tennessee.
For more information about The Isaacs and their tour dates, click here.