'The Mitchells vs The Machines' highlights importance of family, pitfalls of technology: Maya Rudolph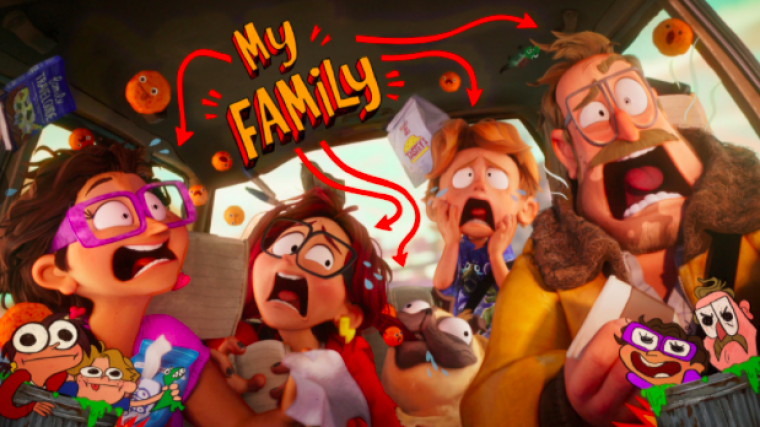 "The Mitchells vs The Machines," the new animated film from Netflix, teaches audiences that in an increasingly tech-saturated world, it's important to love those right in front of you well and without distraction, the film's stars say. 
Hitting the streaming service on April 30, "The Mitchells vs. The Machines" follows an ordinary family who are tasked with saving the world from the robot apocalypse, featuring the voices of Maya Rudolph, Beck Bennett and Danny McBride. 
A talented artist, Katie Mitchell (Abbi Jacobon), is thrilled when she's accepted into the film school of her dreams in California. A misfit, she can't wait to leave home and finally "fit in" somewhere. But much to Katie's dismay, her nature-loving dad, Rick, insists on having the whole family drive her to school for a cross-country road trip in their beat-up burnt orange station wagon. 
But just when the trip can't get any worse, the family suddenly finds itself in the middle of the robot uprising, with smartphones, Roombas, and even evil Furbys capturing every human on the planet. Being among the few humans left on the planet, the Mitchells and two friendly robots must save humanity. 
"The Mitchells vs The Machines" is not a faith-based film and subtly features an LGBT storyline (following the credits, it's hinted that Katie is gay) along with some crude humor. It does, however, make profound points about the importance of family, the pitfalls of technology, and finding community in an increasingly tech-saturated world. 
In an interview with The Christian Post, Bennett said that though "The Mitchells vs The Machines" is a lighthearted film — and it's not demonizing technology — it does highlight the importance of finding a healthy "balance" between real and digital life. 
In one memorable scene, Rick tries to get his family's attention at the dinner table, but they're all too distracted by technology to notice his efforts. 
"I think we're dealing with so much new technology right now and it's a little overwhelming," Bennett said. "I think that it all has its positive benefits, but I think it's just really important to have intention with that and think about what we're doing and still relate to each other outside of our phones, as fun as it might be."
"We've got to continue [working on that balance] as more apps and social media sites, that sort of thing, come into our life," he added.
For much of the film, Katie — who in the beginning describes her family as the "worst family of all time" — is at odds with her father, an old-fashioned outdoorsman who doesn't understand YouTube. But over the course of the movie, the two learn to appreciate each other's strengths while embracing what makes them unique.
"We're always figuring it out," Jacobson said of Katie. "There are always going to be these people that you find along the way that are going to get you. And if you don't find them, you've just got to keep going and you'll find them eventually.
The film also touches on the various ways technology impacts different generations. Katie's upbeat and positive mother, Linda Mitchell (Maya Rudolph), struggles to compare her family to the "perfect" ones pictured on Instagram.
Rudolph, a mother herself, told CP that though Linda is "genuinely championing" her family, like many mothers, social media fools her into thinking every other family has it better. 
"I related to that idea. As much as we want to embrace who we are by ourselves, we're constantly looking outward," Rudolph said. "You look at social media and you think, 'Am I a good enough parent? Does my house look as clean as their house?' No, it does not," she said. "It's so hard not to compare yourself, but we do. We are reminded in this movie that that's something that we all do in one form or another."
"As a parent ... I can relate to … that joy when you see your children investigating who they are and finding things that really excite them," she added. "That's such an unbelievable gift that you can't really give them; you can only support. I love that she gets to be a mom that dismantles robots with her bare hands."
Directed by Michael Rianda (Gravity Falls), produced by Oscar ® winners Phil Lord and Chris Miller, and Kurt Albrecht, "The Mitchells vs The Machines" hits Netflix on April 30 and is rated PG.