Netflix musical 'A Week Away' highlights biblical values of love, compassion, stars say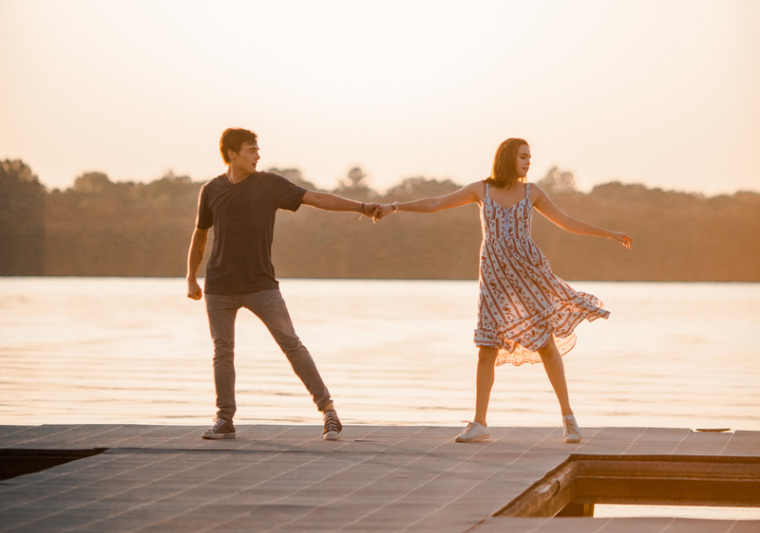 At a time when depression and anxiety are at an all-time high among young people, the new Netflix musical "A Week Away" offers the reminder that everyone is worthy of love and acceptance despite their flaws and past mistakes, the film's stars say. 
Hitting Netflix on March 26, "A Week Away" follows troubled teen Will Hawkins (Kevin Quinn), who chooses a Christian camp over juvenile detention after a kind foster family offers to take him in.
Feeling out-of-place, Kevin lies about his background to fit in — and impress his newfound camp crush, Avery (Bailee Madison).
Over the course of the week, Kevin finds hope and healing through music and his newfound friendships and discovers that perhaps he's not the only one struggling with past hurts.
"I am really excited about having a character live on a platform and a movie that straight up says 'I'm not perfect, and it's exhausting trying to be that,'" Madison told The Christian Post. "I think it is a message that girls and guys 100% need to hear. I think we always need to lean on each other and show a bit more honest, unfiltered things through the lens of our life. It's time."
Woven throughout the film are core biblical messages of kindness, acceptance and forgiveness — but "they're not in your face," Madison said.
"They're just shown through the lens of humans and characters and life," she added.
Quinn explained that his character feels a "deep pain" and never fully grieved his parents' death. The actor shared that before shooting the film, he dealt with difficult experiences in his own life, including losing a close friend. 
"Just to be able to bring that into the character and into the film —  a lot of what we see in those emotional, dramatic moments is really just me dealing with the stuff that I had pushed to the side," he said. "It was super easy for me to relate to that aspect of Will. He hasn't grieved over his parent's death, and he is still finding himself. These are just universal themes that I think we've all experienced at one point or another."
Watch Bailee Madison and Kevin Quinn discuss "A Week Away"
Filmed at Camp Widjiwagan in Nashville, Tennessee, "A Week Away" also features emerging stars, such as Jahbril Cook and Kat Conner Sterling, along with film and TV veterans Sherri Shepherd and David Koechner, who is known for his roles in "The Office" and "Anchorman."
Former Christian singer turned Hollywood actor Alan Powell is behind the camera for "A Week Away" as an executive producer and financer along with Gabe Vasquez, Vicky Patel and Steve Barnett.
The film's message of acceptance and forgiveness blended with compassion and humor is told along with choreography and reimagined recordings of seven popular Christian songs by artists like Amy Grant, for King and Country, Michael W. Smith and Steven Curtis Chapman.
In one of the film's most memorable scenes, Will and Avery duet Michael W. Smith's 1990 hit "Place In This World," a song Madison said is "timeless."
"Our whole world is questioning so many things right now. And there's so much uncertainty, and we're all cooped up in our homes, and we're all separated from loved ones still, and our hearts are aching for everything that's going on for other people's lives," she said.
"There's a whole lot of, 'What happens after this? What happens right now to keep things going? How do I find a purpose when there's not much out there?' I feel like this song resonates in so many different levels that I think when you listen to it, whatever you need it to say to you, it's that song that can hit you in that spot, which is what makes it so timeless."
Watch Jahbril Cook and Kat Conner Sterling discuss "A Week Away"
In addition to the reimagined CCM classics, four new songs by award-winning producer Adam Watts ("High School Musical 3") are introduced in "A Week Away," including the song "Good Enough." The song highlights the biblical truth that everyone, regardless of their background, is "good enough" just how God made them.
"We are beautiful as God made us. We are as God intended us," Sterling shared. "And I think that's such a great thing that people are going to take away from this. Everyone in the movie just accepts each other. Even our nerdy, quirky characters, who maybe aren't the typical cool kids at camp, we're seeing in a beautiful, bright light, rather than just like the losers."
"I think," she added, "kids and teens and tweens and even adults can look up to that."
The first-ever Netflix Christian musical, "A Week Away," is something the whole family can enjoy together, according to Madison, who has a co-producer credit on the film. An aunt to "so many nieces and nephews," the actress said she tries to do films that families can sit down and enjoy together as "often" as she can.
"We're trying to figure out what they can consume; what's a movie or a TV show out there that will teach them lessons that I don't even need to be worried about when I'm babysitting them because that is a real thing," she said. 
"So to be a part of a movie that I feel like falls in the veins of the kind of musicals that I grew up watching and loving ... it's the most humbling. And I'm so so so grateful to have been a part of it."