The Power of Matriarchal Blessing: A Mother's Day Reflection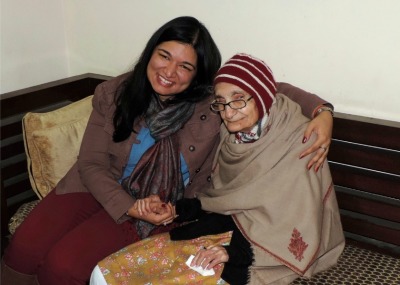 On a recent visit to India, my first stop in New Delhi was a visit with my precious grandmother over evening tea. As we caught up on family news and future plans, I was once again touched by her personal interest in every detail and inspired by her graceful authority even though I sometimes had to strain to hear her fragile voice. When I got up to leave, she pulled me aside and whispered something in my ear. "You need to do two things this year," she told me in a tone of concern that was firm but kind. "Get married and join a gym." I laughed and told her I'd try to do at least one of the two. She then sent me off with a hug and a kiss and a Cadbury Dairy Milk chocolate candy bar, one of my favorite treats from childhood.
That brief interaction offers a glimpse into the affectionate woman my grandmother is and the sweet relationship I treasure with her to this day.
In a couple weeks, on May 27, my family will celebrate my paternal grandmother's 90th Birthday. Satya Malhotra is truly our family matriarch, and we thank the Lord for His favor and faithfulness in her life over these nine decades. Despite so many growing limitations, the scope and impact of her life is without boundaries.
My grandmother has witnessed the impact of defining geopolitical dynamics, experienced the growth and global dispersion of her immediate family, and influenced three generations with her love and wisdom. Now, at nearly ninety years of age, her spirit shines radiant even through her physical frailty. It is amazing to observe her resilience in response to tremendous challenges, and I admire her adherence to conservative values yet adaptability to the contemporary, as she continues to cultivate and preserve family unity through many cultural and social changes. Perhaps, more than anything else, I marvel at her overcoming ability to stay connected to three generations of her extended global family. She is always ready to bestow lavish matriarchal blessings on her four children, her eight grandchildren, and now her many great-grandchildren.
We can never underestimate the privilege and power of matriarchal blessings and the multi-generational influence that mothers and grandmothers exercise. On this Mother's Day, I feel a deep sense of love and gratitude for my own wonderful grandmother while I reflect on her role as the celebrated matriarch of the Malhotra family.
Through my numerous personal encounters with my grandmother on my visits to India, and through many stories I have heard over the years, there are three things about her life that have most inspired and impacted me:
Enormous adaptability to change and acceptance of circumstances.
Over the past nine decades of her life, beginning with her childhood and youth in Pakistan, my grandmother has personally witnessed turbulent transitions in history, especially in the late 1940's when the Malhotra family was displaced from their original homeland and forced to relocate in northern India. Moving away from a secure and affluent environment to the military barracks rocked their world, but did not subdue their spirit. With extreme endurance and resilience, the family rebuilt their lives, adapting to a new environment while maintaining traditional family values. In the years following, with my grandfather's job that demanded frequent transfers, my grandmother gracefully adjusted to different settings and subcultures. She engaged with new communities and expanded her horizons until they finally settled down in Meerut, a small town in northern India, which became the family homestead. I have so many memorable visits there from childhood and it's the place where I truly bonded with my cousins and extended family.
More recently, I can vividly remember when my grandfather suffered from a sudden health setback in 2000, and literally "in one stroke" my grandmother had to leave her home, never to return to live there again. Since then, after my grandfather passed away in 2002, she has lived in her children's homes, adapting to their domains with grace and dignity, merging with their lifestyles and lifecycles while always investing in those around her. They are blessed.
Extraordinary stewardship and extravagant generosity.
In India's joint family custom, an element of traditional Indian society, family care extends far beyond the immediate nuclear family. Due to the challenging circumstances of close relatives, my grandmother was often responsible for accommodating other family members and friends, especially older widows who she frequently invited into her home. Often with limited space and resources, she gladly incorporated them into her household with respect and dignity, always releasing personal rights but never relinquishing personal responsibility.
I know it must have been overwhelming to constantly host and manage the extended family, but I still hear stories from many who were blessed because of her hospitality and generosity in the most difficult passages of their lives. Her home was always characterized by order and organization, and her life with a sacrificial spirit as she shared her resources with others. Growing up, I would often marvel at how she had kept various items in new condition for decades, and when someone had a need she knew exactly where to retrieve whatever they were looking for. In recent years, she has also demonstrated how to downsize effectively and simplify her surroundings so her belongings would not become a burden. Such a keen sensitivity to the seasons of life is remarkable, and I have been the recipient of so many special gifts she has treasured over the years.
Even more than material blessings, my grandmother is so generous with her wisdom and counsel. She has earned the confidence to speak with authority and authenticity, and out of her limited resources she continues to enrich us in unlimited ways. We are blessed.
Expressing the power of a spoken blessing.
Whether it's on the phone or in her home, one of my grandmother's defining characteristics is expressed by the power of a spoken blessing. Sometimes with a strong tone, often with a frail voice, I know that every conversation will begin and end with verbal blessings. She is always ready to pronounce goodwill and cheer with elaborate, picturesque language, her words loaded with joy and delight, always sensitive to the need of the moment and always communicating her deepest desire for the best for you. It is a voice I have cherished since my childhood, and whenever I talk to her I'm certain I'll be encouraged and energized by her words of affirmation.
It is the power of a spoken blessing that continues to impart influence and inspiration around the world to her family and friends, now in dispersion on different continents. Although my grandmother lives in India and operates in a culture vastly distinct from what most of us are accustomed to, chances are that your mothers and grandmothers embody many of these same qualities. And no matter where we live or what our stage in life, family relationships and responsibilities must always be a priority as we all have the potential to speak words of blessing to those God brings along our path. We can bless others.
On this Mother's Day, as we celebrate our own moms, let us also look beyond and esteem the family matriarchs; those women of strength and dignity who have anchored their families, treasured and transferred priceless traditions, and continue to be a multigenerational influence.
Mothers and grandmothers enrich our lives in countless ways, and in response to their bountiful blessings may we give them the gift of genuine honor. Her children arise and call her blessed!
Ruth Malhotra works in Communications and Research and her areas of focus include religious liberty, family values, higher education, global missions, and grassroots politics. She is a contributor at the SixSeeds Faith & Family Channel on Patheos.com, where she frequently shares lessons on life, love, and leadership. A graduate of Georgia Tech where she studied international affairs and public policy, Ruth resides in Atlanta and is actively involved in her church and community. Follow Ruth on Twitter at @RuthMalhotra.