'The Sisterhood' Takes on Christian Bar Mitzvah, Reveals Vision of First Jewish Black President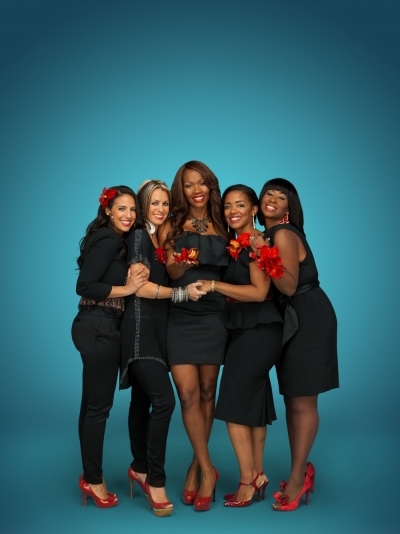 "The Sisterhood" shocked many viewers with its premiere on New Year's day and it doesn't seem to be losing any steam by tackling the controversial topic of a Christian Bar Mitzvah.
Tara Lewis and her husband Pastor Brian Lewis are preparing for their 13-year-old son Trevor's Bar Mitzvah in the second episode of TLC network's groundbreaking show.
"So are you excited having your first big celebratory party," Tara questions her son on the show.
When he tells his mother that he is indeed looking forward to the event, Pastor Brian shows him the tallit, or prayer cloth, that he will wear for his ceremony. Tara tells viewers why she and her husband, who was raised in a Jewish household before converting to Christianity for her, decided to throw their son a Bar Mitzvah.
"Brian and I have three children, and our oldest is Trevor. He just recently turned 13," Tara tells viewers in her confessional-style interview. "To celebrate our Jewish heritage, we are throwing him a Bar Mitzvah. A Christian Bar Mitzvah."
After Tara tells her husband that she has never been to a Bar Mitzvah, he explained the premise of the ceremony to his wife.
"It's more than just a passing of age," Pastor Brian says. "This is like a social event."
The pastor's wife said she researched the traditional Jewish ceremony and thought it was important to use the concept of creating their son's cake into the likeness of a Torah, or the first five books of the Hebrew Bible. However, her husband contributed an idea that excited his wife further in an attempt to blend the family's Christian faith with his Jewish upbringing.
"How about Christ in the Torah," Pastor Brian asks his wife on the show. "Bringing together his Jewish heritage and his Christian faith."
The pastor, who revealed that he had been forced to step down from being a lead preacher at an Atlanta church in "The Sisterhood" premiere, took things one step further and had an idea to include a presidential theme based on a vision that Tara says she had about Trevor.
"When Trevor was six weeks old, I heard the spirit say to me that you have no idea what you're holding," Tara tells viewers on the second episode of the reality television show. "And shortly after that the Holy Spirit revealed to me that I was holding a son who would one day be the first Jewish black president of the United States of America."
As a result of Tara's vision, Pastor Brian reveals that he would like to tap into a presidential theme.
"Red white and blue confetti," the pastor says in the video, setting the scene for the Christian Bar Mitzvah for his wife. "Hail to the chief on the tables. [It] would be cool to be like 'vote for Trevor,' you know for president."
When his wife seemed to go along with the idea, the pastor seemed sure that it was important to take on a presidential theme.
"We've spoken it over his life so much. He's going to be president of the United States," the pastor told his wife. "We're going to be doing a whole presidential theme."
"The Sisterhood" airs on TLC Tuesday nights at 9 p.m. ET/PT.
Watch a clip of "The Ssiterhood" episode: "A Christian Bar Mitzvah":